Tuesday, April 4, 2023
4:00 pm - 5:30 pm
Konover Auditorium
The Dodd Center for Human Rights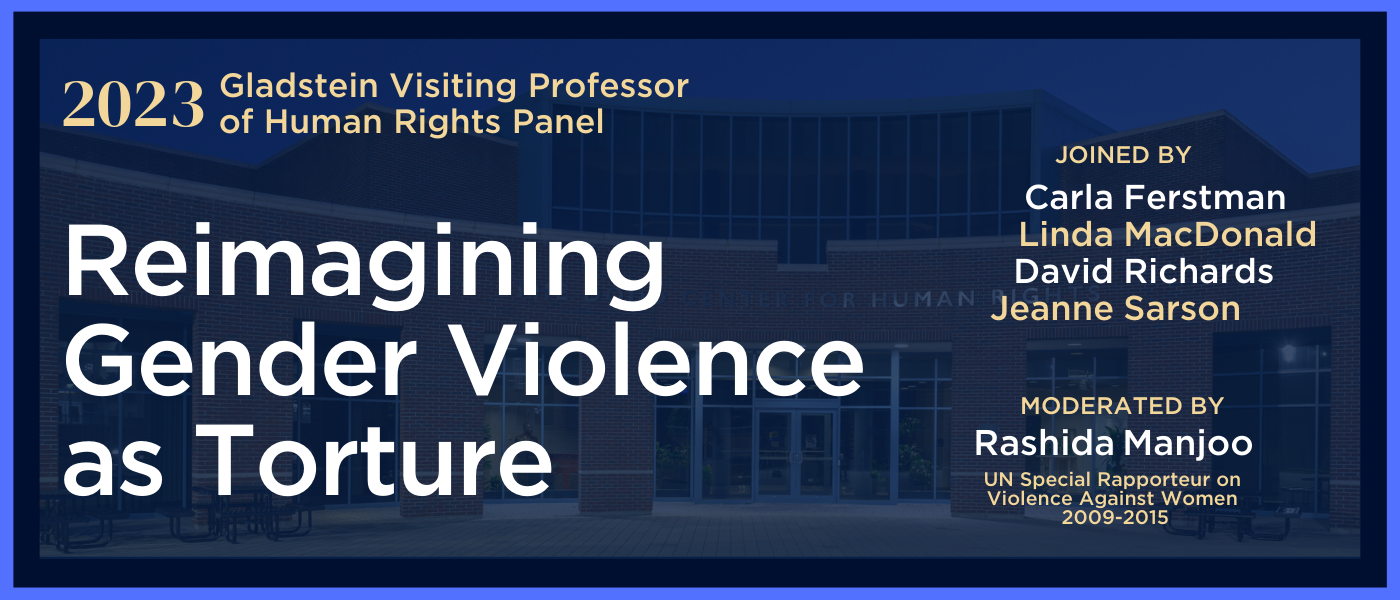 About This Event
Is gender-based violence (GBV) different in any important way from what is understood as torture?
The participants in this forum, basing their arguments on decades of experience in law, clinical work, activism and scholarship, assert that understanding GBV as torture is essential for furthering public understanding of the true nature of GBV, and importantly, for improving the response and redress measures for victims.
This expert panel is one in a series of public engagements of the 2023 Gladstein Visiting Professor of Human Rights Rashida Manjoo, the former United Nations Special Rapporteur on violence against women and girls, its causes and consequences. 
Join us!
This event is free and open to the public, we kindly ask that you RSVP.
Please note that this event is in-person only.
Reception
A catered public reception will follow in the Dodd Lounge. All are welcome!
Associated Workshop – April 5 – Violence Against Women and the Normative Gap
For UConn Faculty & Graduate Students
Join Professor Manjoo for an interactive workshop on Violence Against Women and the Normative Gap.
April 5, 2023
1:30 pm - 3:00 pm
The Dodd Center for Human Rights Lounge
Interested in joining us? Please confirm your attendance with David Richards.
About Our Experts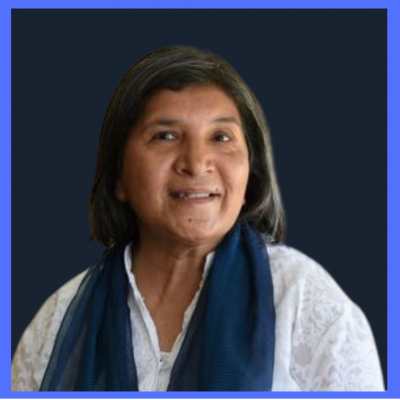 Rashida Manjoo
Rashida Manjoo is Professor Emeritus at the University of Cape Town where she taught for many years in the Department of Public Law and also convened the LLM Human Rights Program. She continues to supervise PhD candidates in the Faculty of Law.
Professor Manjoo has over four decades of experience in social justice and human rights work both in South Africa and abroad. Until July 2015, she held the position of United Nations Special Rapporteur on Violence against Women, its Causes and Consequences, a post she was appointed to in 2009 by the United Nations Human Rights Council. Her UN work over six years has included monitoring and reporting on States' compliance in responding to and preventing violence against women, its causes, and consequences, both generally and in different country contexts. She has particularly highlighted the interaction of interpersonal, communal, institutional, and structural factors that negatively impact the interdependence and indivisibility of the human rights of women, and the challenges of the normative gap in international law on the issue of violence against women.
Professor Manjoo is the former Parliamentary Commissioner of the Commission on Gender Equality, an institution created by the Constitution of South Africa, with a mandate to oversee the promotion and protection of gender equality and women's rights. She has also been involved in social context training for judges and lawyers, where she has designed both content and methodology.
She has authored several journal articles, book chapters and reports, including the co-edited books Women's Charters and Declarations: Building another World; The Legal Protection of women from violence - normative gaps in international law; Criminal Justice and Accountability in Africa; and Violence against Women: Law, Policy, and Practice.
Rashida Manjoo is the 2023 Gladstein Visiting Professor of Human Rights at the University of Connecticut Gladstein Family Human Rights Institute.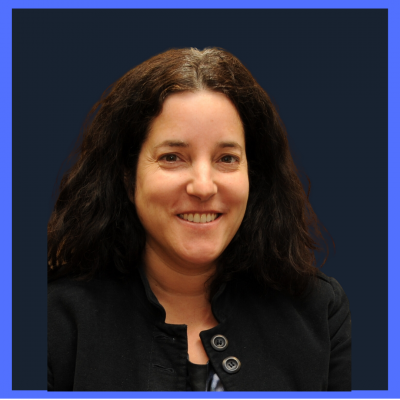 Carla Ferstman
Carla Ferstman joined Essex Law School in January 2018. She is a barrister and solicitor (British Columbia, 1994). DPhil (Public International Law) (Oxon); LL.M (NYU); LL.B (UBC); BA (Philosophy) (Western). She was Fernand Braudel Fellow (2022) at European University Institute (Florence); visiting professional (2015) at Centre for International Governance and Justice at RegNet, Australian National University (Canberra); and Jennings Randolph Senior Fellow (2012/13) at the United States Institute of Peace (Washington, DC).
Carla is a member since 2018 of the Council of Europe's Expert Council on NGO Law (a specialist body that provides commentary and expertise on the regulation of civil society activities throughout the Council of Europe). She is also on the JRR-UN Women SGBV Justice Experts Roster and on the Advisory Committee of Lawyers for Justice in Libya. She was a judge on the Aban Tribunal, an International 'People's Tribunal' established to investigate atrocities alleged to have taken in place in Iran during the November 2019 protests, which held oral hearings in November 2021 and February 2022 and issued its final judgment in November 2022.
Carla has worked in the human rights field for the bulk of her career to date. After a brief period in private practice in Canada as a criminal defence lawyer, she began working internationally, first for the UN High Commissioner for Human Rights in Rwanda and thereafter, at the International Secretariat of Amnesty International in London. She served as the Executive Legal Advisor of the Commission for Real Property Claims of Refugees and Displaced Persons in Bosnia and Herzegovina (1999-2001), a mass claims body established pursuant to the Dayton Peace Accords to re-establish property rights and assist displaced persons to return home. In 2001, she joined REDRESS, a nongovernmental human rights organization which pursues justice on behalf of victims of torture and related international crimes, first as Legal Director and from 2004 - 2018 as Director. During her tenure, REDRESS won the MacArthur Foundation Award for Creative and Effective Institutions.
In 2022, Carla won the Essex Faculty of Arts and Humanities Supervisor of the Year award.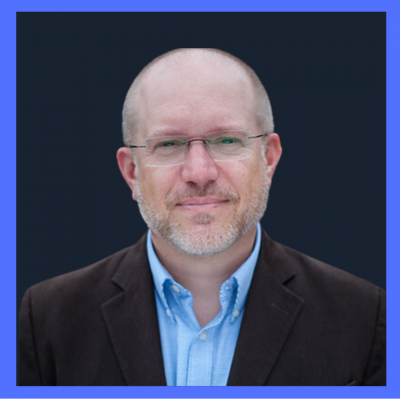 David Richards
David Richards is an Associate Professor at the University of Connecticut, with appointments in both the Department of Political Science and the Gladstein Family Human Rights Institute, where he is Director of Graduate Studies.
David's body of work on human rights includes more than two-dozen studies of: gender-violence law, the measurement of government respect for human rights including torture, US public support for torture, and the effects of globalization on human rights respect, among others. He has also authored reports for governments and international organizations.
Some current projects include studies of: torture in the time of COVID; sexual violence as torture; school infrastructure as a children's right; the language of torture in narratives; and best-practices in teaching college students about torture.
David Richards is likely best known as the co-founder/director of the now-archived Cingranelli-Richards (CIRI) Human Rights Data Project. Funded multiple times by the National Science Foundation and World Bank, among others, this project provided information on the level of government respect for 16 human rights in 196 countries from 1981 to 2012. The CIRI Project's data have been used by international organizations such as the United Nations and World Bank, and in 170 countries by governments, media, activists, businesses, scholars, and students.
David's book (with Jill Haglund, Univ. of Kentucky) Violence Against Women and the Law (Routledge 2015), examines the strength of laws addressing four types of violence against women–rape, marital rape, domestic violence, and sexual harassment–in 196 countries from 2007 to 2010. Of central importance is the question of why these laws exist in some places and not others, and why they are stronger or weaker in places where they do exist. The book's original data allow the testing of various hypotheses related to whether international law drives the enactment of domestic legal protections. Also examined are the ways in which these legal protections are related to economic, political, and social institutions, and how transnational society affects the presence and strength of these laws.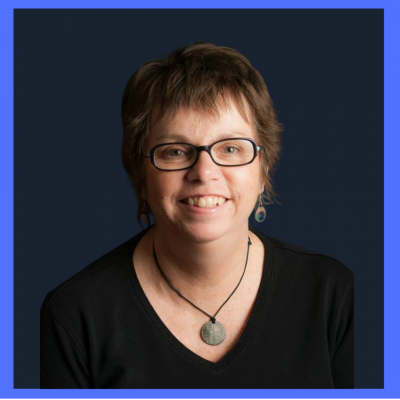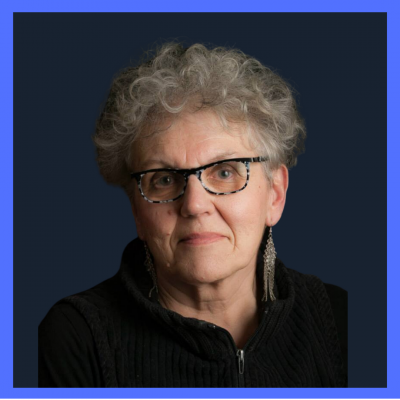 Linda MacDonald & Jeanne Sarson
Linda MacDonald and Jeanne Sarson are feminist human rights activists living in Nova Scotia, Canada. For 30 years they have focused their work on supporting women who detail being victimized by family and non-family-based non-State torturer-traffickers with organized criminal informal networks with like-minded others. As independent researchers and scholars with many published articles, book chapters, and their 2021 book, "Women Unsilenced: Our Refusal To Let Torturer-Traffickers Win," which shares their developed theory, models, and non-State torture (NST) victimization-traumatization informed care, expanding this work to name the infliction of consequential conditioned suicide-femicide victimizations. Their participatory research represents the voices of women from Canada, the U.S., Mexico, the UK, Western Europe, the Philippines, Australia, New Zealand, South Africa, and Papua New Guinea, plus women who identify torture victimizations in prostitution and pornographic exploitations. Since 2004 they have participated in non-governmental organizational panels at the United Nations in New York, Geneva, and in Vienna where they are involved in a Working Group addressing non-State torture (NST) to create global education with the aim to eliminate all forms of non-State torture of women and girls. They develop resources, provide educational presentations and webinars nationally and internationally, including in the UK, the U.S., Spain, Portugal, and Bosnia-Herzegovina.