The Human Rights Film & Digital Media Initiative is a collaboration between the Department of Digital Media & Design, Dodd Impact, and the Human Rights Institute. By supporting innovative projects, providing hands-on learning experiences, and hosting dynamic, engaging events, the initiative seeks to foster the creation of and engagement with the next generation of human rights and social justice advocates and analysts through digital media.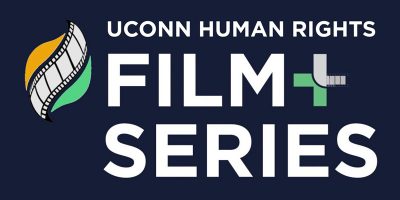 The Human Rights Film+ Series presents new and classic works of documentary, feature, and journalistic film, as well as video games and other digital media, that address key human rights issues and themes.
A cornerstone of the Human Rights Film & Digital Media Initiative, it is presented by the Human Rights Institute, Dodd Impact, and the School of Fine Art's Department of Digital Media & Design.
Upcoming Events
Check back for Spring 2024 events!
History
The Human Rights Film+ Series was initiated in 2005 and has foregrounded critical human rights issues spanning local to global levels through the medium of film. The Series has featured experienced and emerging filmmakers in conversations about their films, engaging students, faculty, staff and community members through post-show discussions. The Series organizers have partnered with varied units on campus to address themes such as civil rights as human rights, economic and social rights, and art and activism. In 2020, we expanded the Series to "Film+" to include other forms of digital media, including games and animation.
Past Events
Tuesday, November 28th 12:30 PM - 2:30 PM
Keep My Words Forever - Human Rights Film+ Series
Location: Conference Room 162, The Dodd Center for Human Rights

With an innovative take on documentary filmmaking, Roma Liberov traces the life of famed 20th-century poet Osip Mandelstam from his rise to eventual political exile with an experimental mix of cinema, animation, puppetry, music, and literature.

About the Film
Keep My Words Forever takes a creative documentary approach to telling the story of one of Russia's greatest poets, Osip Mandelstam (1891-1938). Combining fragments from Mandelstam's memoirs and poetry with experimental artistic techniques of cinema, animation, puppetry, music, and literature, the film traces the majesty and tragedy of the poet's life journey, from his rise as a leading European literary figure to his exile and death in the remote regions of Russia's Far East.


Thursday, October 19th 4:00 PM
Days in Mariupol - Human Rights Film+ Series
Location: Konover Auditorium, The Dodd Center for Human Rights

Don't miss this special pre-broadcast screening of the Sundance Award-Winning Film "20 Days in Mariupol" by Pulitzer Prize winner Mstyslav Chernov. Stay afterward for a discussion and catered reception with our special guests.

About the Film
An AP team of Ukrainian journalists trapped in the besieged city of Mariupol struggle to continue their work documenting atrocities of the Russian invasion. As the only international reporters who remain in the city, they capture what later become defining images of the war: dying children, mass graves, the bombing of a maternity hospital, and more.

20 Days in Mariupol is Mstyslav Chernov's first feature film, after nearly a decade covering international conflicts, including the Russia-Ukraine war, for the Associated Press. The film draws on Chernov's daily news dispatches and personal footage of his own country at war. It offers a vivid, harrowing account of civilians caught in the siege, as well as a window into what it's like to report from a conflict zone, and the impact of such journalism around the globe.

Following the screening, we encourage you to stay for a discussion and reception with Katja Kolcio, James Waller, Catherine Masud.


Friday, May 19, 2023 - Sunday, May 21, 2023
Northeast Human Rights Film Festival
Location: The Dodd Center for Human Rights
The Northeast Human Rights Film Festival (NEHRFF) is a three-day forum for screening and discussion of compelling films and digital media projects that address contemporary human rights issues. In addition to film screenings, filmmakers will have the opportunity to engage with other filmmakers, scholars, and practitioners for skills training, advocacy, and impact strategy development. Festival attendees will have the opportunity to engage in dialogue around critical issues related to human rights film.


Wednesday, November 16, 2022 // 5:00-7:00pm
"Women, Life, Freedom: Iran's Uprising & the Power of Digital Media"
Location: Konover Auditorium, The Dodd Center for Human Rights
How is today's movement in Iran different from earlier movements? Speaking from her background as an Iranian women's rights activist, journalist, and documentary filmmaker, Mahboubeh Abbasgholizadeh will explore how phone cameras, digital media, and social media are changing the nature of progressive movements in Iran, helping to build broader-based alliances where the young generation, particularly women, are in the lead.


Monday, March 28, 2022 // 3:30-4:45pm
"Tacheles - The Heart of the Matter"
Location: Virtual 
Yaar is a young Israeli living in Berlin, refusing being a Jew. He accuses his father of suffering from the Holocaust, although he never experienced it firsthand. In order to face his own family history, he decides to communicate the Holocaust in a new way: in a computer game. Together with his two German friends, he creates a 1940s Germany in which Jews can defend themselves and Nazis can act humanely. His father is shocked. "Tacheles - The Heart of the Matter" shows how the trauma of the survivors affects the third generation. By blurring the truth and switching the roles of victims and perpetrators, can anyone cope with his own history?
Thursday, February 10, 2022 // 4-5:30pm
"American Insurrection"
Location: Virtual
In the aftermath of the January 6, 2021 assault on the U.S. Capitol, FRONTLINE, ProPublica, and Berkeley Journalism's Investigative Reporting Program team up in "American Insurrection" to examine how far-right extremist groups have evolved in the wake of the deadly 2017 Charlottesville rally — and the threat they pose today.
Wednesday, October 20, 2021 // 5-7pm
"Letters from Nuremberg"
Location: Virtual
The student-created film "Letters from Nuremberg" will be screened, followed by a discussion with students, Senator Christopher Dodd, and representatives from University Archives and Special Collections around the theme "Nuremberg: Yesterday and Today."
Wednesday, September 15, 2021 // 5-7:30pm
Latino Heritage Month Film "Singing our Way to Freedom"
Location: Virtual
Singing Our Way to Freedom is a multilayered look at the life of Chicano musician, composer, and community activist Ramon "Chunky" Sanchez. Borrowing from musical traditions on both sides of the U.S.-Mexico border, Chunky uses music and humor as powerful weapons in fighting for social justice. Following a screening of the film, Sam Martinez will host a virtual Q&A with director Paul Espinosa.
Armenian Memory Project
Under the guidance of filmmaker Catherine Masud, students enrolled in DMD 2200 Motion Graphics 1 (spring 2019) created an animated motion graphics video based on archival photographs from Dr. Armen T. Marsoobian's Dildilian Photography Collection depicting early 20th Century Armenian life in Turkey, prior to the genocide that erased the Armenian community. Students from DMD 3998/5998 Visual Representation of Armenian Memory (fall 2019) created a second video called The Dildilians: A Story of Photography and Survival. Watch a panel discussion with Catherine Masud, Dr. Armen T. Marsoobian, and ​​some of the student producers on YouTube. Learn more about the project via the Norian Armenian Project.
Courtroom 600: Virtual Reality Encounter with Evidence of the Holocaust
This 3D interactive virtual reality (VR) experience explores histories of the Holocaust through archival materials. Read more about the project through Greenhouse Studios and on UConn Today.
Social Media, Hate Speech, and Human Rights Defenders
Molly Land and Richard A. Wilson with support from the Social Media Analytics Command Center
Social media provides a platform for human rights defenders to share information and express opinions. At the same time, it is increasingly being used to target and harass human rights defenders, including journalists, environmental activists and lawyers. Read more about the project of Molly Land and Richard A. Wilson through the American Bar Association, SSRN, and Just Security.
Curriculum
Our initiative develops student learning opportunities across a range of courses designed to foster knowledge, skills, and creativity through cross-listed courses and in-class collaborations in the human rights and social justice space.
"Working with Professor Masud and the rest of the class was one of the most fulfilling projects I've worked on to date. The breadth and variety of work that myself and the team completed, supplemented by hands-on learning opportunities, came together into an incredibly robust understanding of the issue, as well as a quality piece of media that will have an impact that lasts beyond my time as an undergraduate. This course has almost directly led to my interest in archival sciences, and further solidified my desire to continue working in the human rights sphere."
- Aiden Bruecker, DMD 3998 Visual Representations of Armenian Memory, Spring 2019
Digital Storytelling through Human Rights Archives
DMD 3998-008
HRTS 3540-002
Instructor: Catherine Masud
Students in this course will style utilize the Nuremberg Collection of the Thomas Dodd Papers held in the University of Connecticut Library Archive to create a collaborative documentary.
Motion Graphics I
DMD 2200
Instructor: Anna Lindemann
Students in this course will bring to life archival photographs of student protests in the 1960s and 1970s held by Archives & Special Collections.
Power Privilege and Public Education
EDCI 2100
Instructors: Mark Kohan and Patricia O'Rourke
Students in this course will create collaborative short videos with community education partners using the WITNESS - Video for Change model of human rights advocacy.