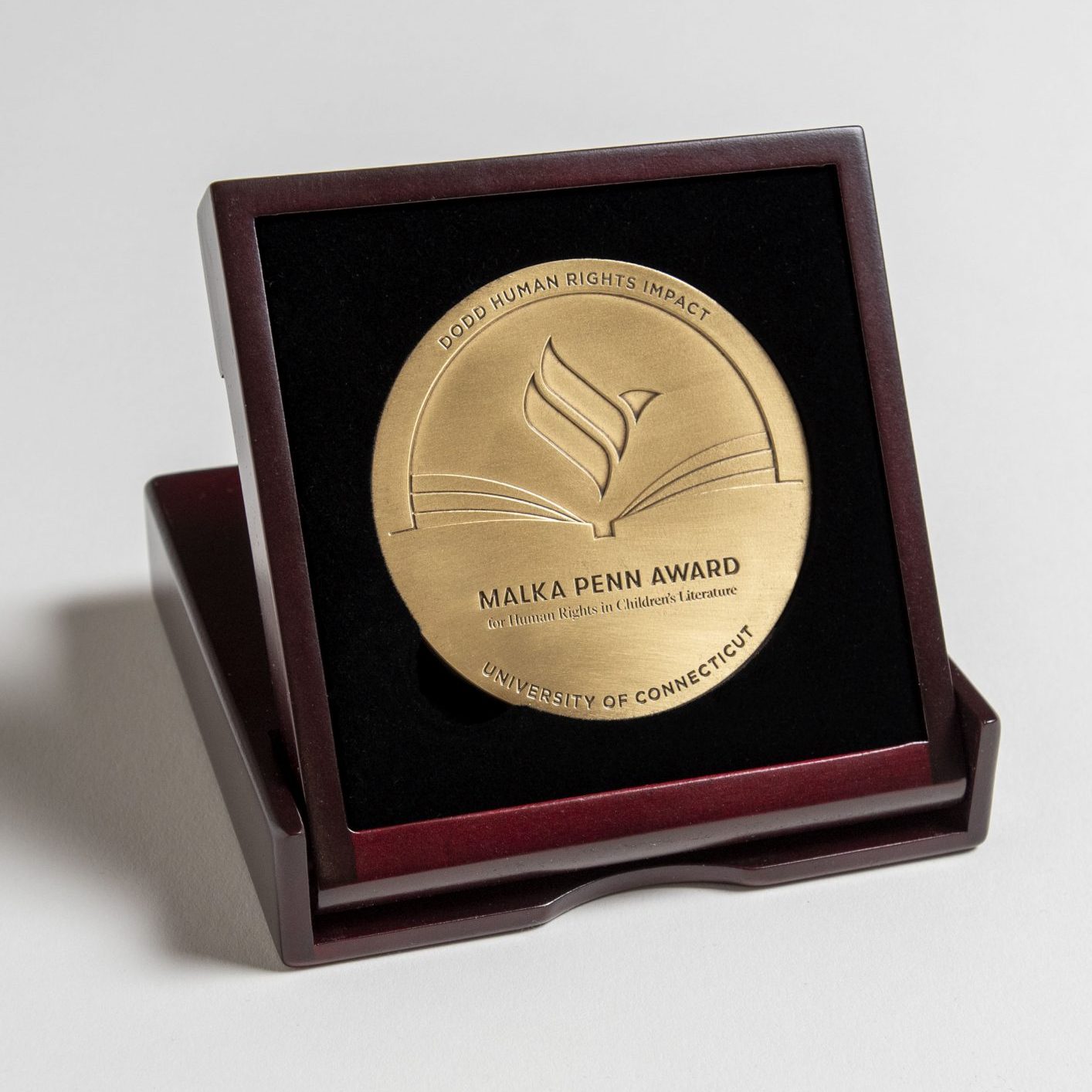 The Malka Penn Award is given annually to the authors of an outstanding children's book addressing human rights issues or themes such as discrimination, equity, poverty, justice, war, peace, slavery or freedom.
Named in honor of author Michele Palmer, who writes under the pseudonym Malka Penn, the award recognizes works of fiction, non-fiction, poetry, memoir, or biography which are written for children from preschool to high school. Within these larger themes, the award committee is particularly eager to recognize stories about individuals – real or fictional, children or adults – who have been affected by social injustices, and who, by confronting them, have made a difference in their lives or the lives of others.
2023 Award Ceremony – Join Us!
The 2023 Malka Penn Award will be presented to the winning authors on November 15, 2023 at 5:00 PM in The Dodd Center for Human Rights. We welcome you to join us for the ceremony in person or via livestream.
Check back here for more information sooner to the date.
2023 Malka Penn Award Winners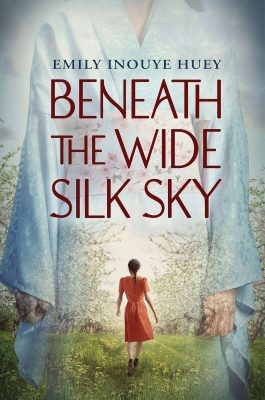 Winning Novel
Beneath the Wide Silk Sky
By Emily Inouye Huey
Published by Scholastic Press
Emily Inouye Huey's debut novel Beneath the Wide Silk Sky is the story of Sam Sakamoto who dreams of being a photographer, even though dreaming was "against the rules" and "dangerous" for the daughter of a poor Japanese farmer living in Washington State on the eve of the United States entry into the Second World War. Sam has a tentative relationship with her dream, the pursuit of which she initially justifies as financial support for the family. The Sakamoto family is struggling to adjust to the recent death of Sam's mother – her father is trying to preserve the farm, her brother's hopes of attending college have been deferred, her sister is trying to fit in. On Linley Island, the family and their Japanese American neighbors are subjected to segregation and prejudice. On December 7, 1941, when Japanese airplanes attack the US naval base at Pearl Harbor, the white residents of Linley Island begin to openly express their rage and act on their racist attitudes, some turning to violence. Realizing that she can use her camera as a witness to the discrimination, Sam's creative impulse is strengthened, and a resolve to achieve her dream is further shaped into being by a newly discovered social purpose. To achieve her goal, Sam must reconcile the risk of documenting the racism with the power of the emotional truth of her pictures.
I swallowed as I lowered the Leica. I hated something about the scene, but I needed this photo – both its sadness and its bravery. As we drove away, I knew that if I hadn't gotten the photo, the scene would have haunted me.  Maybe it still would.
In this beautifully crafted story, Huey expands our awareness of the tragic history of the forcible internment of American citizens by depicting attitudes toward Japanese Americans before Pearl Harbor. Huey sensitively illustrates for the reader how fear can be an obstacle to the pursuit of one's dreams, the value of connecting passion with service to others, and the strength needed to make a record of one's reality. Huey notes that the photographs created by Japanese Americans during incarceration, "are a record of the lives individuals continued to build, even when stripped of their rights."  Huey's story champions personal dignity and perseverance and is ultimately one of hope and resilience.  – Kristin Eshelman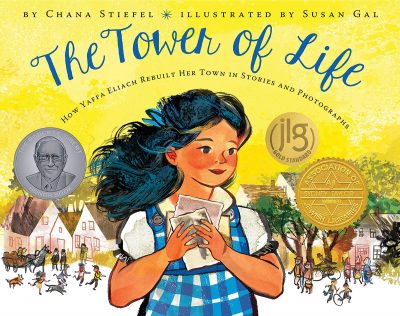 Winning Picture Book
The Tower of Life: How Yaffa Eliach Rebuilt Her Town in Stories and Photographs
By Chana Stiefel, illustrated by Susan Gall
Published by Scholastic Press
Yaffa's happy childhood in a small Polish town ended abruptly when Nazi soldiers invaded the town, killing nearly all of its Jewish residents. Although Yaffa and her family managed to escape, they spent the rest of the war in hiding, finding shelter wherever they could, even in pigsties and potato sheds.
Before they fled, Yaffa had tucked a few precious photographs into her shoes. Those photographs helped sustain her throughout their ordeal, reminders of the love and laughter that once filled her town.
When Yaffa grew up and moved to the United States, she began a world-wide quest to find photographs of all her relatives, friends, and neighbors who were killed by the Nazis. Using thousands of those photos, she created the Tower of Life, a permanent exhibit in the U.S. Holocaust Memorial Museum.
This stunning picture book biography blends words, illustrations and photos into an uplifting tribute to both Yaffa Eliach and the spirit of her beloved town. – Michele Palmer
About Michele Palmer
Author Michele Palmer's generous gift helped establish The Malka Penn Award. Ms. Palmer has written over a dozen books for children and adults. Three of those books were children's literature: The Miracle of the Potato Latkes, The Hanukkah Ghosts, and Ghosts and Golems. As an oral historian at UConn's Center for Oral History, her most exciting project was co-director of "Witnesses to Nuremberg: An Oral History of the War Crimes Trials," in conjunction with the opening of The Dodd Center in 1995. Ms. Palmer has also curated numerous art, book, and history exhibits at UConn and elsewhere. One of her exhibits at The Dodd Center – "After Anne Frank: Children's Books About the Holocaust" – led to her establishing the Malka Penn Collection of Children's Books on Human Rights in the Archives and Special Collections at The Dodd Center for Human Rights.
Award Details
Submissions are now invited for the 2024 Malka Penn Award for Human Rights in Children's Literature. The winning books of the 2024 Malka Penn Award will be announced in the spring of 2024 and a ceremony will be held in the fall of 2024 at The Dodd Center for Human Rights in Storrs, Connecticut. The award winners will receive a bronze medallion and certificate and will be invited to deliver an address to UConn's faculty, students, and the broader community. A committee of UConn faculty, staff, and community members select award winners each year in addition to honorary books as applicable.
Eligibility
Any book for children and young adults originally published in the United States between January 1, 2023 – December 31, 2023 is eligible for consideration for the 2024 Malka Penn Award. The book may be a work of fiction, non-fiction, poetry, memoir, or biography. Books must be published in a physical, print form—e-books are currently ineligible for consideration. The deadline for submission for the 2024 Malka Penn Award is December 31, 2023.
How to Submit
To submit a book for consideration, please send ten copies to:
Malka Penn Award Selection Committee
Dodd Human Rights Impact
The Dodd Center for Human Rights
405 Babbidge Road, U-1205
Storrs, CT 06269-1205
dodd@uconn.edu
1-860-486-5131
Katharine Capshaw
Professor, English
Sian Charles-Harris
Ph.D. Student, Curriculum & Instruction
Kristin Eshelman
Archivist, Northeast Children's Literature Collection
Joy Haenlein and Landon Osborn
Connecting through Literacy Incarcerated Parents, Children, and Caregivers (CLICC)
Douglas Kaufman
Associate Professor, Curriculum & Instruction
Alice Bauer
Author
Michele Palmer
Author
Susannah Richards
Professor of Education, Eastern Connecticut State University
Tracey-Ann Lafayette
Third Grade Teacher
Pegi Deitz Shea
Author
Joan Weir
Ph.D. Student, Curriculum & Instruction
Elizabeth Scanlan
Lee Reynolds, ex officio