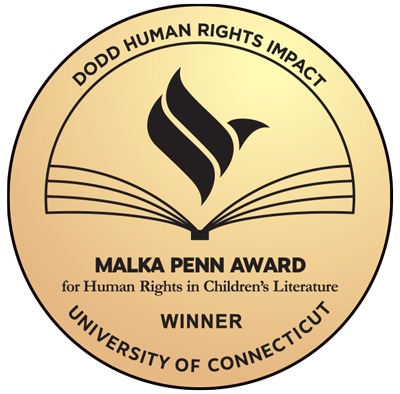 The Malka Penn Award is given annually to the author of an outstanding children's book addressing human rights issues or themes such as discrimination, equity, poverty, justice, war, peace, slavery or freedom.
Named in honor of author Michele Palmer, who writes under the pseudonym Malka Penn, the award recognizes works of fiction, non-fiction, poetry, memoir, or biography which are written for children from preschool to high school. Within these larger themes, the award committee is particularly eager to recognize stories about individuals – real or fictional, children or adults – who have been affected by social injustices, and who, by confronting them, have made a difference in their lives or the lives of others.
2022 Award Ceremony – Join Us!
The 2022 Malka Penn Award will be presented to author Wade Hudson on November 1, 2022 in the Dodd Center for Human Rights. We welcome you to join us for the ceremony in person or via livestream. More information
2022 Malka Penn Award Winner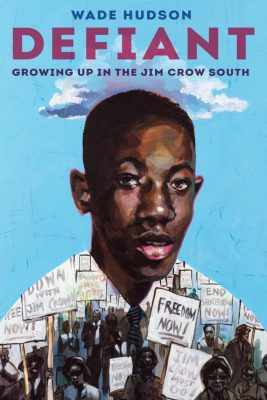 Defiant
By Wade Hudson
Published by Crown Books for Young Readers
Growing up in the small, segregated town of Mansfield, Louisiana, Wade Hudson was influenced by two powerful forces: his nurturing black family and community, and the wider world of systemic racism. In this moving and inspiring memoir for middle grade readers and beyond, Hudson relates how both of those forces shaped him into becoming the civil rights activist, writer, and publisher he is today.
The historic events that made headlines during his childhood, including the murder of Emmett Till in Mississippi, and the bus boycott in Montgomery, Alabama, played a role in his budding social consciousness, but events closer to home had an even deeper impact. He describes the fear he felt when he found himself alone and confronted by three White teenagers, the humiliation of buying new clothes downtown without being allowed to try them on, and the pain of watching his father having to defer to White people in front of his children.
In spite of these demeaning experiences, the joys and adventures of being part of a close-knit family and community shine throughout the book. Indeed, they carry him through his childhood and adolescence, and eventually help him discover his own voice and how to use it to bring about change. - Michele Palmer
2022 Honor Books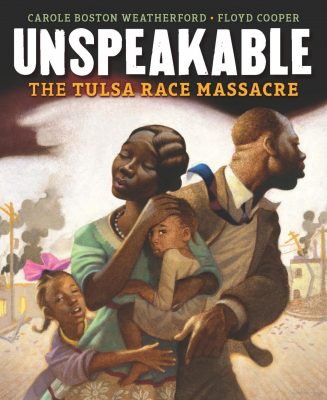 Unspeakable
By Carole Boston Weatherford and illustrated by Floyd Cooper
Published by
Lerner Publications
During the Memorial Day weekend of 1921, white inhabitants of Tulsa, Oklahoma, seeking vengeance, murdered scores of Black citizens and destroyed their community. Until recently, this event has rarely been mentioned in history books or discussed in schools. However, Carole Boston Weatherford and Floyd Cooper have rectified this grievous omission with their picture book, Unspeakable: The Tulsa Race Massacre.
Through poetic word imagery and stunning, sepia-tinged illustrations, the author and illustrator describe how residents of the thriving Greenwood section of Tulsa—dubbed "Black Wall Street"—create a community that many might find unremarkable except in its defiance of the racism of its day. Here, Black citizens lived lives that, despite the challenges of segregation, were prosperous and full. As Weatherford lists the businesses, services, schools, and professions that the citizens have built for themselves, we envision the rich, vibrant, multidimensional community that provided "undeniable proof that African Americans could achieve just as much, if not more, than whites." However, the idyllic scene evaporates when a Black man is accused of assaulting a white woman. With a sense of tragic inevitability, the narrative shifts to the tragic two days that followed, when mobs of white people kill, burn, and loot with the approval of city officials.
Unspeakable confronts this traumatic, brutally racist event with both directness and sensitivity, making its story accessible to young readers, inspiring deep reflection and conversation, and calling us to "to reject hatred and violence and to instead choose hope." - Douglas K. Kaufman, Ph.D.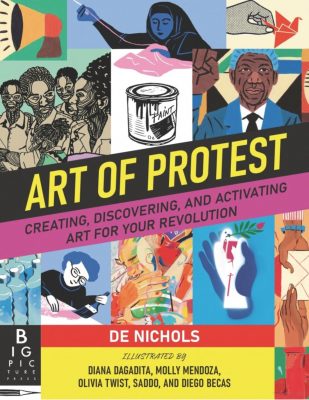 The Art of Protest
By De Nichols and illustrated by Diana Dagadita, Molly Mendoza, Olivia Twist, Daddo, and Diego Becas
Published by
Candlewick Press
The Art of Protest, a history/how-to on building human rights campaigns, inspires and teaches readers (8-up) to use all kinds of art to stand up for any injustice. Composed by international and acclaimed "#own voices" (author De Nichols, and illustrators Diana Dagadita, Molly Mendoza, Olivia Twist, Saddo, and Diego Becas), it shows how young activists (ex. Parkland students, BLM founders, Zero Hour's Nadia Nazar) used digital art, logos, slogans, videos, etc. to create successful campaigns. Snappy sections on typography, color symbolism, technology, etc., each have "Try This" prompts that can make an "artivist" out of anyone who can't draw a straight line or spell "activism". De Nichols ends with a poster poem in different fonts: "START MAKING./ Start CREATING/ THE CHANGE/ that's needed/ for a/ BETTER WORLD." This book works across the curriculum; it works across all worlds. - Pegi Deitz Shea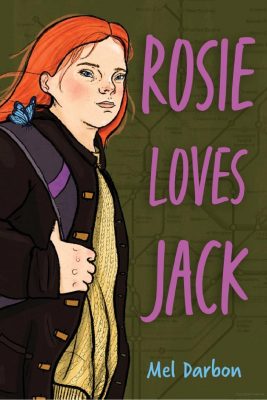 Rosie Loves Jack
By Mel Darbon
Published by
Peachtree Publishing Co.
Rosie Loves Jack, the debut novel from author Mel Darbon, is a book about meeting and defying expectations. Rosie, a teenager with Down syndrome, will stop at nothing to find her boyfriend, Jack — even when it means leaving her home and family in London and striking out on her own to Brighton, where Jack is completing an anger management program. Along the way, she navigates transportation systems that are completely foreign to her — and societal reactions that are all too familiar. Some people are helpful, some people make fun or take advantage of Rosie, and others don't get involved. Even her family, it turns out, has set beliefs about Rosie's capabilities and potential. Read how Rosie surprises them all — and maybe even herself! - Joy Haenlein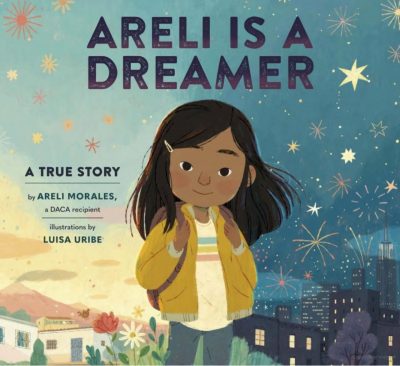 Areli is a Dreamer
By Areli Morales and Illustrated by Luisa Uribe
Published by
Random House Studio
Areli is a Dreamer is delightful and moving autobiographical picture book that tells the story of Areli Morales who was born in Puebla, Mexico and grew up in New York City. Morales narrates a poignant memoir of childhood, belonging and family separation that culminates in triumph when she receives DACA status and her family's dream for a better life in the US is fulfilled. The Deferred Action for Childhood Arrivals (DACA) is an immigration policy that has provided relief to thousands of undocumented children, referred to as "Dreamers," who came to the United States as children and call this country home. The author draws on her own lived experience as a DACA recipient to highlight the impact that immigration policy has on the lives of children and families. The vibrant illustrations by Colombian artist, Luisa Uribe reveal the different textures of Areli's life in the mountains of Mexico and her new life in New York. Areli's poignant memories reveal the difficulty of adjusting to her new life and in coming to terms with her status as an undocumented minor and what that meant for her life.
Morales' narrative brings us into the vibrant worlds of Puebla, New York and also Areli's inner world, for example when one evening Areli asks her mother what the kids at school mean when they say that she was illegal. "Illegal means against the law," her mother began. "I'm not against the law! Areli said. "Of course you're not," said her mother, "But you were born in Mexico. So even though you are growing up here in America, you are not a citizen of this country." Finding herself in the position of being deemed "illegal," Areli's telling of her story celebrates how the bonds of family life and community sustain the fulfillment of the immigrant dream for a better life in the United States. It is a wonderful book for younger readers to explore deeply philosophical questions that are also about human rights, such as: What does it mean to be illegal? What does it mean to belong to a place? Is it ok to break the law in order to secure a better life for your family? What is a "better life?" What is a "good life?" Areli is a Dreamer invites even the youngest readers to think critically and with empathy about the enactment of human rights in issues that are close to home and close to the heart. - Sian Charles-Harris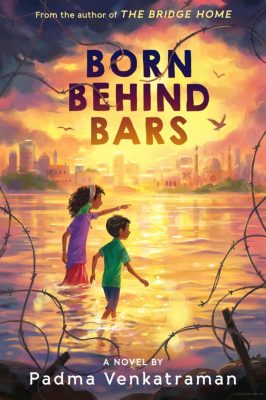 Born Behind Bars
By Padma Venkatraman
Published by
Nancy Paulsen Books
Few authors have the sensibility and writing eloquence to craft a middle grade novel that highlights injustices but also offer hope. Padma Venkatraman is one of those insightful authors who recognizes that readers need complex and layered stories. Set in Chennai, India, Born Behind Bars is a story about Kadir, a young boy born in prison because his mother was unjustly accused of stealing from her employer. After a glimpse of Kadir's life in prison, readers follow Kadir as he develops his instincts to navigate the complexity of the caste system, prejudices, friendship, kindness, and independence. On the way he shows bravery, loyalty, and kindness that eventually leads him to his ultimate goal-finding his grandparents who help him to release his mother. This middle grade novel, that was inspired by a true story the author read in the news, is an exceptional example of how stories help readers to grow their understanding of human rights and the dignity. - Susannah Richards
About Michele Palmer
Author Michele Palmer's generous gift helped establish The Malka Penn Award. Ms. Palmer has written over a dozen books for children and adults. Three of those books were children's literature: The Miracle of the Potato Latkes, The Hanukkah Ghosts, and Ghosts and Golems. As an oral historian at UConn's Center for Oral History, her most exciting project was co-director of "Witnesses to Nuremberg: An Oral History of the War Crimes Trials," in conjunction with the opening of The Dodd Center in 1995. Ms. Palmer has also curated numerous art, book, and history exhibits at UConn and elsewhere. One of her exhibits at The Dodd Center – "After Anne Frank: Children's Books About the Holocaust" – led to her establishing the Malka Penn Collection of Children's Books on Human Rights in the Archives and Special Collections at The Dodd Center for Human Rights.
Award Details
Submissions are now invited for the 2023 Malka Penn Award for Human Rights in Children's Literature. The winning book of the 2023 Malka Penn Award will be announced in the spring of 2023 and a ceremony will be held in the fall of 2023 at The Dodd Center for Human Rights in Storrs, Connecticut. The award winner will receive a bronze medallion and certificate and will be invited to deliver an address to UConn's faculty, students, and the broader community. A committee of UConn faculty, staff, and community members select one award winner each year in addition to honorary books as applicable.
Eligibility
Any book for children and young adults originally published in the United States between January 1, 2022 – December 31, 2022 is eligible for consideration for the 2023 Malka Penn Award. The book may be a work of fiction, non-fiction, poetry, memoir, or biography. Books must be published in a physical, print form—e-books are currently ineligible for consideration. The deadline for submission for the 2023 Malka Penn Award is December 31, 2022.
How to Submit
To submit a book for consideration, please send ten copies to:
Malka Penn Award Selection Committee
Dodd Human Rights Impact
The Dodd Center for Human Rights
405 Babbidge Road, U-1205
Storrs, CT 06269-1205
dodd@uconn.edu
1-860-486-5131
Katharine Capshaw
Professor, English
Sian Charles-Harris
Ph.D. Student, Curriculum & Instruction
Kristin Eshelman
Archivist, Northeast Children's Literature Collection
Joy Haenlein and Landon Osborn
Connecting through Literacy Incarcerated Parents, Children, and Caregivers (CLICC)
Douglas Kaufman
Associate Professor, Curriculum & Instruction
Kaitlin Kamalei Brandon
Author
Tracey-Ann Lafayette
Third Grade Teacher
Michele Palmer
Author
Susannah Richards
Professor of Education, Eastern Connecticut State University
Pegi Deitz Shea
Author
Nicole Warren, LSW
Elementary School Teacher
Joan Weir
Ph.D. Student, Curriculum & Instruction
Elnara Klicheva, ex officio
MA Student, School of Social Work