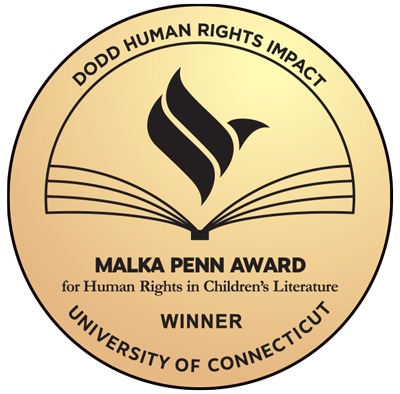 The Malka Penn Award is given annually to the author of an outstanding children's book addressing human rights issues or themes such as discrimination, equity, poverty, justice, war, peace, slavery or freedom.
Named in honor of author Michele Palmer, who writes under the pseudonym Malka Penn, the award recognizes works of fiction, non-fiction, poetry, memoir, or biography which are written for children from preschool to high school. Within these larger themes, the award committee is particularly eager to recognize stories about individuals – real or fictional, children or adults – who have been affected by social injustices, and who, by confronting them, have made a difference in their lives or the lives of others.
About Michele Palmer
Author Michele Palmer's generous gift helped establish The Malka Penn Award. Ms. Palmer has written over a dozen books for children and adults. Three of those books were children's literature: The Miracle of the Potato Latkes, The Hanukkah Ghosts, and Ghosts and Golems. As an oral historian at UConn's Center for Oral History, her most exciting project was co-director of "Witnesses to Nuremberg: An Oral History of the War Crimes Trials," in conjunction with the opening of The Dodd Center in 1995. Ms. Palmer has also curated numerous art, book, and history exhibits at UConn and elsewhere. One of her exhibits at The Dodd Center – "After Anne Frank: Children's Books About the Holocaust" – led to her establishing the Malka Penn Collection of Children's Books on Human Rights in the Archives and Special Collections at The Dodd Center for Human Rights.
Award Details
Submissions are now invited for the 2022 Malka Penn Award for Human Rights in Children's Literature. The winning book of the 2022 Malka Penn Award will be announced in the spring of 2022 and a ceremony will be held in the fall of 2022 at The Dodd Center for Human Rights in Storrs, Connecticut. The award winner will receive a bronze medallion and certificate, and will be invited to deliver an address to UConn's faculty, students, and the broader community. A committee of UConn faculty, staff, and community members select one award winner each year in addition to honorary books as applicable.
Eligibility
Any book for children and young adults originally published in the United States between January 1, 2021 – December 31, 2021 is eligible for consideration for the 2022 Malka Penn Award. The book may be a work of fiction, non-fiction, poetry, memoir, or biography. Books must be published in a physical, print form—e-books are currently ineligible for consideration. The deadline for submission for the 2022 Malka Penn Award is December 31, 2021.
How to Submit
To submit a book for consideration, please send ten copies to:
Malka Penn Award Selection Committee
Dodd Human Rights Impact
The Dodd Center for Human Rights
405 Babbidge Road, U-1205
Storrs, CT 06269-1205
dodd@uconn.edu
1-860-486-5131
Katharine Capshaw
Professor, English
Sian Charles-Harris
Ph.D. Student, Curriculum & Instruction
Kristin Eshelman
Archivist, Northeast Children's Literature Collection
Joy Haenlein and Landon Osborn
Connecting through Literacy Incarcerated Parents, Children, and Caregivers (CLICC)
Douglas Kaufman
Associate Professor, Curriculum & Instruction
Kaitlin Kamalei Brandon
Author
Tracey-Ann Lafayette
Third Grade Teacher
Glenn Mitoma
Director, Dodd Human Rights Impact
Michele Palmer
Author
Susannah Richards
Professor of Education, Eastern Connecticut State University
Pegi Deitz Shea
Author
Nicole Warren, LSW
Elementary School Teacher
Joan Weir
Ph.D. Student, Curriculum & Instruction
Elnara Klicheva, ex officio
MA Student, School of Social Work