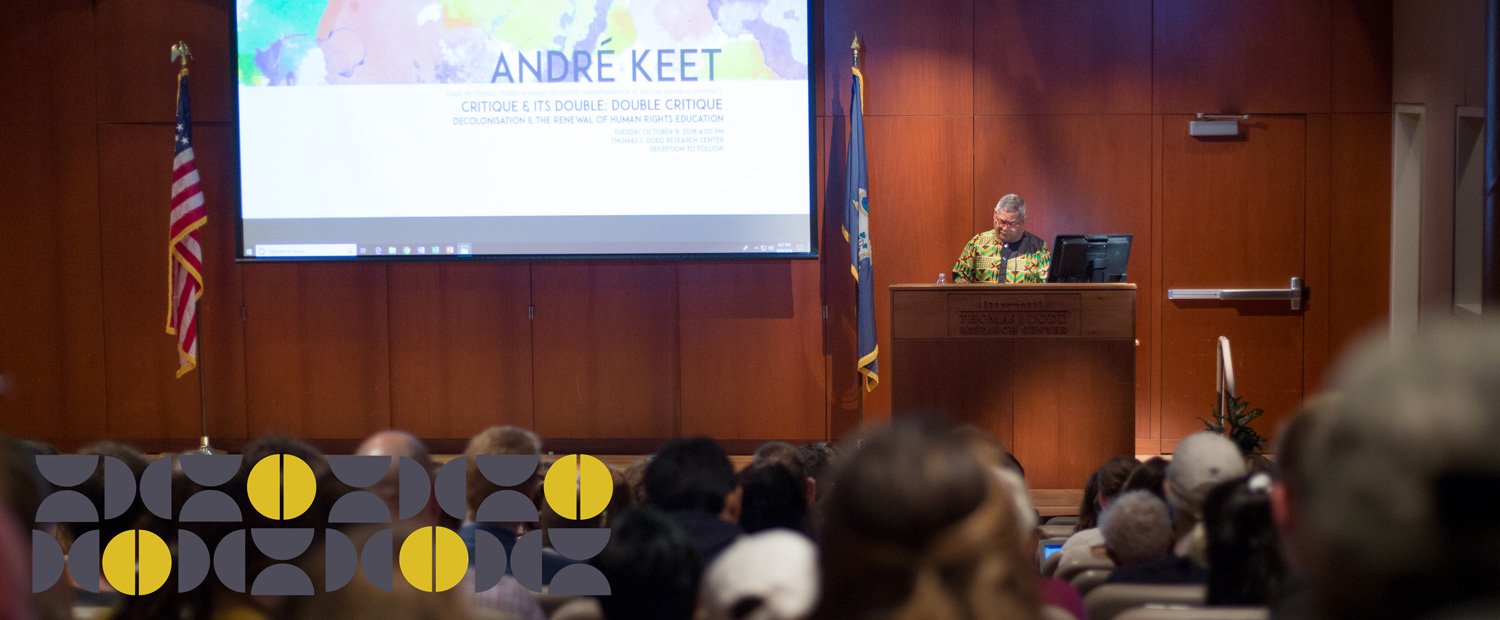 The Gladstein Visiting Professor is a distinguished scholar with international standing in the study of human rights, who participates in a 10-day visit to the Human Rights Institute at UConn. During that time, they deliver a major public lecture, teach a seminar in their specialty, and consult with the faculty and graduate students of the Human Rights Institute's research programs.
"I am very pleased to honor my late wife, Marsha Gladstein, in this way. Marsha majored in early elementary education and started her career as a kindergarten teacher in the Bridgeport public school system. Education and human rights were very important to her, and I hope that the Marsha Lilien Gladstein Visiting Professorship in Human Rights will help make a contribution to educating future generations about the importance of human rights. The gift to UConn is very appropriate because it is the place where we met, and the University always had a special place in our hearts."

– Gary Gladstein, April 12, 1999
Previous Awardees
Fall 2018
André Keet
André worked in national human rights institutions in post 1994 South Africa before joining the University of Fort Hare in October 2008. He also spent time at the University of the Free State as Director of the Institute for Reconciliation and Social Justice, advisor to the university president and as Acting Deputy Vice-Chancellor for Student Affairs and External Relations. He is an acknowledged social justice researcher, higher education transformation practitioner and academic citizen. André is presently the Chair for Critical Studies in Higher Education Transformation at Nelson Mandela University, the Chairperson of the Ministerial Oversight Committee on Transformation in South African Public Universities, Member of the Council on Higher Education, and Visiting Professor at the Centre for Race, Education and Decoloniality, Carnegie School of Education, Leeds Beckett University in the UK.
Spring 2018
Stephen Rapp
Stephen J. Rapp is a distinguished fellow at the United States Holocaust Memorial Museum's Center for Prevention of Genocide and at The Hague Institute for Global Justice. He serves as chair of the Commission for International Justice & Accountability (CIJA) that has collected and analyzed more than 750,000 pages of documentation from Syria and Iraq to prepare cases for future prosecution. From 2009 to 2015, he was US Ambassador-at-Large for Global Criminal Justice in the US State Department. He served at Prosecutor of the Special Court for Sierra Leone from 2007 to 2009 where he led the prosecution of former Liberian President Charles Taylor. From 2001 to 2007, he served as Senior Trial Attorney and Chief of Prosecutions at the International Criminal Tribunal for Rwanda, where he headed the trial team that achieved the first convictions in history of leaders of the mass media for the crime of direct and public incitement to commit genocide. Rapp was the United States Attorney for the Northern District of Iowa from 1993 to 2001, where his office won historic convictions under the firearms provision of the Violence Against Women Act and the serious violent offender provision of the 1994 Crime Act. Prior to his tenure as US Attorney, he worked as an attorney in private practice and served as Staff Director of the U.S. Senate Judiciary Subcommittee on Juvenile Delinquency and as an elected member of the Iowa Legislature. He received his BA degree from Harvard in 1971and his JD degree from Drake in 1974.
Spring 2017
Alison Brysk
Alison Brysk is the Duncan and Suzanne Mellichamp Professor of Global Governance at the University of California, Santa Barbara. She is the author or editor of eleven books on human rights, including From Tribal Village to Global Village, Human Rights and Private Wrongs, and Speaking Rights to Power. Professor Brysk was selected a Fulbright Professor in 2007 (Canada) and 2011 (India), a fellow at the Woodrow Wilson Center from 2013-2014, and the International Studies Association Distinguished Scholar in Human Rights from 2015-2016. She has lectured and held visiting professorships throughout Europe, Latin America, South Asia, South Africa, and Australia.
Spring 2016
Alicia Ely Yamin
Alicia Ely Yamin, JD MPH is a lecturer on law and global health, director of the joint JD/MPH program at the Harvard T.H. Chan School of Public Health, and policy director of the François-Xavier Bagnoud Center for Health and Human Rights at Harvard University. She is also a senior associate researcher at the Centre on Law and Social Transformation at the University of Bergen, Norway. Yamin's more than twenty-year career at the intersection of health, human rights and development has bridged academia and activism. From 2007 to 2011, Yamin held the prestigious Joseph H. Flom Fellow on Global Health and Human Rights at Harvard Law School. Prior to that, she served as director of research and investigations at Physicians for Human Rights where she oversaw all of the organization's field investigations, and was on the faculty of the Mailman School of Public Health at Columbia University. Yamin has published widely relating to health and human rights, in both English and Spanish, and has been awarded multiple distinctions in respect of her work on health and human rights, particularly in the field of reproductive and sexual health and rights. She frequently consults for UN and other global agencies, including serving as the lead consultant for the Office of the High Commissioner for Human Rights on the application of rights-based approaches to the reduction of preventable maternal mortality and morbidity, which was adopted by the Human Rights Council in 2012. In 2015, she was appointed by the Constitutional Implementation Committee of Kenya as the only non-Kenyan on the Oversight Committee regarding activities to implement rights-based approaches to health services delivery. She regularly advises on strategic litigation and conducts training for both lawyers and judiciaries regarding the enforcement of health-related rights, including sexual and reproductive rights.