2021 Malka Penn Award Winner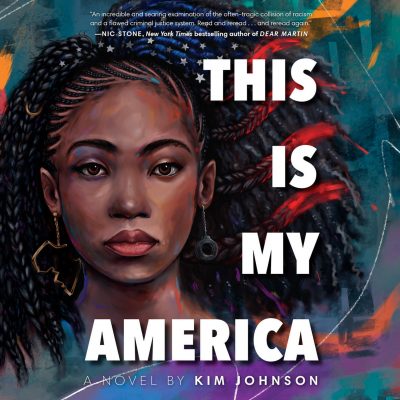 This is My America
By Kim Johnson
Published by Random House Books for Young Readers
This compelling young adult novel exposes the unequal treatment of blacks within the criminal justice system. Seventeen year old Tracy Beaumont, whose father sits on death row convicted of a murder he didn't commit, writes weekly letters to Innocence X (an organization modeled after the Equal Justice Initiative), imploring them to take on her father's case. When her brother becomes a suspect in another murder, Tracy sets out on her own to unearth the truth behind both crimes and reveal the deep-rooted prejudice in the American justice system.
The author draws on her experiences as a social justice advocate to create an important and timely story. Written in the style of a thriller, the book weaves together themes of historical racism, inter-racial relationships, police brutality and corruption, and the heavy toll on the families of incarcerated people. Above all, it shows how one determined person, with the help of family, friends, and organizations working toward criminal justice, can make a difference. – Michele Palmer
2021 Books of Honor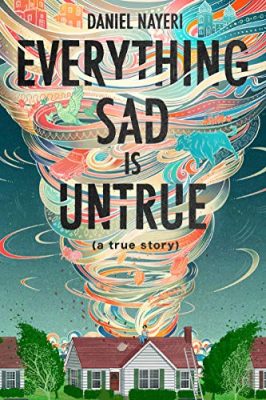 Everything Sad is Untrue
By Daniel Nayeri
Published by Levine Querido

Everything Sad is Untrue is a gorgeous autobiographical novel that celebrates the tradition of epic storytelling and invites readers to consider the immigrant experience through new eyes. The narrator is twelve-year-old Khosru, a refugee from Iran who has been forced to flee from the secret police with his mother and sister after his mother's conversion to Christianity.
Now a middle schooler in Oklahoma, Khosru recognizes that he is exoticized and perceived as "super weird" by his classmates. He defends himself through storytelling—presenting a series of connected tales in the epic tradition of Scheherazade, the legendary Persian Queen and narrator of 1001 Nights, Khosru reveals his family history and the history of his homeland to his classmates and teacher—an increasingly captive audience. Khosru also uses his stories to both explore and embrace his own identity, pondering issues of divorce, domestic abuse, family tradition, and survival and growth in an unfamiliar culture. The western reader may find the text a challenge at the beginning, as it does not follow a typical linear narrative, but the payoff is enormous. Woven together, Khosru's stories create a multidimensional tapestry that evokes empathy and engenders new cultural understandings. – Douglas K. Kaufman, Ph.D.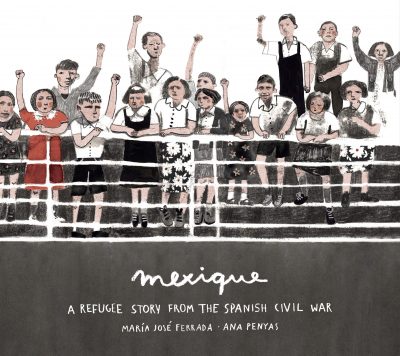 Mexique
by Maria José Ferrada and illustrated by Ana Penyas
Published by Eerdmans Publishing
Mexique: A Refugee Story from the Spanish Civil War written by Maria José Ferrada and illustrated by Ana Penyas tells the story of Los Niños de Morelia, the 456 displaced children of the Spanish Civil War who in 1937 boarded the boat Mexique bound for Mexico and what their parents hoped would be safety from the violence of war. Imaginative and expressive, the text is written from the perspective of a child on board the ship, struggling to understand the consequences of war. "War is a very loud noise. War is a huge hand that shakes you and throws you onto a ship." The fragmentation that occurs physically and emotionally is expressed equally through the illustrations. Penyas uses a unique style working from historical photographs resulting in illustrations that live somewhere between the imagined and the photographic seeming to flicker back and forth between the two states. Dedicated, "To the Children of Morelia and to all those who are moving in search of a life without fear," the book is a story of hope. For Ferrada, "Hope is the capacity to believe, and it doesn't matter how old we are. This is something that makes us unique as human beings. This is something that we have to take care of." – Kristin Eshelman
Dear Justyce
By Nic Stone
Published by Crown Books for Young Readers
This powerful story highlights how circumstances and decisions can change a person's life forever at times because of the control that others have to change the path that you want to pursue. Two boys from the same neighborhood with a shared love of reading and hope for the future, find themselves on two different paths. Justyce has opportunities and attends a private school and an elite college. Quan, is bright in a family with a lot of emotional trauma but his biggest obstacle is being the target of blatant racism that is perpetuated by circumstances. He is incarcerated for a crime he did not commit because of who he is and a system that is racially biased. Stone is a a genius storyteller and while the backwater makes it clear that this is not a true story, her research and hopeful outlook, create a bleak, sometimes inhumane picture of how many black youth have to navigate perceptions and the law in a very different way than people whose skin color and background are not targeted. The use of flashback and letters between Quan and Justyce provides perspective and emotional connection but also helps to strengthen the divide between two young people whose lives have different trajectories. While Dear Justyce focuses on characters that were introduced in Stone's 2017 debut novel Dear Martin, readers will be able to read Dear Justyce as a companion or a stand alone. More importantly, this book is about social justice, human rights, and the ability to live a life where potential is more valued than circumstances. -Susannah Richards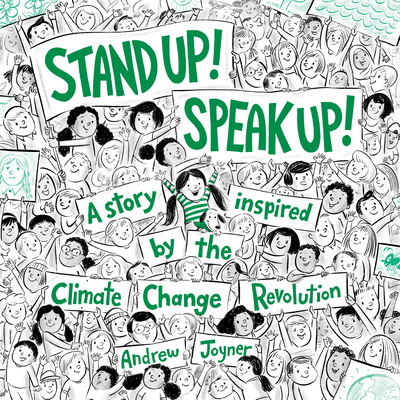 Stand Up! Speak Up!
By Andrew Joyner
Published by Penguin Random House
Stand Up! Speak Up! by Andrew Joyner is a picture book that shares steps readers can take to be a climate activist. It is a quick read that is perfect to start to engage children in activism and climate justice. The simplicity and repetition of "up" in this book (ex. "Stand Up" and "Speak Up" and "Listen Up") would easily captivate young readers. Its illustrations are black and white, but have a reoccurring green emphasis color that adds another implicit nod to the climate change revolution. At the end of the book, the author details different climate activists that readers could study and learn from. This book can easily stand on its own without the human rights issue present. However, "Stand Up, Speak Up" demonstrates that we can engage even the youngest of readers in human rights and inspire them to make a difference. – Kaitlin Kamalei Brandon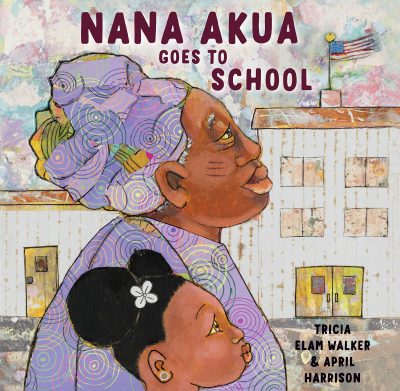 Nana Akua Goes to School
By Tricia Elam Walker and April Harrison
Published by Schwartz & Wade
Nana Akua goes to school, by Tricia Elam Walker and April Harrison, is a beautifully written story about diversity and acceptance. When Grandparents day comes to Zura's school, Zura worries about how her classmates will react to her grandmother who has tribal markings on her face. Nana Akua is Zura's favorite person and the thought of someone being mean to Nana has Zura very upset. Nana Akua, however, knows exactly what to do and not only can explain the importance and joy in her symbols, but also manages to make all of Zura feel special as well.-Joan Weir
2019 Malka Penn Award Winner
The White Rose
By Kip Wilson
Published by Versify HMH
This stunning novel-in-verse is based on the true story of Sophie Scholl, who along with her brother Hans and some of his friends, formed White Rose – a secret anti-Nazi resistance movement in Germany during World War II. Sophie distributed leaflets urging fellow students to protest the horrors of Hitler's regime. Unfortunately, she and the other members of White Rose were caught, interrogated, and executed. The novel moves back and forth in time, starting near the end of Sophie's life after her arrest, and going back through her childhood and adolescence. Despite a loving family and a budding romance, a cloud of oppression hangs over her – the relentless war, her mandatory work in a Hitler youth labor camp and an armaments factory, repeated arrests of her brother and father, increasing discriminations and deportations of Jews – until finally she's impelled to take action. Sophie was proud of what she and the other members of White Rose did, and hopeful that her life would be an inspiration to others. Indeed, her story remains relevant today when human rights are still endangered and the need to speak out is still necessary. – Michele Palmer
2019 Books of Honor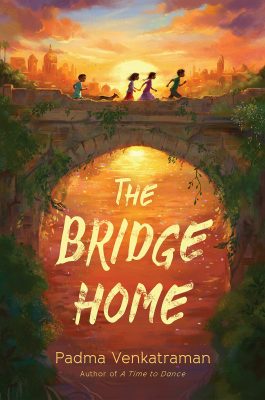 The Bridge Home
By Padma Venkatraman
Published by Penguin Random House
The Bridge Home tells a story of homelessness with extraordinary depth, complexity, and honesty. Fleeing their abusive father, eleven-year-old Viji and her sister Rukku, who has developmental disabilities, make their way to the coastal Indian city of Chennai. The girls befriend brothers Arul and Muthu and adopt a stray dog. With resourcefulness and determination, they learn to navigate the challenges of finding food and shelter and protecting themselves from untrustworthy adults, and they quickly evolve into a loyal and protective family. Inspired by the stories of real children growing up homeless in urban India, the book is unsparing in its depiction of the daily danger and tragedy they face. Refusing to ignore endemic realities of abuse, sickness, and death, it also illustrates the children's ingenuity and strength, and it leaves us with complex feelings of both mourning and hope. When read with recognition of the many children worldwide who experience homelessness and poverty, the book's themes become universal. It is an extraordinary book for beginning discussions about the human rights of children, the forces that take them away, and the possibilities for taking them back. – Doug Kaufman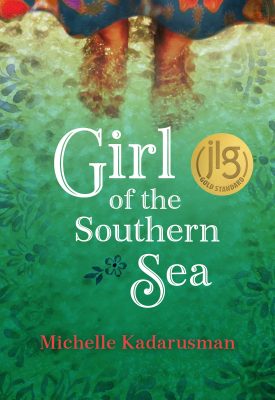 Girl of the Southern Sea
By Michelle Kadarusman
Published by Pajama Press
While I have had the good fortune of traveling in Southeast Asia—in large cities as well as small villages, in wealthy areas as well as poverty-stricken ones—middle-grade readers will feel equally plunged into the pungent, frantic, and frustrating world of Nia, author Michelle Kadarusman's young heroine. Nia battles her alcoholic widowed father while caring for her baby brother in the slums of Jakarta, the capital of Indonesia. Longing to go to high school, Nia has her hopes dashed when her father disappears, leaving his banana fritter-selling cart in the market. Nia, ever resilient, takes over the business, continues studying, and writes imaginative folk stories in the little spare time she has. Despite embarrassing and dangerous setbacks, Nia persists towards her dream. Kadarusman pulls no punches in detailing Nia's world, yet she infuses Nia (and a few dependable adults) with dignity and self-respect. Young readers, especially those facing situations out of their control, will find hope in this story and inspiration to persist. – Pegi Deitz Shea, author of award-winning books including The Whispering Cloth: A Refugee's Story, Tangled Threads: A Hmong Girl's Story, and Noah Webster: Weaver of Words.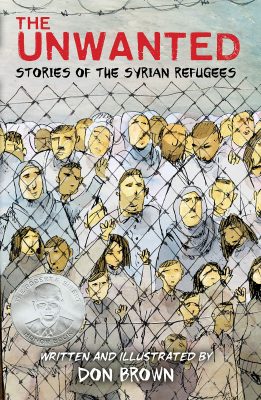 The Unwanted: Stories of the Syrian Refugees
By Don Brown
Published by Houghton Mifflin Harcourt
The Unwanted: Stories of the Syrian RefugeesThe graphic novel, The Unwanted: Stories of Syrian Refugees, by Dan Brown, is a haunting depiction of the plight of the Syrian people. He includes stories of hope, such as the reuniting of a family with their mother who had fled a year before, as well as stories of violence and desperation, such as the family who was separated by death when the boat on which they were fleeing collapsed. By using the actual words and stories of the refugees, Brown humanizes a tragedy so vast it is hard to fathom. A sea of people were forced to leave their homeland, only to encounter hostility from neighboring countries who are overwhelmed by the numbers of refugees. He illustrates the extraordinary spirit of these refugees who continue to endure hardship after hardship. And he spurs the readers with a call to action. It is a powerful novel that mixes words and illustrations to great effect. – Joan Weir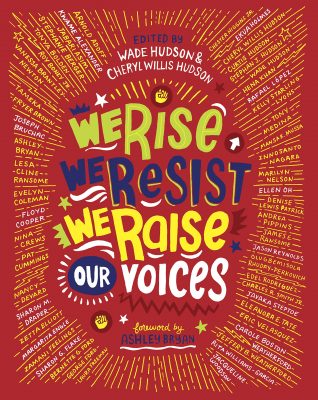 We Rise, We Resist, We Raise Our Voices
Edited by Wade Hudson and Cheryl Willis Hudson
Published by Crown Books
We Rise, We Resist, We Raise Our Voices, edited by Wade Hudson and Cheryl Willis Hudson, is a collection of poems, letters, and essays by Indigenous, Black, and people of color authors for the young. Contributors include Marilyn Nelson, Joseph Bruchac, Jacqueline Woodson, Margarita Engle, Hena Kahn, Jason Reynolds, and many others. Engaging issues of injustice and discrimination, the book seeks to inspire and fortify young readers, offering them assurances of their competency, brilliance, and beauty, and foregrounding the adult community's embrace of the value and potential of youth. By engaging the reader directly, the pieces convey the urgency and consequence of our cultural moment. As Denise Lewis Patrick asserts in her essay, "You come from people who have never stopped finding a way . . .We knew you would be coming, and we are your life map in truth and spirit and memory. You are here, and we are here with you." This profoundly moving collection, which incorporates lively illustrations and photographs, builds a sense of community by grappling honestly with the social and political obstacles to human dignity faced by the child reader. – Katharine Capshaw
2018 Malka Penn Award Winner
The Night Diary
by Veera Hiranandani
Published by Dial Books for Young Readers
The Night Diary by Veera Hiranandani is set during one of the most tumultuous events in human history, the 1947 Partition of India, when that newly independent country was split in two: predominantly Muslim Pakistan and majority Hindu India. Twelve year old Nisha feels split as well. Her deceased mother was Muslim, her father is Hindu. It's become unsafe for her family to remain in their home, which overnight has turned into Pakistan. They must make a dangerous journey across the border into the new India. Nisha relates the terrors and hardships of the journey, as well as the ups and downs of everyday life, through a series of letters she writes to her mother in her diary, the only place she feels safe enough to fully express her feelings. As chaos swirls around Nisha, she ponders fundamental questions: why can't people of different religions get along? Why is there so much hate and suffering? And, most of all, where is home? Nisha documents her fears and hopes in her diary as she searches for her true home within herself and her family. Slowly, she reaches out to others in friendship, perhaps the only way to confront hate – with love. – Michele Palmer
2018 Honor Books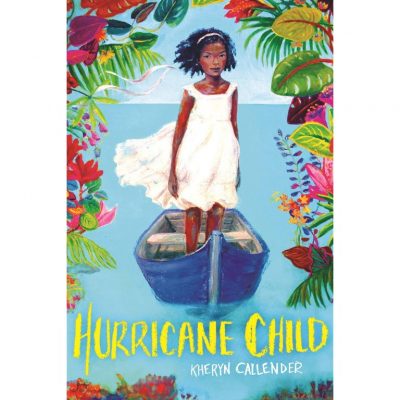 Hurricane Child
By Kheryn Callender
Published by Scholastic Press
Author Kheryn Callender artfully unfolds the trials of Caroline Murphy, a 12-year-old girl who lives in the Virgin Islands. Caroline feels like an outsider during this crucial time in her young adolescence because she is hated by her classmates, her mother has abandoned her, and she has visions that wed fantasy with reality. All begins to improve when Kalinda arrives at her school and the two form a bond unlike any Caroline has experienced before. Callender subtly deals with issues of homophobia, peer pressure, abandonment, bullying, and LGBT+ identity through beautifully poetic prose. – Ellen Cavanaugh
Before She Was Harriet
By Lesa Cline-Ransome and illustrated by James E. Ransom
Published by Holiday House
The husband and wife team of Lesa Cline-Ransome and James E. Ransome created the exceptional picture book, Before She Was Harriet, a story that uses elegant, precise poetry to depict Harriet Tubman's life and accomplishments. The book rolls backwards across time, beginning with Tubman's adulthood as a suffragette, moving to her experience as a spy and nurse in the Civil War and her accomplishment as the "Moses" of the Underground Railroad, and arriving at an intimate depiction of her life as a child with her father, studying the stars. Equally moving are the full-page watercolor paintings that illustrate the book, using contrast between darkness and light to evoke dramatically the risks Tubman faced across her life. The Ransomes' gentle, tender tone in both words and images allows the reader that rare experience of feeling close to a landmark figure in human rights history. – Katharine Capshaw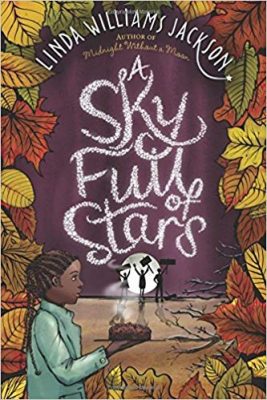 A Sky Full of Stars
By Linda Williams Jackson
Published by Houghton Mifflin Harcourt
A Sky Full of Stars exquisitely represents the Malka Penn Book Award's mission to shine light on human rights issues for younger audiences, while also celebrating beautiful and compelling stories. Set in rural Mississippi in 1955, the story depicts a tempestuous time in United States civil rights history. However, rather than focusing directly on widely covered events like the murder of Emmett Till and the national emergence of a young Martin Luther King, it uses them to contextualize a story of a young girl and her local community, who must deal directly with Jim Crow and racism. Throughout, the characters ponder complex questions: should we respond to violence with violence? Is it better to flee to safety or risk harm to protest and protect home? The protagonist, young Rose Lee (Rosa) Carter, speaks with an honest and authentic voice, realistically articulating her struggle to make extraordinarily difficult choices and find her identity. While not ignoring the violence of its topic, this book treats it sensitively through characters who underscore a humanity that persists amid fear, persecution, and hatred. – Douglas Kaufman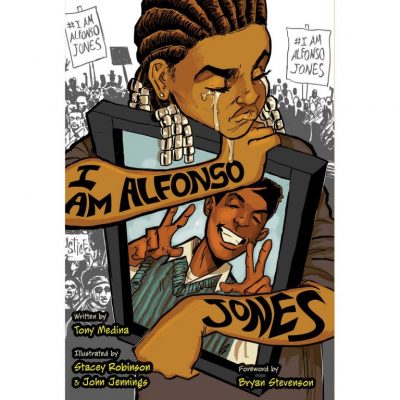 I Am Alfonso Jones
By Tony Medina Illustrated by Stacey Robinson & John Jennings
Published by Tu Books
Medina's poetic weavings of Shakespeare's Hamlet with contemporary street language and the fragmentation of the graphic novel format are what launched this book on Black Lives Matter to the top of the Malka Penn Human Rights Award list for me. Form is content: the stark black and white contrast, the ragged framing showing violence, the back stories of fatal discrimination coming out of the "gutter" into the light of public protest. While some adults might find the education of Alfonso's ghost and his classmates a bit expository—the histories of victims including Eleanor Bumpurs, Amadou Diallo, Henry Dumas, and Alfonso's innocent father incarcerated—the intended young audience will feel the crush of wave after wave of oppression. But these names amount to no mere roll call; they propel Alfonso's classmates
2017 Malka Penn Award Winner
My Beautiful Birds
by Suzanne Del Rizzo
My Beautiful Birds embodies the intention behind the Malka Penn Award: to present stories of individuals who have been affected by social injustices, and who, by confronting these injustices, have made a difference in their own lives and/or the lives of others. Using simple, poetic language and stunning illustrations created from polymer clay and acrylic paints, the author/illustrator tells the story of a young Syrian boy fleeing war with his family. As Sami struggles with the loss of his home and pet birds, he slowly adjusts to a new life in a refugee camp. Eventually he finds hope in a trio of wild birds, as well as by expressing his feelings through art, and by reaching out to help another refugee child. The award was announced November 4, 2017 at the Connecticut Children's Book Fair during a reception at the Thomas J. Dodd Research Center. The award will be presented this spring, at a date to be announced, at a special program at the Dodd Center.
2017 Honor Books
Refugee
By Alan Gratz
A compelling middle-grade reader about refugee children from three different historical periods, who attempt to escape persecution, poverty and war.
Somos como las nubes
We Are Like the Clouds
By Jorge Argueta
Powerful and beautiful bi-lingual poems about the migration of thousands of children from Central America
Us, in Progress: Short Stories about Young Latinos
By Lulu Delacre
Touching and evocative stories of immigration, deportation, prejudice and other issues facing Latinos in America