Wednesday, September 28, 2022
2:00pm - 3:30pm
Hybrid Event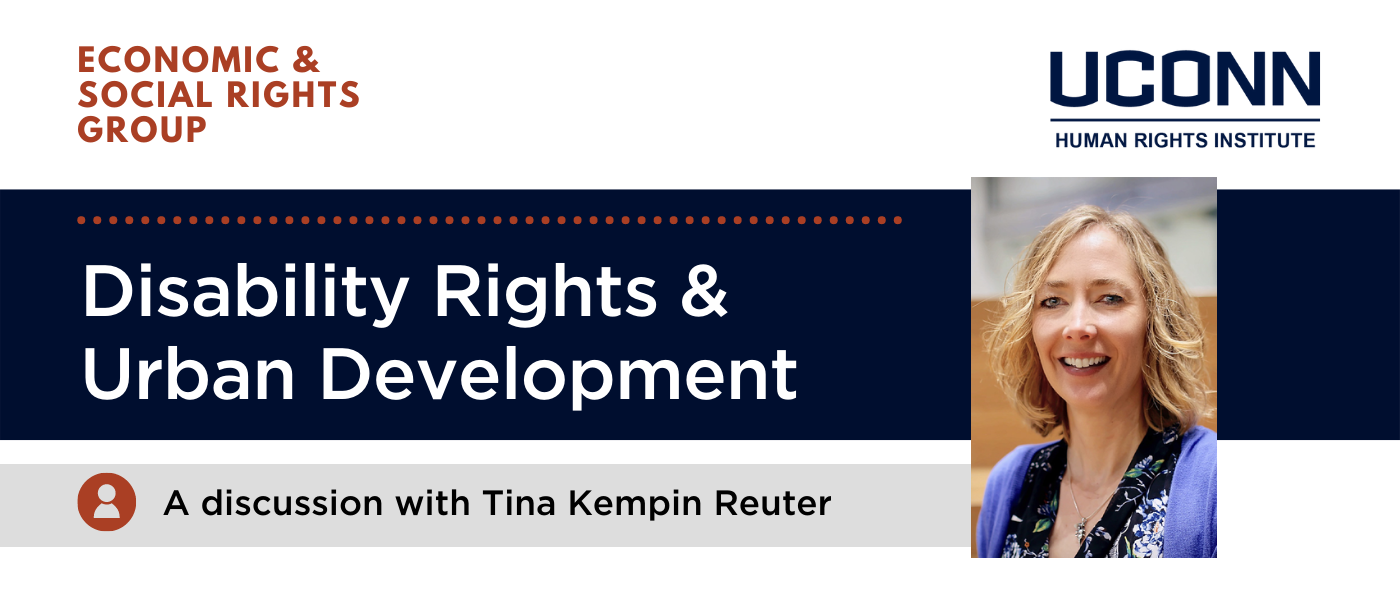 About This Event
Dr. Tina Kempin Reuter will discuss how to transform cities into spaces that reflect fundamental human rights principles and prioritize inclusion and equity, especially for marginalized communities such as people with disabilities. Looking at both the built environment and the current trends towards technologization of cities, she will show how a human rights framework can change the urban discourse and how community-based participatory approaches can influence both research on urban development and smart cities as well as policy processes and empowerment of underserved communities.
Presenter
Tina Kempin Reuter,
Director, Institute for Human Rights
The University of Alabama at Birmingham
About Tina Kempin Reuter
Dr. Tina Kempin Reuter is the Director of the Institute for Human Rights and Associate Professor in the Department of Political Science and Public Administration and the Department of Anthropology, specializing in human rights, peace studies, and international politics at the University of Alabama at Birmingham (UAB). Her research focuses on human rights with a particular emphasis on the struggle of vulnerable and marginalized populations, including minorities, persons with disabilities, refugees and migrants, women, children, the LGBTQ community, and people dealing with the consequences of poverty. She studies how to use technology to improve access, inclusion, and participation of marginalized communities in society. In addition, she is an expert on ethnic conflict and peace making with a geographical focus on Europe and the Middle East.
Before joining UAB, Dr. Reuter was the Director of the Reiff Center for Human Rights and Conflict Resolution and Associate Professor of international and comparative politics at Christopher Newport University. She was formerly associated with the Solomon Asch Center for the Study of Ethnopolitical Conflict, University of Pennsylvania, the Institute of Public International Law at the University of Zurich, and the Center for Security Studies at the Swiss Federal Institute of Technology.
Dr. Kempin Reuter holds a PhD in International Relations and International Law and an MA in Contemporary History, Economics, and International Law from the University of Zurich, Switzerland. She is the author of numerous publications in her field and has been awarded multiple prizes and grants to expand her research and teaching.
This event is sponsored by the Research Program on Economic & Rights in collaboration with the Human Rights Institute's Colloquium Series.
The Economic & Social Rights Group (ESRG) is an interdisciplinary monthly gathering of faculty and graduate students who meet to share ongoing research and to discuss current scholarship around economic and social rights. It is the central to the mission of the Research Program on Economic & Social Rights. The Research Program on Economic & Social Rights brings more than a dozen UConn faculty together with over 30 affiliated scholars from across the United States and Canada. Together, we have generated numerous graduate and undergraduate courses, several edited volumes, multiple co-authored articles, and the National Science Foundation-funded Socio-Economic Rights Fulfillment Index (SERF Index).