Tuesday, October 4, 2022
2:00pm - 3:30pm
Hybrid Event
Dodd Center for Human Rights - Room 162 & Zoom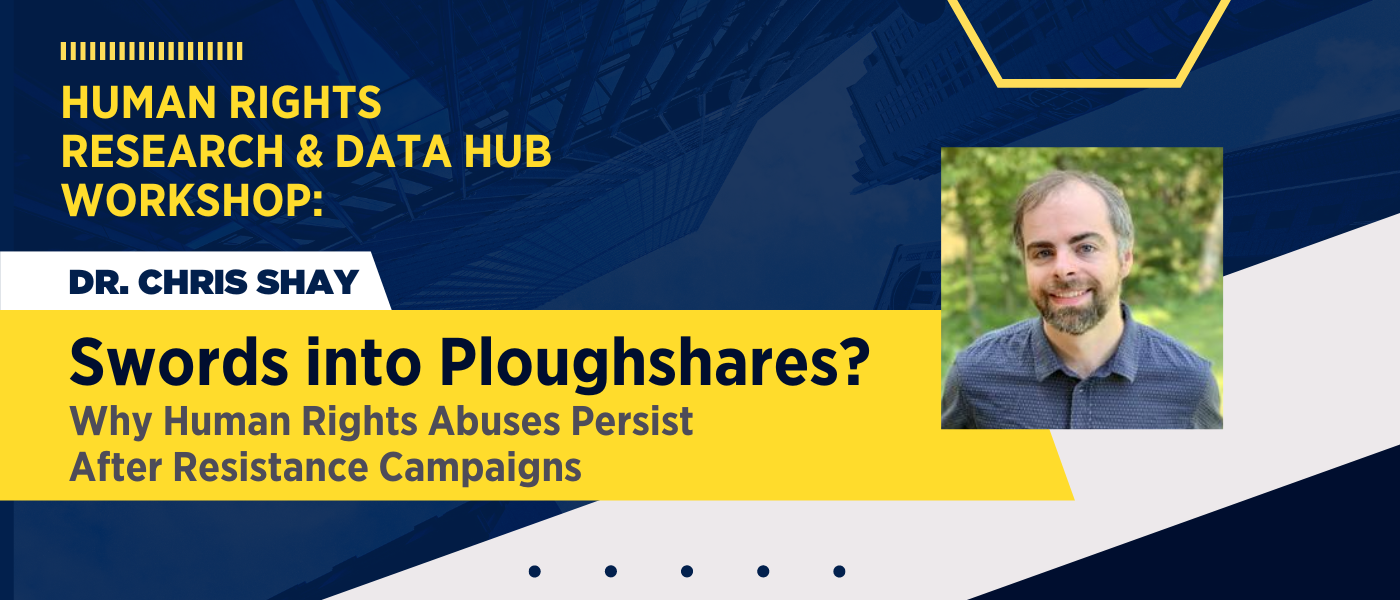 About This Event
In this Human Rights Research and Data Hub Workshop, Dr. Chris Shay will present his research on human rights abuse in the context of national crises. Human rights abuse tends to increase during national crises, such as civil wars and mass nonviolent uprisings. Under what conditions does this abuse abate or persist? Shay argues that violent challenges provoke much more coercive state responses – exposing more personnel within the security forces to extreme forms of repression and priming them (both leaders and followers) to reproduce these behaviors after the conflict has terminated. This effect is mitigated or avoided when challengers rely on nonviolent tactics instead of violence, leading to less post-conflict abuse. I test this argument with several quantitative methods, showing that nonviolent resistance campaigns lead to fewer post-campaign political killings and extrajudicial executions than violent campaigns. This effect is partially – but not fully – mediated by democratization: nonviolent methods reduce repression by promoting democratization, but the effect is present even in the absence of democratization (the majority of cases). Results also suggest that democratization cannot fully counteract the repressive legacies of violent conflict. By choosing to specialize in nonviolent tactics, therefore, resistance leaders avoid a repression trap that not even democratization can fully disarm.
About Christopher Wiley Shay
Dr. Christopher Wiley Shay is a Post-doctoral Research Associate at the University of Connecticut Human Rights Institute and an International Security Program Fellow at the Harvard Kennedy School's Belfer Center. His research focuses on armed insurgencies, civil resistance movements, and their effects on societies and governments. Drawing on a diverse array of quantitative and field-based methodologies, Shay's doctoral research shows how domestic civil-military dynamics and international institutions influence post-conflict human rights outcomes. In other words, this research explains why surprisingly few countries (including new democracies) manage to break out of the "repression trap." His work has been featured in venues such as the Journal of Global Security Studies, the Journal of Peace Research (forthcoming), and Political Violence at a Glance.
Shay also manages the Nonviolent and Violent Campaigns and Outcomes (NAVCO 2.1) data project with Dr. Erica Chenoweth and involved in the research team that maintains the Socio-Economic Rights Fulfillment Index with Dr. Susan Randolph. In the past, he has provided analysis on India's long-running Maoist insurgency (the "Naxalites") to the International Institute of Strategic Studies. He received his Ph.D. (International Studies) from the University of Denver's Josef Korbel School and a master's degree (Peace and Conflict Studies) from Uppsala University.
Prior to his graduate studies, Christopher was an outdoor educator and (for brief periods) a wildland firefighter. He holds a bachelor's degree from Hanover College.
This event is sponsored by the Human Rights Research and Data Hub (HuRRD) at the Human Rights Institute. The Hub seeks to advance human rights research at UConn by supporting faculty and student projects and providing students the opportunity to develop research and data analysis skills that will advance their careers after graduation.
---