Friday, March 4, 2022
12:30pm - 2:00pm
Virtual Event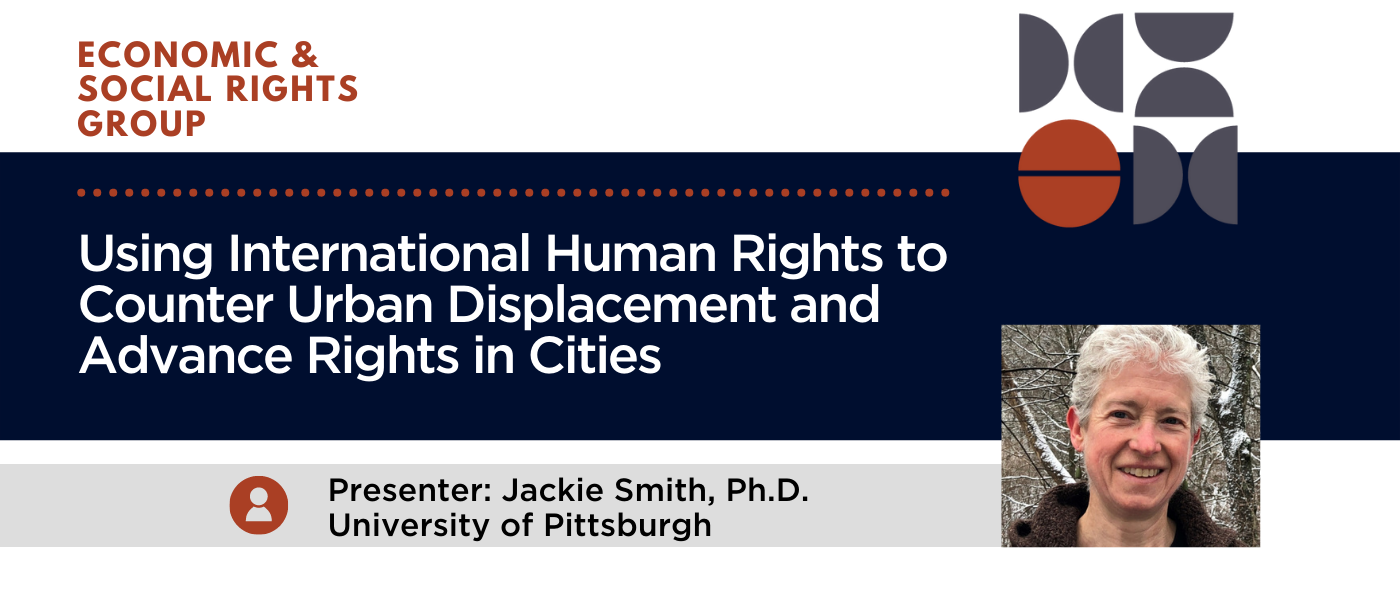 About This Event:
In the second meeting of the Economic & Social Rights Group for Spring 2022, we welcome Jackie Smith, Professor of Sociology at the University of Pittsburgh.
Smith will discuss a new white paper, Pittsburgh's Affordable Housing Crisis: Is Privatization the Solution?, which she wrote with colleagues involved in Pittsburgh's Human Rights City Alliance. She will discuss how the project emerged from the work of a diverse alliance of human rights organizers and how it contributes to ongoing local and translocal movement-building to advance housing as a human right. It also demonstrates important roles for networks of university- and neighborhood-based activists to play in advancing human rights in cities and communities. The white paper is available to read here, courtesy of Smith and her colleagues.
Presenter:
Jackie Smith's research focuses on how globalization impacts people and communities, and how social movements for the environment, health, and economic justice have advanced transformative struggles. She has documented long-term trends in transnational social movement organizations and coalitions, in addition to research on connections between global politics and activism in cities and communities. Smith is currently engaged in participatory research with Pittsburgh and with national human rights organizers and engaged in work to connect municipalities with United Nations human rights work.
This event is virtual and will be hosted on Zoom. Click the link above to register to attend. The event will be recorded.
The Economic & Social Rights Group (ESRG) is an interdisciplinary monthly gathering of faculty and graduate students who meet to share ongoing research and to discuss current scholarship around economic and social rights. It is the central to the mission of the Research Program on Economic & Social Rights.
The Research Program on Economic & Social Rights brings more than a dozen UConn faculty together with over 30 affiliated scholars from across the United States and Canada. Together, we have generated numerous graduate and undergraduate courses, several edited volumes, multiple co-authored articles, and the National Science Foundation-funded Socio-Economic Rights Fulfillment Index (SERF Index).