Tuesday, October 25, 2022
4:00pm - 5:30pm
Dodd Center for Human Rights, Konover Auditorium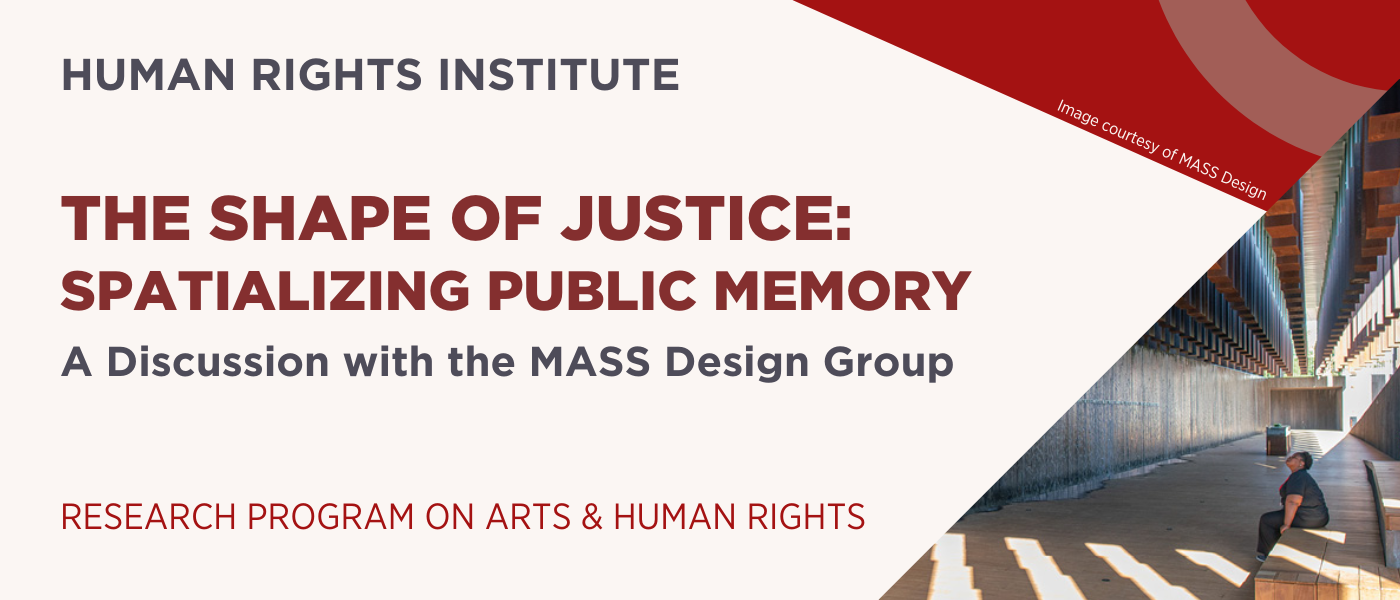 About This Event
Members of MASS Design Group will speak on their transformative practice of "spatializing memory." In projects such as The National Memorial for Peace and Justice (Alabama) and the Martin Luther King Jr Memorial (Boston), MASS Design explores new ways to shift narratives, serve as a catalyst for truth-telling, and advance collective healing through the built environment.
Location
Konover Auditorium
Dodd Center for Human Rights
Please register to join us.
Presenters
Elena Baranes
Senior Designer, Sustainable Native Communities Design Lab, MASS Design Group
Brandon Bibby
Senior Architect, Public Memory and Memorial Lab, MASS Design Group
Morgan O'Hara
Manager, Advancement, Public Memory and Memorial Lab, MASS Design Group
Annie Wang
Senior Designer, MASS Design Group
About Elena Baranes
Elena joined MASS in January of 2019. Her work with the Sustainable Native Communities Design Lab and the Restorative Justice Design Lab focuses on engagement and design that elevates community voices. Her partnerships and projects seek to address the future of Indigenous sovereignty, healing through the arts and education, and decarceration. Prior to joining MASS, Elena worked as part of a Los Angeles-based design-build team. She received her Masters of Architecture from Yale School of Architecture and her Bachelor of Arts from Boston University.
About Brandon Bibby
Brandon Bibby AIA, ASID, NOMA, NCARB, WELL AP is a Senior Architect with MASS Design Group. Bibby joined MASS in 2021 as a Space and Society Fellow and currently works and manages research, engagement, and design across various Public Memory and Memorial Lab projects. Raised in the plains of Arkansas, where the Delta meets the Ozarks, Bibby is an artist, activist, and architect motivated by movement, culture, and familiarity in contemporary black and southern spaces. His work is rooted in preserving and developing architecture and dignified design in marginalized communities of color to address the lack of representation and access to equitable and quality design in the built environment. His diverse portfolio includes design, programming, and project management on over 100 preservation, arts, educational, commercial, and healthcare projects. Celebrated for his design leadership and community activism, Bibby was named a 2022 Ones To Watch Scholar with the American Society of Interior Design, recipient of the Alpha Rho Chi Bronze Medal, and was named the Arkansas Business' 20 in their 20s New Influential 2019 Class. He has lectured, and moderated panels with the American Institute of Architects, Architecture and Design Network, AARP, and currently serves as a Health Equity Advisor with the International Well Building Institute.
About Morgan O'Hara
Morgan O'Hara is a cultural historian of cities and the built environment. She has worked at MASS Design Group since 2018, where she conducts research to support built projects and exhibitions, and crafts written work alongside strategy for business development. Her backgrounds in cultural research, public history, and collaborative design have informed her approach to socio-spatial research to develop human-centered histories of urban space and infrastructural systems. For the Fringe Cities project, Morgan conducted longitudinal analyses of small cities in the United States that participated in mid-century urban renewal, and while at the Hudson Valley Office, she was embedded in the public engagement work necessary to craft meaningful community design solutions in Poughkeepsie. Her passion lies in elevating creative and community-driven expressions of lesser-known histories in public space. Morgan studied anthropology at Reed College and graduated from Columbia with a Masters in Historic Preservation. She has served as co-faculty for Studio II in Historic Preservation at Columbia GSAPP since 2021.
About Annie Wang
Annie joined MASS in February of 2018 as a Design Associate and is currently working on a kindergarten in Vietnam and a health clinic in Texas. Before MASS, she worked at Peter Rose + Partners and AMO/OMA in Rotterdam where she conducted research for publications and editing. She received her Bachelor of Art in psychology and architecture from the University of Toronto and her Master of Architecture I from Harvard Graduate School of Design.
This event is sponsored by the Research Program on Arts & Human Rights.
The Research Program on Arts & Human Rights explores how the arts can promote the full exercise of human rights and the consolidation of a democratic culture. The arts not only make human rights visible. They also advance democratic thinking as they help us imagine new futures and open unique spaces for dialogue and debate, ushering us into novel modes of experience that provide concrete grounds for rethinking our relationship to one another. Thus, the arts can act as a powerful means of sustaining individual and collective reflection on human rights, and of linking individual and collective public experience, social belonging and citizenship.
---