Explore critical human rights issues in your community and around the world.
Engage with a diverse range of peers from across the state.
Develop the values and skills to take action in support of human rights for all.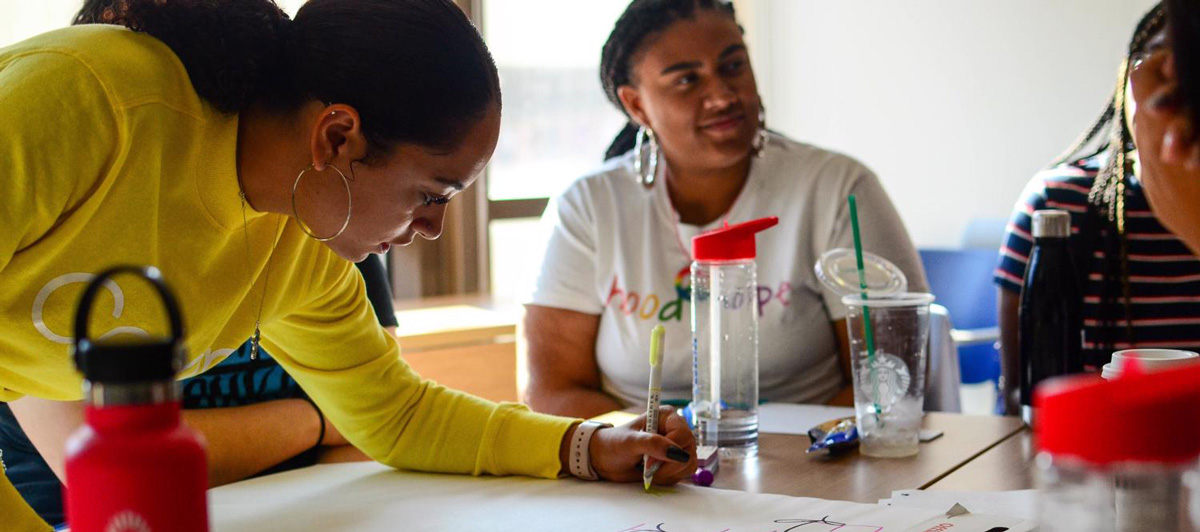 How It Works
Each year, our steering committee selects a theme which provides a broad framework for summit participants (e.g. "the Right to Education") and informs activities and events throughout the academic year. The year unfolds as follows:
Fall Semester
Students learn core human rights content and explore the annual theme in their classrooms. Students may also choose to pursue research projects examining specific examples of the theme. We offer research and mentoring support, and students are encouraged to collaborate with classmates and peers in other participating schools.
Mid-December
On or near International Human Rights Day (December 10), students and educators convene on the UConn Storrs campus for the Connecticut Human Rights and Youth Action Summit to share and discuss their research projects, develop new skills and strategies for taking informed action in support of human rights, and learn from each other and leading scholars and practitioners in the field of human rights. Student presenters are organized into panels and receive feedback from UConn students and faculty. Participants in the Summit also engage in collaborative design work to plan action projects addressing the annual theme in their communities.
Following the Summit, students continue organizing and begin implementing their action projects, often in collaboration with peers.
March
Participants re-convene in Storrs for a March summit to share experiences, successes, and challenges in pursuing their action projects, and to learn new skills and strategies for pursuing social change in their communities.
How to Participate
Students may participate in either the December or March summits – or both. Space is limited, so schools are accommodated on a first-come, first-served basis. Interested teachers should contact Steering Committee Co-Chairs Jake Skrzypiec (jskrzy@mpspride.org) or Abby Esposito (abigail_esposito@whps.org), or Dodd Human Rights Impact Director Glenn Mitoma (glenn.mitoma@uconn.edu) for additional information.
Cost & Grants
There is no fee to participate in the CHRYAS. Schools, however, are expected to provide transportation to and from UConn for the summits, and to provide necessary facilities and materials for students to pursue Research and Action Projects. A limited number of grants are available from the Dodd Center to help support participation by a diverse range of schools and students.
Summit Archive
Previous year's themes include:
2019-2020
Youth Voice For Human Rights
Led by students from participating Early College Experience human rights courses, this summit reflected on the importance of youth voice. From sharing student research to engaging with outspoken activist presenters, and planning and networking in "Activist Spaces", the goal of this summit was for participants to take away knowledge about human rights topics and find new ways to translate their voice into action.
2017-2018
The Right to Identity
First enshrined in the 1989 UN Convention on the Rights of the Child, the Right to Identity highlights a person's inherent right to know and maintain their ties to their family, community, and culture. As a right, it is both intensely individual and personal, as well as collective and social. There are as many dimensions to the right to identity as there are to identity itself, and focusing on this theme allows students to explore a wide range of issues related to adoption, cultural assimilation, indigenous rights, statelessness and refugees, and gender identity.