Monday, April 11, 2022
1:00pm - 2:30pm
Panel Discussion (In-person & Livestream)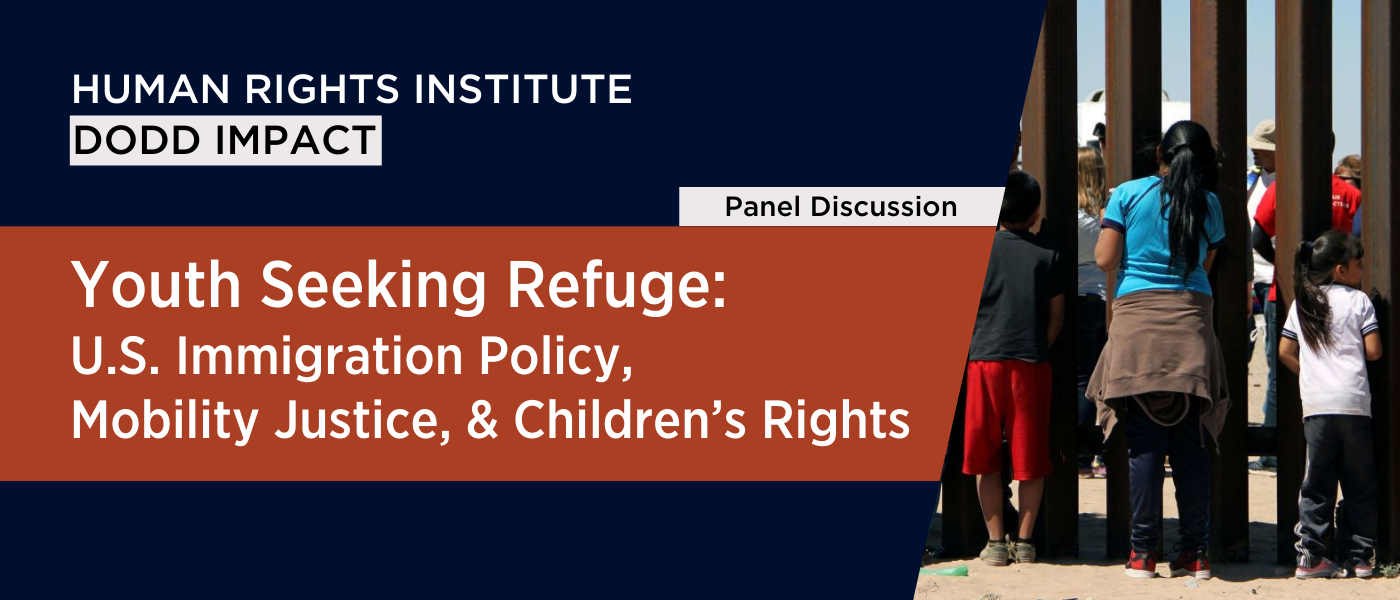 Panel Discussion
Join Us!
On Monday April 11th, Dodd Impact, El Instituto, and the Human Rights Institute, in collaboration with Skidmore College, invite you to the opening of an exhibit on children's art created in the MPP camp of Ciudad Juarez, Mexico.
To mark the opening of the exhibit, a panel of faculty and activists will discuss the current situation of children in refugee camps created by the United States' "Remain in Mexico" policy, as well as pressing concerns of youth who have arrived in CT.
In person: The Colloquium will be hosted in the Konover Auditorium in the
Dodd Center for Human Rights - DODD 166.
Livestream: Join us online at 1:00pm via http://www.kaltura.com/tiny/uyrei
Joining us virtually? You can still submit a question for the Q&A by clicking here.
Speakers
Dr. Anne Gebelein, University of Connecticut
Dr. Anne Gebelein,  University of Connecticut
Associate Director of El Instituto and
Associate Professor in Residence, Latin American and Caribbean Studies
Dr. Gebelein received her doctorate, M. Phil., and Master's in Hispanic Literatures from Yale University Dept. of Spanish and Portuguese. Prior to her position at UConn, she worked as an educational consultant for the Anti-Defamation League and the Coordinating Council for Children in Crisis, and as a translator in health care and law enforcement settings. Anne Gebelein teaches a wide variety of courses in Latino and Latin American Studies, with a focus on migration, human rights, and border studies. She is faculty Co-Chair of Service Learning for the university, the ECE coordinator for Latin American Studies, and she directs community outreach efforts for El Instituto.
Dr. Diana Barnes, Skidmore College
Dr. Diana Barnes, Skidmore College
Senior Teaching Professor of Spanish
Diana Barnes, PhD, is a Senior Teaching Professor at Skidmore College.  She began crossing the US/Mexico border as a toddler with her family at the San Ysidro point of entry near San Diego to visit her grandfather in Sonora, Mexico.  Over the decades, she has witnessed not only changes to the physical fence itself, but as well, the construct's mythical, psychological, and political forces that project from the steel and concrete barrier.    Professor Barnes teaches courses about the US/Mexico border, as well as Spanish language & literature.  As a  life-long border crosser she holds a fundamental belief that the study of geographically contrived lines of division provides a unique critical lens into the state of humanity
Lucca Lucero de Alva, MPP Camp Ciudad Juárez
Lucca Lucero de Alva,
Volunteer teacher in MPP Camp, Ciudad Juárez;
World Organization for Peace representative
Born in Juarez, Chihuahua, Mexico, Lucero Claudia De Alva Fernandez is an industrial engineer by trade, currently pursuing a master's degree in Business Administration. She is the mother of 4 adult children--Daniela, Victoria Eugenia, Juan Pablo and Martha Isabel—and a business-owner. Her company, English Education Services, with provides English-Spanish translation, classes and interpreting services to the maquiladora industry since 1999.
Lucero is the author of the children's story "Pita y los girasoles" from which a peace project called "Sembrando Paz" (Sowing Peace) was born, through which she has been able to reach more than 50,000 children in schools in the state of Chihuahua and throughout the country, as well as some schools in the United States.
Since 2019 Lucero has been in charge of the "Children and Youth for Peace" program, a title awarded by the World Organization for Peace. In 2018 she was named "Distinguished Woman" of Juarez by the Ibero-American Women's Group and nominated for the title "Woman of the Year" by the group of professional women of Cd. Juarez.
Lucero is a dedicated volunteer and lover of the children of her city and the world. She volunteers in support of our migrant brothers and sisters, for whom she have been working since February 13, 2019, the day the first part of a caravan of migrants arrived in Ciudad Juarez. She have been part of the team that built the network of shelters for migrants, and feels fortunate to enable spaces within shelters that function as schools for the children who live in them, managing to get their education certified by the Federal Government (Secretary of Public Education).
Katia Daley, CT Students for a Dream
Katia Daley, CT Students for a Dream
Healthcare Campaign Organizer
Exhibition Debut – "Painting the Border: A Child's Voice"
The youngest asylum seekers at our southern border have something to say about the U.S. policies that have left them stranded in one of the most dangerous cities in the world. See what happens when policy hits the ground in Ciudad Juarez, through the eyes of a child.
In all, thirty-two paintings make up the exhibit. Each is produced by children living in shelters or on the streets in Ciudad Juárez, Mexico. They reveal images of young migrants' homes, journeys, fears, and hopes.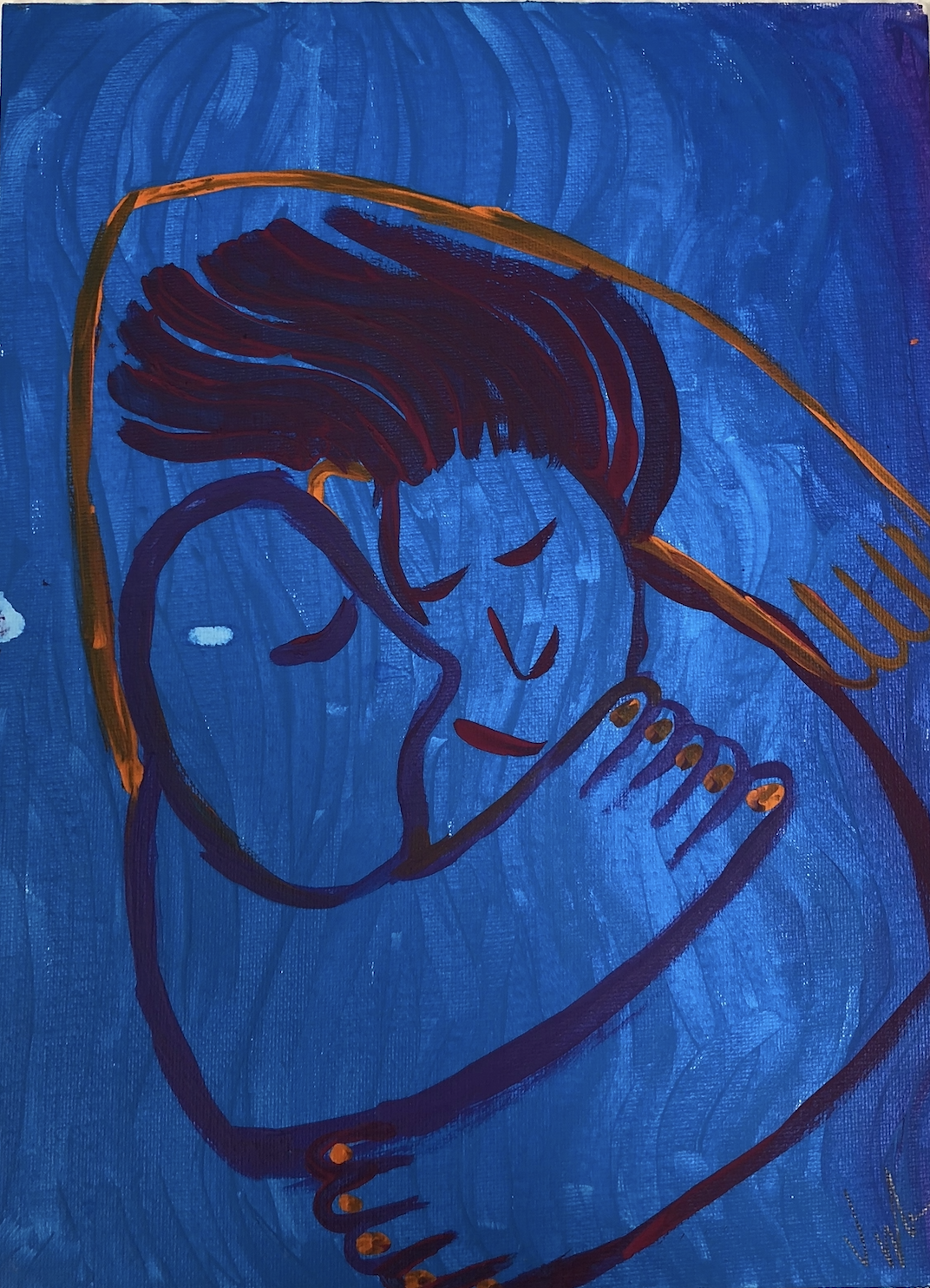 The exhibit "Painting the Border: A Child's Voice" began as a project to offer a day of fun in a safe space to the youngest MPP recipients in Ciudad Juárez. The project was a collaborative effort initiated by Diana Barnes, a Skidmore College Senior Teaching Professor, and organized in Juárez by World Organization for Peace representative and children's author Lucero de Alva. El Paso muralist Cimi Alvarado worked with the young painters as well, teaching them about storytelling through art, and guiding them to paint their own stories.
The day of fun was held on August 21, 2019, months after the MPP was initiated, and less than three weeks after a gunman opened fire in an El Paso Walmart, targeting Mexican shoppers and killing 23 people, including children. Some of the Juárez migrant children were aware of the deadly attack when they painted their fears of the violence that surrounded them.
The young artists, ages 4 - 18, were among the more than 71,000 asylum seekers stranded in Mexico border cities between January 2019 and January 2021, according to the Transactional Records Access Clearinghouse. They were mainly from Nicaragua, El Salvador, Honduras, and Guatemala.
Today, two and a half years after the paintings were produced, a Biden-era version of the MPP is still in place. Migrants continue to be refused entry under this policy and others, designed to reinforce a myriad of iterations of the wall that separates the United States from Mexico.
This event is sponsored by Dodd Impact, El Instituto, and the Human Rights Institute at the University of Connecticut, with invaluable support from Skidmore College.
We welcome you to view the exhibit in-person at The Dodd Center for Human Rights beginning April 11, 2022.