Wednesday, February 9, 2022
12:30pm - 1:45pm
Virtual Event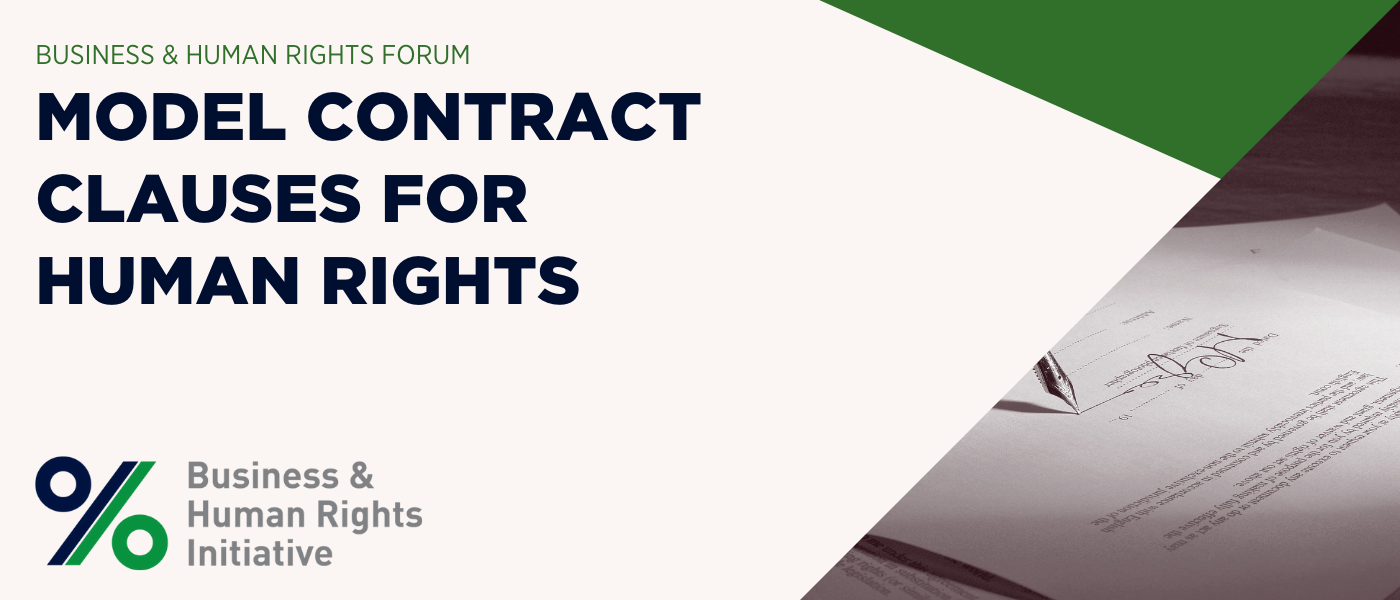 About this Event:
A presentation and discussion of the American Bar Association's Model Contract Clauses for Human Rights Project.
Presenters: Prof. Sarah Dadush, Rutgers Law School, Olivia Windham Stewart, & David Snyder, American University
Commentator: Prof. Erika George, University of Utah
Sarah Dadush is a Professor of Law at Rutgers Law School. Her scholarship explores innovative legal mechanisms for improving the social and environmental performance of multinational corporations. She established and directs the Law School's Business & Human Rights Law Program and co-leads an ABA Business Law Section Working Group that has developed a comprehensive toolkit for upgrading international supply contracts to better protect workers' human rights. Before joining the Rutgers faculty, Dadush served as Legal Counsel for the International Fund for Agricultural Development (IFAD), a specialized agency of the United Nations based in Rome. Prior to that, she was a Fellow at NYU's Institute for International Law and Justice and an Associate Attorney at the global law firm, Allen & Overy. She received her J.D. and LL.M. in International and Comparative Law from Duke University School of Law in 2004.
Olivia Windham Stewart is an independent business and human rights specialist based in the UK, and a Senior Fellow and Deputy Director of the Business and Human Rights Law Program at the Center for Corporate Law and Governance, Rutgers Law School. As an independent specialist, Olivia has worked on a range of projects to increase corporate accountability and due diligence across sectors, including an OECD due diligence alignment assessment, a European Citizens' Initiative for Living Wages, a range of multistakeholder initiatives in the garment and footwear industry and research, training and facilitation projects on labour rights and BHR issues for a number of organisations across sectors. Prior to working independently, Olivia was on the Labour Rights team at Laudes Foundation (formerly C&A Foundation) and at Impactt UK. She has worked extensively in production countries around the world, particularly in South and South East Asia and has been a contributing member of the Principled Purchasing Project to draft model contract clauses to protect human rights in international supply chains since March 2020. Olivia holds a MSc with Distinction from SOAS University, London.
David V. Snyder is professor of law and director of the Business Law Program at the American University Washington College of Law. His work is primarily in contracts and commercial law, including their international and comparative aspects. He has been a professor of law at Tulane and Indiana (Bloomington) and has been a regular visiting professor at the University of Paris II (Panthéon-Assas) since 2012.  He has also been a visiting professor at Boston University and William and Mary. He is a graduate of Tulane Law School and Yale College and clerked on the Fifth Circuit.
Erika George is the Samuel D. Thurman Professor of Law at the University of Utah's S.J. Quinney College of Law and directs the Obert C. and Grace A. Tanner Humanities Center at the University of Utah. She teaches constitutional law, international human rights law, international environmental law, international business transactions, international trade and seminars on business and human rights, inequality, and corporate citizenship and sustainability. She was the Interim Director of the University's Tanner Center for Human Rights and the University's 2018-2019 Presidential Leadership Fellow. She is a Fellow of the American Bar Foundation and serves on the board of the American Bar Association Center for Human Rights. She earned her B.A. with honors from the University of Chicago and her J.D. from Harvard Law School, where she served as Articles Editor of the Harvard Civil Rights-Civil Liberties Law Review. She also holds an M.A. in International Relations from the University of Chicago. She is the author of Incorporating Rights: Strategies to Advance Corporate Accountability (Oxford University Press, 2021).
This event will not be recorded.
This event is sponsored by the Business and Human Rights Initiative, a partnership founded by Dodd Human Rights Impact, the UConn School of Business, and the Human Rights Institute.
---