Thursday, March 31, 2022
12:00pm - 1:15pm
Virtual Event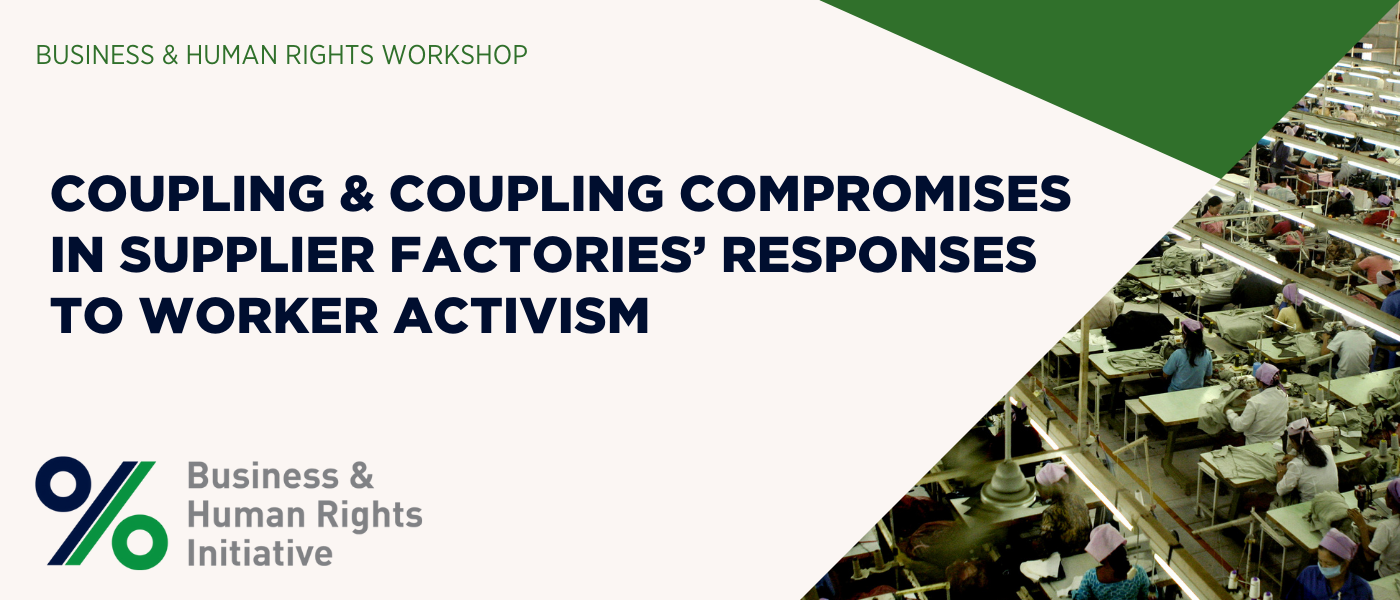 About This Workshop:
The Business and Human Rights Workshop is dedicated to the development and discussion of works-in-progress and other non-published academic research. Read below for the abstract of Prof. Jodi Short's upcoming paper, the focus of this workshop. 
Many companies have adopted corporate social responsibility (CSR) policies in response to activist pressure, but ensuring the implementation of these policies is challenging. Recognizing the paucity of research on the effect of contentious activism on companies' coupling of CSR policies and practices in the private politics and (de)coupling literatures, we posit that companies engage in "coupling compromises" when faced with such institutional pressure—improving their practices and more tightly coupling them with CSR policies in the domain contested by activists, but relaxing the coupling of policy and practice in competing CSR domains. Furthermore, we theorize that the nature and extent of coupling compromises can be explained by the interaction of activism with organizational structures that construct managerial perceptions of issue salience and internal frictions to change. We test our theory in the context of global supply chain factories' compliance with CSR policies on working conditions when they face local worker activism. Analyzing 3,495 audits of 2,352 factories in 114 Chinese cities from 2012 to 2015, we find that worker activism over wages-and-benefits issues pushes factories to improve their wages-and-benefits practices and couple them more tightly with CSR policies, but these factories concurrently loosen the coupling between policy and practice in the domain of occupational health and safety. Both effects are stronger in factories with organizational structures that foreground the salience of wages and benefits issues and mitigate friction to changing organizational practices. These findings make significant contributions to the literatures on private politics, (de)coupling, and global supply chain labor practices.
This event will not be recorded.
This event is sponsored by the Business and Human Rights Initiative, a partnership by Dodd Human Rights Impact, the UConn School of Business, & Human Rights Institute. 
---