Friday, February 18, 2022
12:00pm - 1:30pm
Virtual Event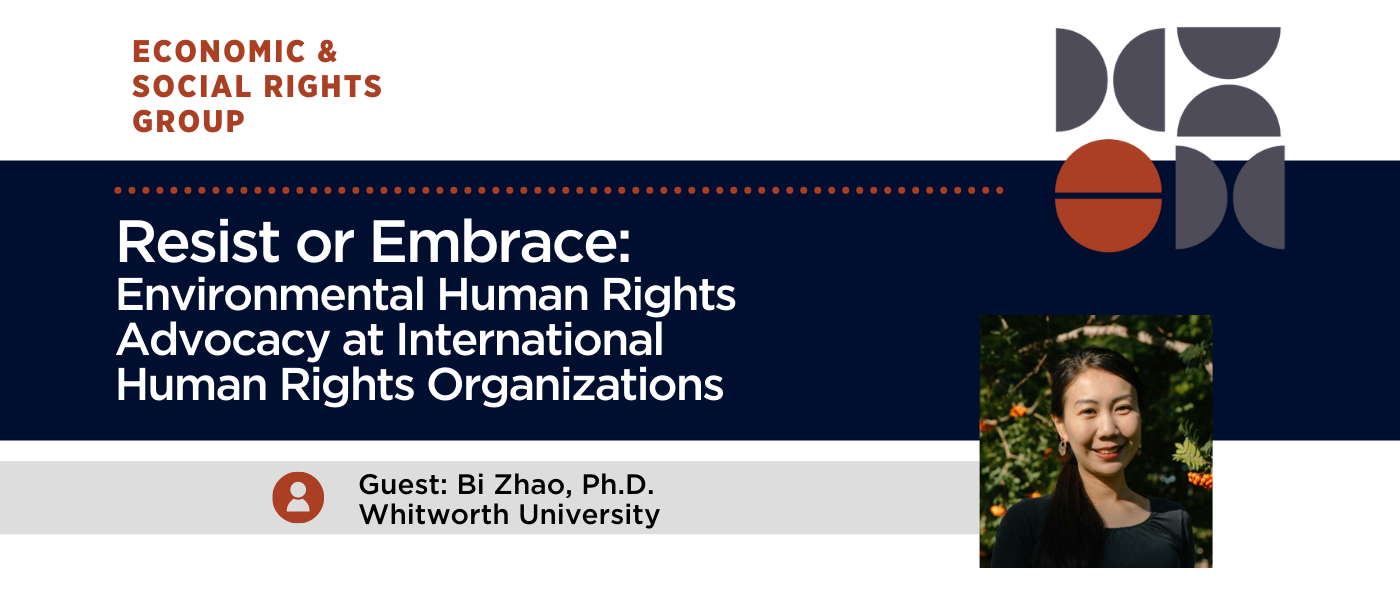 Presenter:
Bi Zhao is an Assistant Professor in the Department of Political Science at Whitworth University. She specializes in international relations and methodology, with a substantive focus on democratic legitimacy in global governance, non-state actors, and international environmental politics.
About this Event:
In the first of three Economic & Social Rights Group events planned for this spring, Dr. Bi Zhao will present her research entitled "Resist or embrace: environmental human rights advocacy at international human rights organizations."
-Prakash Kashwan & Shareen Hertel (ESRG Co-Directors)
This event is virtual and will be hosted on Zoom. Click the link above to register to attend. The event will be recorded.
The Economic & Social Rights Group (ESRG) is an interdisciplinary monthly gathering of faculty and graduate students who meet to share ongoing research and to discuss current scholarship around economic and social rights. It is the central to the mission of the Research Program on Economic & Social Rights.
The Research Program on Economic & Social Rights brings more than a dozen UConn faculty together with over 30 affiliated scholars from across the United States and Canada. Together, we have generated numerous graduate and undergraduate courses, several edited volumes, multiple co-authored articles, and the National Science Foundation-funded Socio-Economic Rights Fulfillment Index (SERF Index).
---