Wednesday, April 6, 2022
4:00pm - 5:30pm
Hybrid Event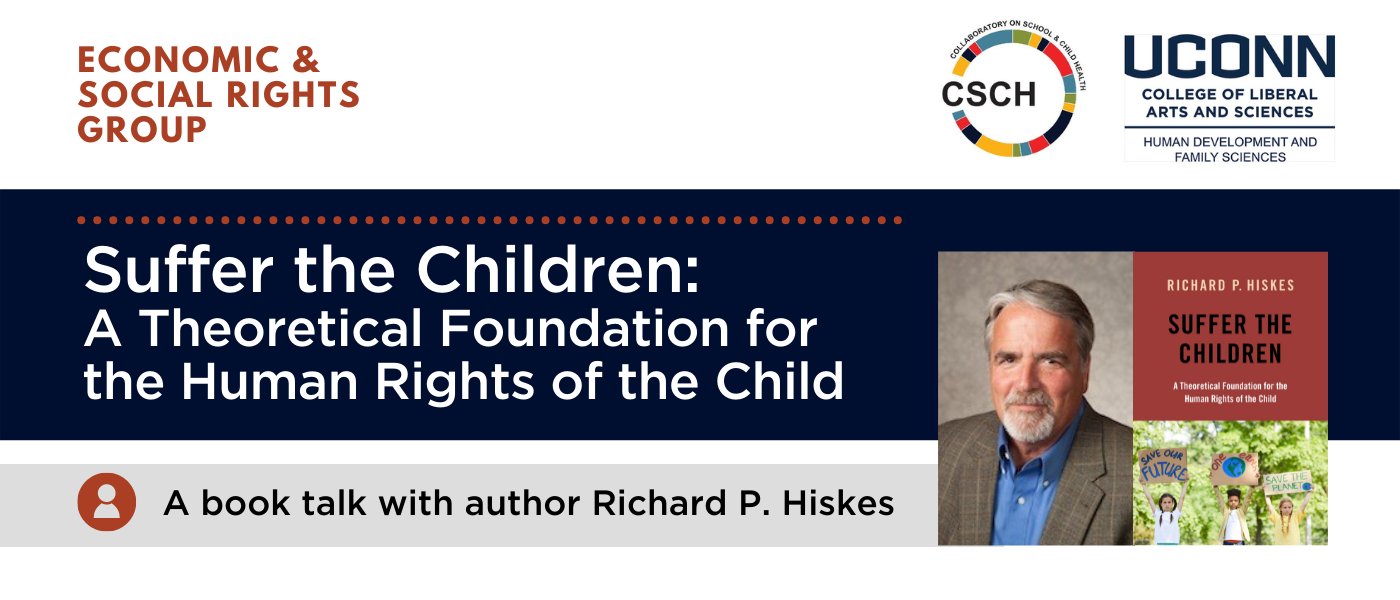 Join us!
In Person:
This event will be held in-person with the option to view  by livestream.
The Colloquium will be hosted in the Konover Auditorium in The Dodd Center for Human Rights - DODD 166.
Livestream:
Use the following link to join the livestream at 4:00pm: http://www.kaltura.com/tiny/uyrei
We welcome those with UConn Google accounts to join our Google Chat space to comment and ask questions during the event.
About This Event:
Join us for a talk by longtime member of the Research Program on Economic and Social Rights Richard P. Hiskes, whose widely acclaimed new book addresses the centrality of social and economic rights within a broader discussion of why taking children's human rights seriously turns conventional human rights theory upside down. The book establishes the theoretical foundation for prioritizing social and economic rights in the name of children's human rights. Read more about the book here.
About the Research Program on Economic & Social Rights at HRI
The Economic & Social Rights Group (ESRG) is an interdisciplinary monthly gathering of faculty and graduate students who meet to share ongoing research and to discuss current scholarship around economic and social rights. It is the central to the mission of the Research Program on Economic & Social Rights. The Research Program on Economic & Social Rights brings more than a dozen UConn faculty together with over 30 affiliated scholars from across the United States and Canada. Together, we have generated numerous graduate and undergraduate courses, several edited volumes, multiple co-authored articles, and the National Science Foundation-funded Socio-Economic Rights Fulfillment Index (SERF Index).
About the Collaboratory on School & Child Health at InCHIP
The mission of the Collaboratory on School and Child Health (CSCH) is to facilitate innovative and impactful connections across research, policy, and practice arenas to advance equity in school and child health. CSCH is committed to anti-racist work that prioritizes inclusion, reduces disparities, and creates systemic change.
CSCH serves as a central resource to University and external partners engaged in efforts that inform healthy, safe, supportive, and engaging environments for all children. The Collaboratory strives to create a positive environment that supports communication, knowledge sharing, and collaborative work among a diverse network of members in pursuit of this shared aim. Our collaborations intentionally use an inclusive, team- and relationship-based approach to broaden capacity for interconnected and cross-disciplinary projects that tackle the most pressing and complex issues in school and child health.
About the Department of Human Development & Family Sciences
The Department of Human Development & Family Sciences (HDFS) focuses its research, teaching, and public engagement on a multidisciplinary understanding of 1) healthy development and wellbeing of individuals and families over the lifespan, 2) interactions and processes within families, and 3) individuals and families in societal and cultural contexts.
We are committed to excellence in research, teaching, and public engagement through our core values of individualized mentoring, innovation and leadership, diversity and equity, and applied/translational science.
---