November 1, 2022
5:00 pm - 6:00 pm
In-person with Livestream
Reception to Follow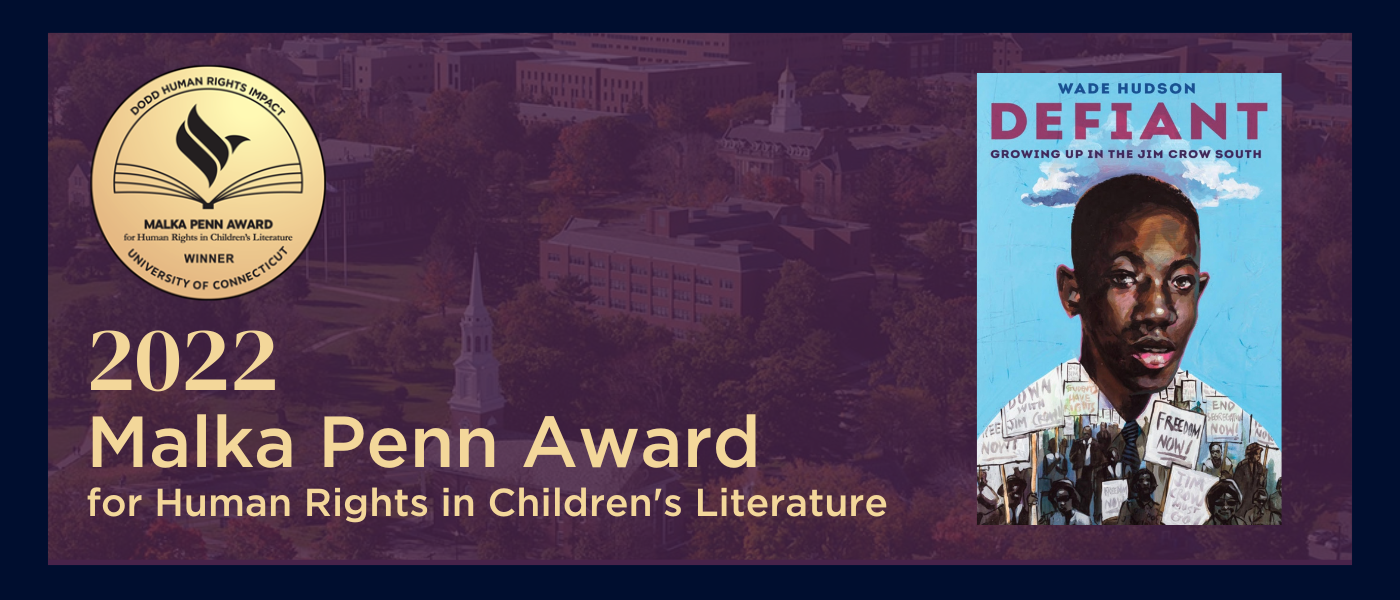 The Malka Penn Award for Human Rights in Children's Literature
The Malka Penn Award is given annually to the author of an outstanding children's book addressing human rights issues or themes such as discrimination, equity, poverty, justice, war, peace, slavery or freedom. Named in honor of author Michele Palmer, who writes under the pseudonym Malka Penn, the award recognizes works of fiction, non-fiction, poetry, memoir, or biography which are written for children from preschool to high school. Within these larger themes, the award committee is particularly eager to recognize stories about individuals – real or fictional, children or adults – who have been affected by social injustices, and who, by confronting them, have made a difference in their lives or the lives of others.
The 2022 Malka Penn Award will be presented to author Wade Hudson on November 1, 2022 in the Dodd Center for Human Rights. Hudson will speak about his career, the inspiration behind his memoir Defiant: Growing Up in the Jim Crow South, and the founding of his and wife Cheryl Hudson's publishing outlet Just Us Books. Following the ceremony will be a reception with light refreshments, copies of the winning book available for purchase, and time reserved for book signings by the author.
About the 2022 Award Recipient – Wade Hudson
Wade Hudson, author of Defiant: Growing Up in the Jim Crow South, founded Just Us Books in 1988 with Cheryl Willis Hudson. Wade serves as president and CEO of the company. His career as a writer spans more than three decades and has resulted in more than 25 published books for children and young adults. They include Book of Black Heroes from A to Z, Jamal's Busy Day, Pass It On: African American Poetry for Children, Powerful Words: Two Years of Outstanding Writing by African Americans, the Great Black Heroes series, The Underground Railroad and The Two Tyrones.
Wade serves on a number of community boards and is a member of the Society of Children's Book Writers and Illustrators and Pen America. He speaks around the country about issues of inclusion, empowering Black boys to succeed through literacy and other topics. He has received numerous honors for his contributions to children's literature, including the Stephen Crane Literary Award, induction into the International Literary Hall of Fame for Writers of African Descent, the Harlem Book Fair Phyllis Wheatley Award (2007), the Ida B. Wells Institutional Leadership Award (2008) presented by the Center for Black Literature and the Madame C. J. Walker Legacy Award (2012) given by the Zora Neale Hurston-Richard Wright Foundation.  He is co-editor with his wife of the anthologies, We Rise, We Resist, We Raise Our Voices, The Talk, Conversations About Race, Love & Truth and Recognize: An Anthology Honoring and Amplifying Black Life. Kirkus Reviews called his recent coming-of-age memoir, Defiant, Growing up in the Jim Crow South a "powerful testimony from a children's literature legend."
Join us!
We kindly ask that you register to attend to join us for the in-person ceremony.
In-person:
Ceremony: 5:00 pm - 6:00 pm
Dodd Center for Human Rights - Konover Auditorium
Reception to Follow
Dodd Center for Human Rights - Lounge
Refreshments & Book Signing
Online:
Access to the livestream of the ceremony is available here from 5:00 pm November 1, 2022. Livestream
---