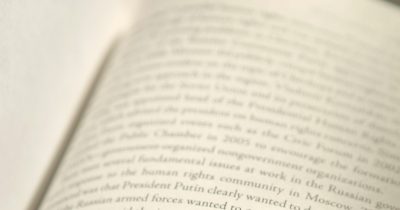 In an effort to support the writing of graduate student dissertations with a human rights focus at the University of Connecticut, the Human Rights Institute will be funding a $5,000 dissertation fellowship for the summer of 2018.
Applications should be submitted electronically via UConntact: https://uconntact.uconn.edu/submitter/form/start/141392
Statement from Advisor / Dissertation Supervisor: Applicants should request their academic advisor, dissertation supervisor, or professor supervising their research to submit a statement detailing how the funding will advance the applicant's research.
Please forward this link to your recommender for them to submit your letter electronically: https://uconntact.uconn.edu/submitter/form/start/140833
Application Deadline: March 2, 2018
If you have any questions please call 860-486-8739 or email humanrights@uconn.edu.
Human Rights Dissertation Writing Fellowship Criteria
The Human Rights Institute Dissertation Fellowship is open to University of Connecticut Doctoral students (ABD) in all disciplines from Storrs and the regional campuses. Applicants must have successfully defended a dissertation prospectus by time of application.
Each application should include:
1. Narrative description of the dissertation project (five pages)
The narrative should include the following:
What are the basic ideas, problems, works, or questions the study will examine? What is the planned approach or line of thought?
What contribution is the project likely to make to the field of human rights?
How does this fit with HRI's mission?
How far along is your project? What are your writing plans for the summer?
2. Detailed timeline of the plan for completion of your dissertation
3. One-page bibliography for the project
4. Current CV
5. Include a separate statement from their supervisor on how the funding will advance the applicant's research.
Evaluation of Dissertation Fellowship Applications

The dissertation project should demonstrate overall excellence with a focus on human rights issues, understood broadly. Projects should make a significant contribution to ongoing scholarly and policy debates in the field of human rights. All proposals will be reviewed and ranked by a multidisciplinary review committee chaired by the Director of the Human Rights Institute and comprised of members of the Gladstein Human Rights Committee.
Summer 2017 Human Rights Dissertation Writing Fellowship Recipient, Jordan Kiper
Jordan Kiper, PhD Candidate (ABD) in Anthropology was recently awarded the Human Rights Dissertation Writing Fellowship for the Summer of 2016. Read more about his project below:

In "Propaganda in the Yugoslav Wars: An Anthropology of Memory and Mass Violence," I focus on the case study of the Yugoslav Wars to investigate the process of inciting propaganda and its relationship to mass violence. I draw primarily from 18 months of ethnographic fieldwork with ex-fighters and the greater population of non-combatants in former conflict regions of Bosnia-Herzegovina, Croatia, and Serbia. Through semi-structured interviews and survey data, I test several hypotheses aimed at explaining between population variance in life histories and both social and psychological factors that contributed to mass violence. Much of my dissertation research is also concerned with the direct impact of various forms of inciting propaganda on support for violent political agendas. Here I draw from a between subjects experiment I carried out with Richard Wilson in Serbia at Belgrade University. These results, both my fieldwork and experimental data, are grounded in two sets of theories. The first is an integrated set of three contemporary theories on inciting propaganda; the second is a set of evolutionary theories of intergroup violence, religion, and revenge.
Jordan Kiper is a PhD Candidate in the Department of Anthropology at the University of Connecticut. Besides his research interests in human rights and religion, he is an avid consumer of new music, literature, and movies; adores animals (especially cats); and values time spent with kind or imaginative people.
You can find information about previous award winners here.