The Human Rights Institute announces the Human Rights Research Grant Competition for graduate students at the University of Connecticut. The objective of the competition is to support and promote research projects on human rights related questions.
---
2019-2020 Human Rights Research Grant Recipients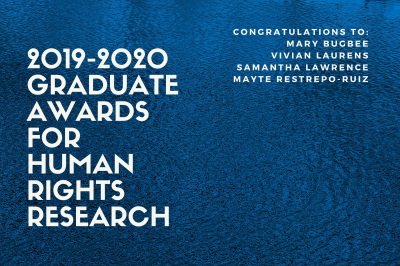 To read more about these students' individual projects, and previous Graduate Research Funding Awardees please see HERE.
---
Application Instructions and Eligibility Criteria
The funding competition is open to all JD, LLM, master's and doctoral students in all disciplines from Storrs and the regional campuses.
Evaluation Criteria for Graduate Student Human Rights Research Grant Applications
1. Overall excellence of the proposed research project on human rights issues, understood broadly. Projects should make a significant contribution to ongoing scholarly and policy debates in the field of human rights.
2. Awards will prioritize primary research, including library research, fieldwork, interviewing, historical archival research, pilot studies, data collection and data set construction, etc. In exceptional cases we will consider summer fellowship requests, which would allow PhD students the time to make significant progress or complete their dissertations. Requests for funding for conference travel and seminar/course tuition (including language or methods training) will also be considered.
All proposals will be reviewed and ranked by a multidisciplinary review committee chaired by the Co- Director of the Human Rights Institute and comprised of members of the Gladstein Committee. The number of grants will depend on the number of applications ranked 'excellent' by the review panel.
---
Application format
Each application should include a project proposal which should be a maximum of three pages (references not included), an anticipated budget, CV, and letter of recommendation. All written materials should be double spaced and printed in 12-point, Times New Roman font with 1 inch standard margins.
The 3 page project proposal should include the following:
Intellectual Rationale: Please describe your reasoning for undertaking this research project and the impact you think believe your project will have on understandings of, and/or policies affecting, human rights.
Expected Project Outcomes: Describe what the expected outcome of your research project is should you receive these funds. That is, what will be produced with these funds?
Methodology: Explain how you will conduct your research. Be explicit in describing the types of methods employed and the advantage of using these particular methods.
Budget Narrative: The purpose of the budget narrative is to supplement the information provided in the anticipated budget document to demonstrate you have considered the costs associated with your research. The narrative is different from the spreadsheet in that rather than listing expected costs in dollars, the narrative explains the rationales for these expected costs.
You should submit your application via our online portal at: https://uconntact.uconn.edu/submitter/form/start/345847
Graduate student applications are also required to include a separate statement from their supervisor on how the funding will advance the applicant's research, and a copy of the latest version of their CV. Please forward this link to your recommender for them to submit your letter electronically: https://uconntact.uconn.edu/submitter/form/start/345853
Application Deadline: November 8, 2019
If you have any questions please call 860-486-5393 or email humanrights@uconn.edu.
For more information about previous award winners, see
 HERE.