2018-2019 Human Rights Research Grant Competition
The Human Rights Institute announces the Human Rights Research Grant Competition for graduate students at the University of Connecticut. The objective of the competition is to support and promote research projects on human rights related questions.
Graduate Student Research Grant Competition Criteria
The funding competition is open to all JD, LLM, master's and doctoral students in all disciplines from Storrs and the regional campuses.
Evaluation Criteria for Graduate Student Human Rights Research Grant Applications
1. Overall excellence of the proposed research project on human rights issues, understood broadly. Projects should make a significant contribution to ongoing scholarly and policy debates in the field of human rights.
2. Awards will prioritize primary research, including library research, fieldwork, interviewing, historical archival research, pilot studies, data collection and data set construction, etc. In exceptional cases we will consider summer fellowship requests, which would allow PhD students the time to make significant progress or complete their dissertations. Requests for funding for conference travel and seminar/course tuition (including language or methods training) will also be considered.
All proposals will be reviewed and ranked by a multidisciplinary review committee chaired by the Co- Director of the Human Rights Institute and comprised of members of the Gladstein Committee. The number of grants will depend on the number of applications ranked 'excellent' by the review panel.
Application format
Each application should include a project proposal which should be a maximum of three pages (references not included), an anticipated budget, CV, and letter of recommendation. All written materials should be double spaced and printed in 12-point, Times New Roman font with 1 inch standard margins.
The 3 page project proposal should include the following:
Intellectual Rationale: Please describe your reasoning for undertaking this research project and the impact you think believe your project will have on understandings of, and/or policies affecting, human rights.
Expected Project Outcomes: Describe what the expected outcome of your research project is should you receive these funds. That is, what will be produced with these funds?
Methodology: Explain how you will conduct your research. Be explicit in describing the types of methods employed and the advantage of using these particular methods.
Budget Narrative: The purpose of the budget narrative is to supplement the information provided in the anticipated budget document to demonstrate you have considered the costs associated with your research. The narrative is different from the spreadsheet in that rather than listing expected costs in dollars, the narrative explains the rationales for these expected costs.
You should submit your application via our online portal at: https://uconntact.uconn.edu/submitter/form/start/225823
Graduate student applications are also required to include a separate statement from their supervisor on how the funding will advance the applicant's research, and a copy of the latest version of their CV. Please forward this link to your recommender for them to submit your letter electronically: https://uconntact.uconn.edu/submitter/form/start/225831
Application Deadline: November 9, 2018
If you have any questions please call 860-486-5393 or email humanrights@uconn.edu.
2017-2018 Human Rights Research Grant Recipients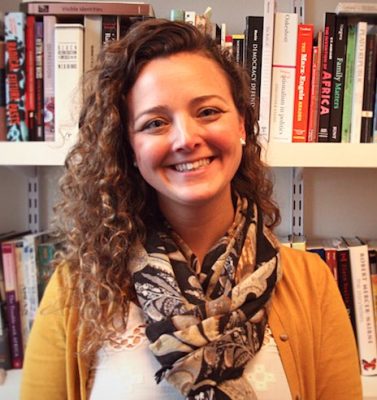 Erica MacDonald, PhD Candidate, Department of Political Science
Formally Informal? Sex Work, Sex Workers' Rights and the State
Scholars of human trafficking have consistently argued that people most vulnerable to being trafficked are those who labor in sectors outside of the formal economy.  In response to their findings, several sex worker rights organizations and governments have tried to move sex work out of the informal sector. These efforts raise my central research question: How does informal labor become formal? Does legalizing and regulating work previously undertaken in the informal sector effectively expand the state protections and social benefits available to workers so that they are comparable to those who labor in sectors that have long been part of the formal economy?  Through a comparative case study of countries where sex work is legalized and regulated, albeit through different models, I explore whether these legal and political changes have made sex work part of the formal labor market and lessened the vulnerability of and effectively empowered sex workers.
This project focuses on sex work as a type of labor that has been "formalized" through the process of legalization and regulation, however, my hope is that the findings will have important implications for other types of stigmatized labor and vulnerable worker populations, such as domestic workers or street vendors. In its attention to and evaluation of the process of bringing previously informal labor into a formal relationship with the state, my research is also positioned to contribute to the literatures on the evolution of human rights norms and the political economy of institutions.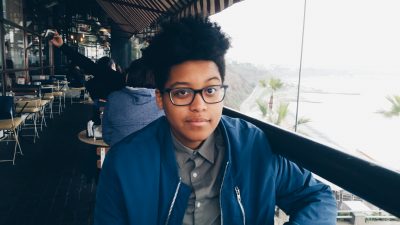 Chriss Sneed, PhD Candidate, Sociology
Queer Passages and the Assemblages of Blackness: Black Identity, Social Justice, and Decolonial Possibilities
Expanding on my master's thesis, my dissertation, "Queer Passages and the Assemblages of Blackness: Black Identity, Social Justice, and Decolonial Possibilities," examines how Blackness is co-constructed, negotiated, and utilized by Black activists in the U.S. and Brazil – especially by those identifying as LGBTQ folks and their allies – within social justice organizing and social movements. Informed by queer of color critique and intersectional sociological scholarship, I ask 1) how race, gender, sexuality, nation augment activist constructions/definitions of "Blackness" – as identity, historical subject, and globalized phenomenon – and 2) how these definitions affect activists' social movement narratives and organizing practices. Through qualitative methods like interviews and ethnography, I seek to explore how Black/afro-descendent activists leverage identity in ways that not only make reference to women – cisgender and transgender – and queer folks, but center them in thought and praxis. Lastly, I consider how Black [queer] diasporic identities can further decolonize what Sylvia Wynter has called the 'genre of human' (Wynter and McKittrick 2015) by complicating ideas of race, gender, sexuality, and nation; and thus, "moving beyond the traps of integration, citizenship, and nationhood" (Vargas 2016: 64). In this way, my work 1) ties together emergent literatures of Black feminist, queer and trans of color, and transnational post- and de-colonial thinkers while 2) contributes empirical data that advances sociological understandings of the importance of identity within social movements more broadly.
Megan Streit, History
NGOs in the USSR: Examining the Impact of Human Rights on Foreign Relations of the US and USSR/Russian Federation
My project explores the relationship between Cold War politics and human rights following the Helsinki Accords of 1975. By tracing the development of the Moscow Helsinki Watch Group and the subsequent crackdown on the activists I explore how the plight of five key dissidents is critically instrumental to the political rhetoric of detente. By examining both Soviet and US media coverage as well as government documents my project examines the underlying cultural divisions that precipitate different visions of human rights in the Cold War era thus contributing to the polarization between the superpowers.
Alyssa Webb, PhD Candidate, Department of Political Science
Budapest's: The Rising Socio-spatial Exclusion of Hungary's Homeless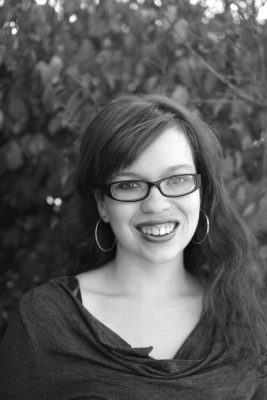 My project examines the relationship between international law and the domestic political processes which birth divergent policy responses to homelessness in three countries: Hungary, Scotland, and the United States. The generous funding provided by the Human Rights Institute will enable me to travel to Budapest, Hungary, where homelessness has been criminalized via the national constitution. While in Budapest I will conduct interviews with homelessness organizations which are operating within a highly criminalized context. Hungary's form of criminalization invites three questions: How does the level homelessness is criminalized at effect how the homeless are treated? How does it impact domestic actors' ability to combat criminalization? How does it impact the transfer of international human rights legal standards between the domestic and international spheres? This analysis will ultimately be used to further conventional understandings of how international law can be used to protect the human rights of vulnerable persons.