The Human Rights Institute announces the Human Rights Research Grant Competition for graduate students at the University of Connecticut. The objective of the competition is to support and promote research projects on human rights related questions.
---
2019-2020 Human Rights Research Grant Recipients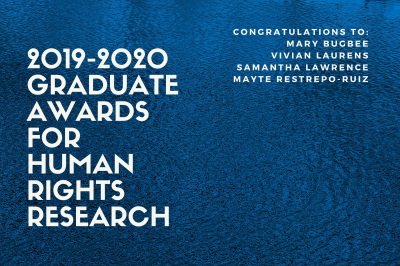 To read more about these students' individual projects, and previous Graduate Research Funding Awardees please see HERE.
---
Application Instructions and Eligibility Criteria
The funding competition is open to all JD, LLM, master's and doctoral students in all disciplines from Storrs and the regional campuses.
Each application should include:
A narrative description of the proposed research (three pages, double spaced, 12 point font) that contains the following:

Project Rationale: Please describe your reasoning for undertaking this research project and the impact you believe your project will have on understandings of or policies affecting human rights.
Impact: Identify the expected contribution your research will make to the field of human rights.
Methodology: Explain how you will conduct your research. Be explicit in describing the types of methods employed and the advantage of using these particular methods.

An anticipated budget and budget justification (of up to $2500). The purpose of the budget narrative is to supplement the information provided in the anticipated budget document to demonstrate you have considered the costs associated with your research. The narrative is different from the spreadsheet in that rather than listing expected costs in dollars, the narrative explains the rationales for these expected costs. Template available for download HERE.
Current CV
A separate statement from your advisor or supervisor on how the funding will advance your research. Please forward this link to your recommender for them to submit your letter electronically: https://uconntact.uconn.edu/submitter/form/start/446629 
Evaluation Criteria for Graduate Student Research Grant Applications:
The proposal should demonstrate overall excellence with a focus on human rights issues, understood broadly. Projects should make a significant contribution to ongoing scholarly, policy, and practice debates in the field of human rights. Priority will be given to applications that evidence human rights coursework and/or prior substantive human rights engagement.
Awards will prioritize primary research activities, including but not limited to: archival research, participant observation, interview, data collection, data set construction, ethnography, textual criticism, digital archiving, and historical preservation. Requests for funding for conference travel and seminar/course tuition (including language or methods training) will also be considered.
In any given year, a student may receive either a Graduate Student Research Grant or the Dissertation Research Fellowship, but not both.
All proposals will be reviewed and ranked by a multidisciplinary review committee chaired by the Associate Director of the Human Rights Institute and comprised of members of the Gladstein Human Rights Committee. The number of grants will depend on the number of applications ranked 'excellent' by the review panel.
---
Application Deadline: March 15, 2021
If you have any questions please call 860-486-5393 or email humanrights@uconn.edu.
For more information about previous award winners, see HERE.