The Human Rights Institute established a seed grant competition for one award of $10,000 for each academic year. The objective of this competition is to support and promote faculty research projects on human rights and to facilitate the writing of external grant proposals.
---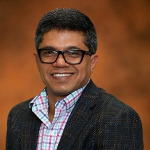 2020 Seed Grant Recipient
Prakash Kashwan, Associate Professor,  Political Science
"Economic and Social Rights Outcomes in a Climate Changed World"
For more information about previous award winners see HERE.
---
Evaluation of Fellowship Applications
Overall excellence of the proposed faculty research project on human rights issues, understood broadly. Projects should make a significant contribution to ongoing scholarly and/or policy debates in the field of human rights. All proposals will be reviewed by a multidisciplinary committee chaired by the Associate Director of the Human Rights Institute.
Application format
Each application should include the following supporting documents:
Narrative description of the research project (five pages, double spaced, 12 point font)
Brief explanation of plans to apply for outside grants (no more than ½ page)
Budget narrative (no more than one page)
Note: Funds may be used to support graduate assistant or undergraduate student labor costs at university-established rates; to contribute towards course replacement costs, following the model of the Research Excellence Program (https://ovpr.uconn.edu/services/research-development/rep-storrs/); or to pay for direct costs associated with travel for research or research support costs. If seeking to use funds for course replacement, you must have permission from your department head.
Bibliography for the project (no more than one page)
Current CV
Criteria for Evaluation
The following criteria will be used in evaluating applications for the HRI Faculty Fellowship:
Significance of the contribution that the project will make to knowledge in the field of human rights;
Quality of the conception, definition, organization, and description of the project;
Feasibility of the project, including rationale for the budget;
Priority will be given to applicants who indicate clearly their plans to apply for external funding;
Applications that do not follow the guidelines for page length and supporting documents will not be considered.
Deadline for applications is March 6, 2020
Please submit your application via UConnact at: https://uconntact.uconn.edu/submitter/form/start/345850
Label your document using the following format: lastname.firstname.hrifacultyseedgrant.2020
The grant awardee will be selected by April 1, 2020.
Funds must be expended between July 1, 2019-June 30, 2021.
Questions about the Human Rights Seed Grant competition should be directed to Rachel Jackson, Tel: 860-486-5393, Email: humanrights@uconn.edu
Additional Requirements
The Grant holder agrees to submit a progress report (two pages maximum) on the research project by July 30, 2020.  The Grant holder also agrees to present at an HRI Lunchtime Seminar in the year following their Grant.