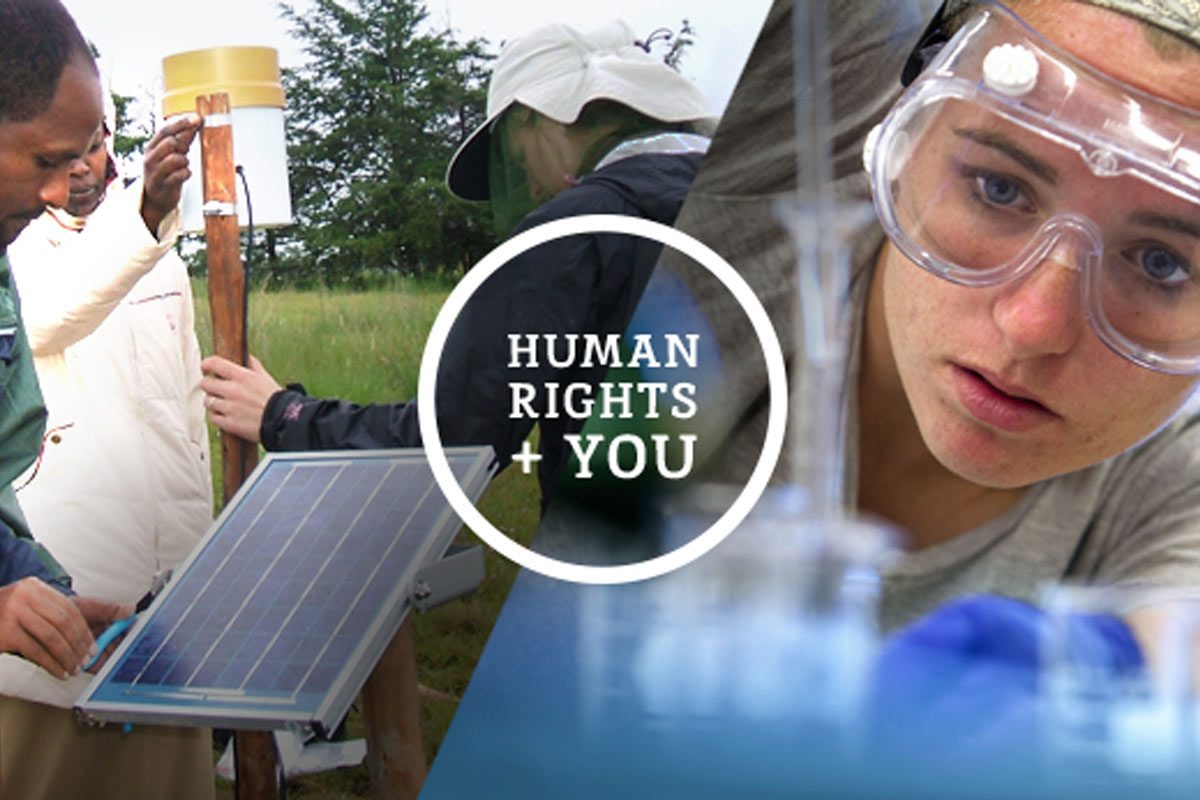 What are human rights? How has the concept of human rights evolved? How and why have human rights been violated, both in the United States and abroad? How have people struggled against human rights violations and with what success? What protections against violations of human rights exist, and how can these protections be enhanced and made more effective? These are the type of questions that human rights students are encouraged to pursue.
In the human rights major and minor, students receive interdisciplinary instruction in theoretical, comparative, and historical perspectives on human rights through classroom courses and gain valuable practical experience in the human rights field through a supervised internship.
The human rights minor is an interdepartmental, interdisciplinary plan of study requiring 15 credit hours from the following groups:
3 credits must be taken from the Core Courses (Group A);
3 credits must be taken from the Applications and Methods (Group B);
6 credits must be taken of either courses from the Electives (Group C) list or additional Group A or B courses;
3 credits are taken from the Service Learning/Internship (Group D).
Minor Declaration Form
HRTS Undergraduate Major/Minor Brochure Catalog Year 2017-18
HRTS Undergraduate Major/Minor Brochure Catalog Year 2016-17
HRTS Undergraduate Major/Minor Brochure Catalog Year 2015-16
HR Minor Requirements - Spring 2015 & Earlier
Please note that more than six credits may not be taken in one department.
Recommended Course
HRTS 1007: Introduction to Human Rights
Group A: Core Courses
Institutions and Laws
HIST 3202/HRTS 3202: International Human Rights
HRTS 3200(W): International Human Rights Law
HRTS 3420: Being International - Geopolitics and Human Rights
POLS 3212/HRTS 3212: Comparative Perspectives on Human Rights
SOCI 3831/HRTS 3831: Human Rights in the United States
History, Philosophy, and Theory
ECON 3128: Economic and Social Human Rights
HIST/HRTS 3201: The History of Human Rights
HIST/HRTS 3207: Genocide after the Second World War
POLS/HRTS 3042: The Theory of Human Rights
ENGL/HRTS 3631: Literature, Culture and Humanitarianism
PHIL/HRTS 3220: Philosophical Foundations of Human Rights
Group B: Applications and Methods
ANTH/HRTS 3326: Global Health and Human Rights
BADM/BLAW 3252: Corporate Social Impact and Responsibility
BADM/BLAW/HRTS 3254: Business Solutions to Societal Challenges
DRAM/HRTS 3139: Theater and Human Rights
ENGR/HRTS 3257: Assessment for Human Rights Sustainability
HRTS 3149(W): Human Rights Through Film
HRTS 3250(W): Human Rights and New Technologies
HRTS 3475: Economic Development and Human Rights
POLS/HRTS 3256(W): Politics & Human Rights in Global Supply Chains
POLS/HRTS 3428: The Politics of Torture
POLS/HRTS 3430: Evaluating Human Rights Practices of Countries.
SOCI/HRTS 3835(W): Refugee Camps and Humanitarianism
SOCI/HRTS 3837(W): Sociology of Global Human Rights
Group C: Electives
Africana Studies
AFRA/SOCI/HRTS 3505: White Racism
AFRA/HIST/HRTS 3563: African American History to 1865
AFRA/SOCI/HRTS 3825: African Americans and Social Protest
Anthropology
ANTH/HRTS 3028: Indigenous Rights and Aboriginal Australia
ANTH 3150(W): Migration
ANTH/HRTS 3153(W): Human Rights in Democratizing Countries
ANTH /WGSS 3350: Anthropological Perspectives on Women
Art History
ARTH/HRTS 3575: Human Rights and Visual Culture
Asian American Studies
AASI/SOCI 3222 / HRTS 3573: Asian Indian Women: Activism and Social Change
AASI/HIST 3531: Japanese Americans and World War II
Economics
ECON 2126: Philosophy and Economics
ECON 2127: Beyond Self-interest
ECON 3473(W): Economic Development
ECON 2445/HRTS/WGSS 3445: Economic Foundations of Gender Inequality
Education Curriculum and Instruction
EDCI 2100: Power, Privilege, and Public Education
EDCI 3100: Multicultural Education, Equity, and Social Justice (***Course is currently available only to NEAG students***)
Engineering
ENGR/HRTS/POLS 3209: Sustainable Energy in the 21st Century
English
ENGL/HRTS 3619: Topics in Literature and Human Rights History
ENGL 3629: Introduction to Holocaust Literature
Geography
GEOG 3240: Medical and Health Care Geography
Hebrew and Judaic Studies
HEJS/HRTS 2203: The Holocaust in Print, Theater, and Film
Human Development and Family Services
HDFS 3251: Biotechnology, Disability and the Family
History
HIST 3100(W): Biography as History
HIST 3418: The Holocaust
HIST/AASI 3531: Japanese Americans and World War II
HIST/WGSS 3562: History of Women & Gender in the United States, 1850-Present
HIST/AFRA/HRTS 3563: African American History to 1865
HIST 3570: American Indian History
HIST 3575/LLAS 3221/HRTS 3221: Latino/as and Human Rights
Human Rights
Any HRTS course numbered 2000 or above
Latino and Latin American Studies
LLAS/HRTS 3221/HIST 3575: Latino/as and Human Rights
LLAS 3271/POLS 3834: Immigration and Transborder Politics
Natural Resources and the Environment
NRE 2600: Global Sustainable Natural Resources
Nursing
NURS 3225: Ethical Ways of Knowing
Philosophy
PHIL/HRTS 2170(W): Bioethics and Human Rights in Cross-Cultural Perspective
PHIL 2215: Ethics
PHIL 3218: Feminist Theory
PHIL/HRTS 3219: Topics in Philosophy and Human Rights
Political Science
POLS/ENGR/HRTS 3209: Sustainable Energy in the 21st Century
POLS 3211: Politics of Water
POLS/WGSS 3249: Gender Politics and Islam
POLS 3255: Politics of South Africa
POLS/HRTS 3418(W): International Organizations and Law
POLS 3672/WGSS 3052: Women and Politics
POLS/HRTS 3807: Constitutional Rights and Liberties
POLS 3834/LLAS 3271: Immigration and Transborder Politics
Sociology
SOCI 3222/HRTS 3573/AASI 3222: Asian Indian Women: Activism and Social Change
SOCI/HRTS 3421(W): Class, Power, and Inequality
SOCI 3503(W): Prejudice and Discrimination
SOCI/HRTS/AFRA 3505: White Racism
SOCI/HRTS/AFRA 3825: African Americans and Social Protest
Women's Gender and Sexuality Studies
WGSS 2255: Sexualities, Activism, and Globalization
WGSS/HRTS 2263: Women and Violence
WGSS 3052/POLS 3672: Women and Politics
WGSS 3105: The Politics of Reproduction
WGSS/POLS 3249: Gender Politics and Islam
WGSS 3257: Feminist Disability Studies
WGSS 3269: Women's Movements
WGSS/ANTH 3350: Anthropological Perspectives on Women
Group D: Internship
HRTS 4291: Service Learning Seminar/Internship
Group D internships are with a human rights-related agency, organization, or group. Students may select an Internship site to fit individual interests and goals. The internship enables students to enrich and assess what they have learned in the classroom through practical experience. The final grade for credits earned in Group D are based on the completion of assignments in which students synthesize their internship experiences with knowledge gained in the course work taken to fulfill the requirements for the Human Rights Minor.
For further information, please contact:
Samuel Martinez, Director of Undergraduate Programs in Human Rights
860-486-4515 or samuel.martinez@uconn.edu
The Human Rights Minor is a program of the College of Liberal Arts and Sciences.
General Education HR Courses
Content Area One: Arts and Humanities
A: Arts
HEJS/DRAM/HRTS 2203: The Holocaust in Print, Theater, and Film
B: Literature
ENGL 3629: Introduction to Holocaust Literature
C: History
AASI/HIST 3531: Japanese Americans and World War II
D: Philosophy & Ethical Analysis
HRTS 3200(W): International Human Rights Law
PHIL/HRTS 3220(W): Philosophical Foundations of Human Rights
HRTS 3250(W): Human Rights and New Technologies
PHIL/HRTS 2170(W): Bioethics and Human Rights in Cross-Cultural Perspectives
Content Area Two: Social Sciences
HRTS 1007 (recommended for majors, not required)
POLS 3211: Politics of Water
Content Area Four: Diversity and Multiculturalism
USA
HIST/AASI 3531: Japanese Americans and World War II
AASI/SOCI 3221 / HRTS 3571: Sociological Perspectives on Asian American Women
AFRA/SOCI/HRTS 3505: White Racism
ANTH 3150(W): Migration
HIST 3570: American Indian History
International
ANTH/HRTS 3028(W): Indigenous Rights and Aboriginal Australia
ANTH/HRTS 3153(W): Human Rights in Democratizing Countries
ENGL 3629: Introduction to Holocaust Literature
HEJS/HRTS 2203: The Holocaust in Print, Theater, and Film
HRTS 3200(W): International Human Rights Law
HRTS 1007 (recommended for majors, not required)
NRE 2600: Global Sustainable Natural Resources
WGSS 2255: Sexualities, Activism, and Globalization