Join us for a Performance by Mai Khoi Chem Gio, an experimental Vietnamese dissident trio
&
Keynote Address by Mai Khoi
April 5, 2019 at 4:00 in the Thomas J. Dodd Research Center
This event is part of the Human Rights and the Politics of Solidarity conference taking place April 4-5th, 2019.  Click here for more information or to register for the conference.
Mai Khoi Chem Gio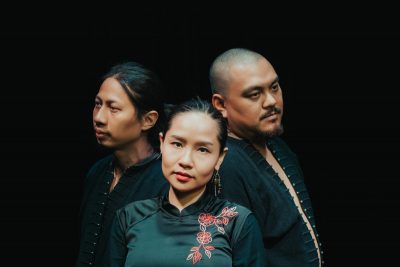 Mai Khoi Chem Gio represents an awakening of self-awareness and social critique in a society in which freedom of expression is far from guaranteed. "We give voice to the unspeakable", says Mai Khoi, "unlike other musicians here, we don't ask for permission to perform or submit our lyrics to the censors." Sonically, the avant-garde group is equally bold, weaving eastern woodwinds around unabashed brass over dissonant guitar in experimental and, at times, highly improvised arrangements. Melodic and lyrical themes are diverse, reflecting the emotional variation – from innocent and ironic to ominous and introspective – of Mai Khoi's compositions. She is joined by Nguyen Duc Minh on scale drums, flutes and mouth harps, many of which he has invented and carved out of bamboo himself, and Quyen Thien Dac on the baritone, bass clarinet and alto, soprano and tenor saxophones. In a soundscape where so many groups look and sound the same, Mai Khoi Chem Gio offer something new.
Mai Khoi
Mai Khoi is a Vietnamese pop star, singer and musician. She has been playing music since she was 12 when she was the pianist in a wedding band with her father, a music teacher, in the coastal city of Nha Trang. Drawing on a wide variety of influences, from traditional Vietnamese folk to blues, soul and rock, Mai Khoi seamlessly blends disparate styles and rhythms. Her music is also distinct in terms of its emotional range, her wide vocal register as well as the distinct tonal qualities of her voice.In 2010, Mai Khoi won Vietnam Television Song and Album of the Year Award, the highest award for song writing in the country. After winning the award, she shaved half of her hair off and inscribed the letters 'VN' for 'Vietnam', the name of the song that won the competition, on one side of her head. For this she was harshly criticised by the country's conservative media establishment. No stranger to controversy, Mai Khoi is somewhat of an anomaly for a celebrity in a Communist country like Vietnam for having spoken out about sexuality, LGBT rights and violence against women. Mai Khoi broke international headlines in 2016 after she became the first Vietnamese celebrity in history to nominate herself for the National Assembly (equivalent to congress) on a pro-democracy platform. This campaign sparked a nationwide debate about political participation and ultimately led to a meeting with U.S. President Barack Obama. Since running for parliament she has been harassed by the police (with one of her concerts raided) and is effectively banned from singing in Vietnam. Mai Khoi has toured the USA, Europe and Australia.
Click here for more information about Mai Khoi Chem Gio and Mai Khoi
If you are an individual who requires accommodation to participate, please contact the Human Rights Institute at (860) 486-8739 or humanrights@uconn.edu