The Thomas J. Dodd Prize in International Justice and Human Rights commemorates the distinguished career in public service of Thomas J. Dodd, who served as Executive Trial Counsel at the Nuremberg Trials, as U.S. Representative from 1953 to 1957, and as Connecticut Senator from 1959 to 1971. Thomas Dodd continually fought against infringement and suppression of human rights in the United States and abroad during his long public career.
The prize is awarded by Dodd Human Rights Impact to a leader or group who has made a significant effort to advance the cause of international justice and global human rights.
The Dodd Prize was established at the University of Connecticut in 2003 thanks to the continued efforts of Senator Christopher J. Dodd and other members of the Dodd Family.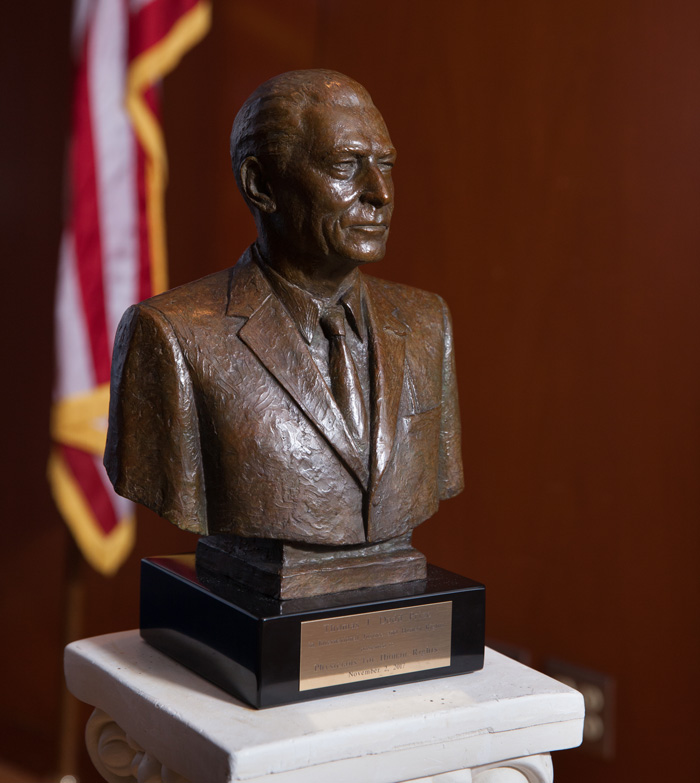 Dodd Prize Endowment
The Dodd Prize would not be possible without the generous support of philanthropist and businessman John W. Kluge. Kluge, who was born in Germany, immigrated to the United States and grew up in Detroit, Michigan. He graduated from Columbia University and served in U.S. Army Intelligence during World War II. Kluge began developing his business empire by first investing in the food business, then purchasing radio and television stations that ultimately became Metromedia Incorporated, one of the largest communications conglomerates with interests in radio, television, motion pictures, cellular telephones and the travel industry.
Mr. Kluge has a wide range of philanthropic interests that include gifts to support minority students at Columbia University, to the Library of Congress to establish a John W. Kluge Center and support a Kluge Prize in Human Sciences and has donated land and his estate to the University of Virginia.
Mr. Kluge began supporting the Thomas J. Dodd Research Center prior to its completion. He was closely connected with Thomas Dodd because of their common interest in media and television. His initial gift during the capital campaign for the Dodd Center established a fund for the Dodd Prize and Mr. Kluge's additions to the endowment allowed the Center and the University to carry out the first Dodd Prize event in 2003.
Mr. Kluge was the recipient of an honorary degree from the University of Connecticut in May, 2003. He passed away in September, 2010.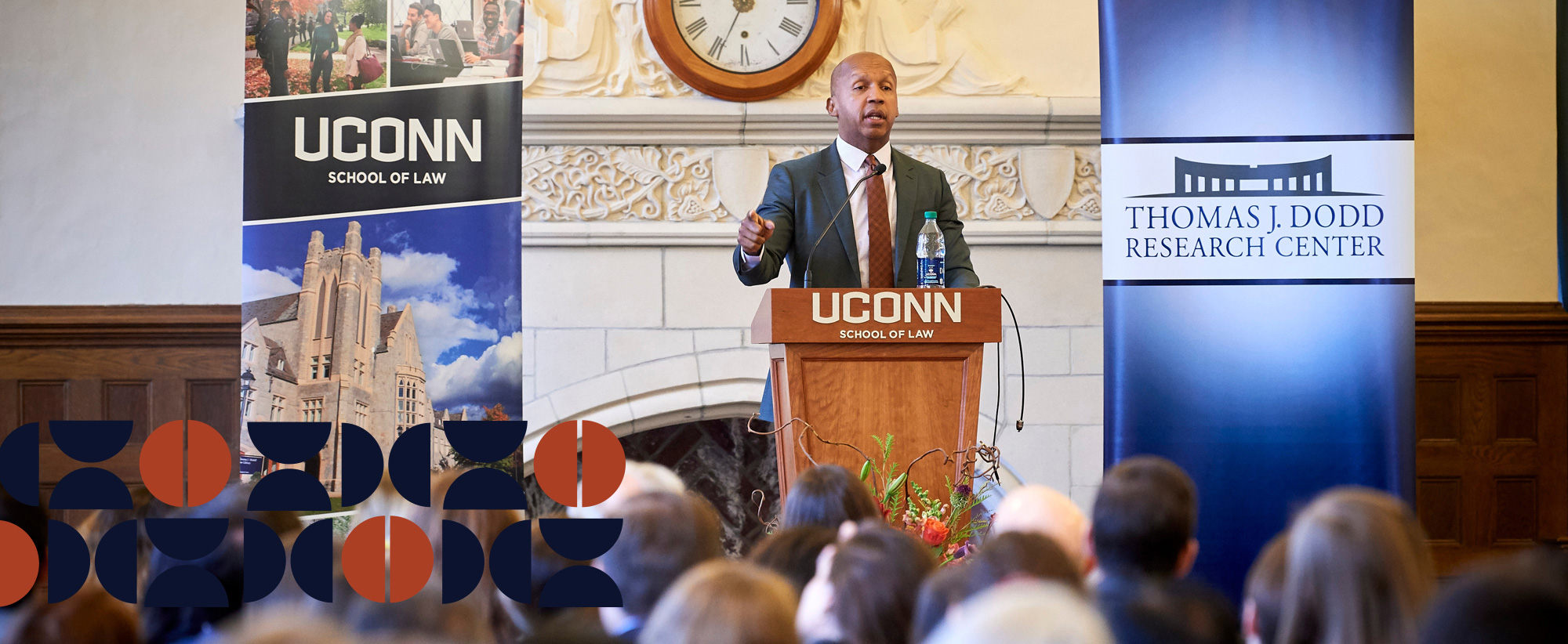 Dodd Prize Recipients
2019 Dodd Prize
Bryan Stevenson is one of the great human rights champions of our time. Eighty years ago, before my father confronted the evil of the Nazis in Nuremberg, he confronted the home-grown evil of racism in the 1930s. Today, the work of Bryan and the Equal Justice Initiative is among the most important efforts to address this continued scourge of racism and hate, and I know my father would be proud to recognize their incredible contributions to justice.

- Senator Christopher J. Dodd
Bryan Stevenson
Bryan Stevenson has worked tirelessly to defend the rights of the most marginalized and to confront the legacy of white supremacy in America.  As lawyer, he has represented individuals on death row since the 1980s, winning the release, relief, or reversal of conviction for over 145 people.  Mr. Stevenson has also led efforts  challenging the harsh treatment of children in the criminal justice system, arguing before the Supreme Court to end life-without-parole for minors in the landmark case of Miller v. Alabama (2012).  Winner of numerous awards, including the McArthur "Genius" Award and the Olof Palme Prize, Mr. Stevenson is also author of the bestselling Just Mercy: A Story of Justice and Redemption (2014).
The Equal Justice Initiative
The Equal Justice Initiative was founded by Bryan Stevenson in 1989 to provide legal services to the poor, incarcerated, and condemned of Alabama. For thirty years, EJI has advocated for the state's most vulnerable residents, providing access to legal services and championing systemic reforms. Most recently, EJI is leading efforts to directly challenge the history of racism in America, through research, education, and advocacy. This past year, EJI opened The Legacy Museum: From Enslavement to Mass Incarceration and the National Memorial for Peace and Justice in their hometown of Montgomery. This work has helped to spur local and national efforts to confront our shared history of racial injustice.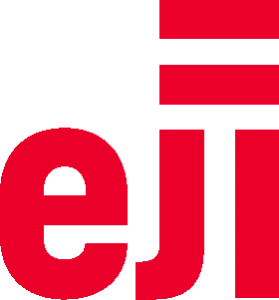 2017 Dodd Prize
Physicians for Human Rights was awarded the eighth biennial Thomas J. Dodd Prize in Human Rights and International Justice on November 2, 2017.
Since 1986, Physicians for Human Rights has used medicine and science to document and ultimately prevent mass atrocities and severe human rights violations. They are fearless allies of the most vulnerable victims of abuse, tirelessly defending human rights on the ground in dangerous conflict zones, in the courtroom helping to hold perpetrators accountable, and in the public spheres advocating for policies that protect the dignity of all.
The pioneering efforts of Physicians for Human Rights has brought doctors, scientists, and other health professionals onto the frontlines of human rights protection and promotion, using forensic science, clinical medicine, and public health research to document torture, systematic abuse, and other crimes against humanity, as well as train and empower health professionals globally to investigate and prevent human rights violations. Their work has contributed to convictions for war crimes, torture, and extrajudicial killings, and helped to establish key professional standards for documenting abuses and new international legal norms for protecting rights. Combining courage, tenacity, and innovation, Physicians for Human Rights is a true leader in the global human rights movement.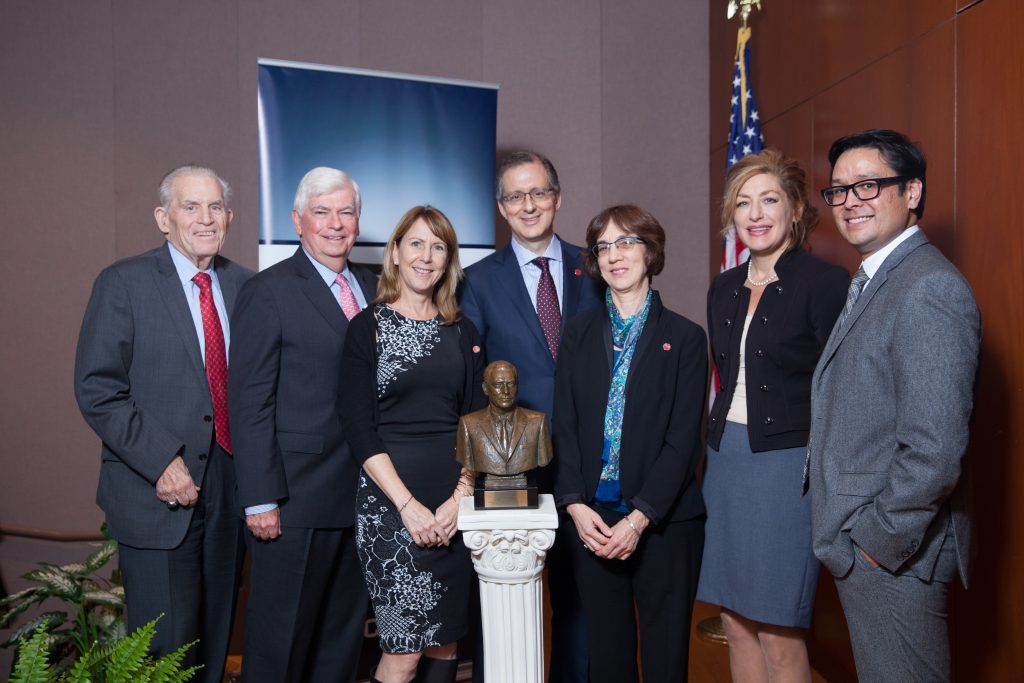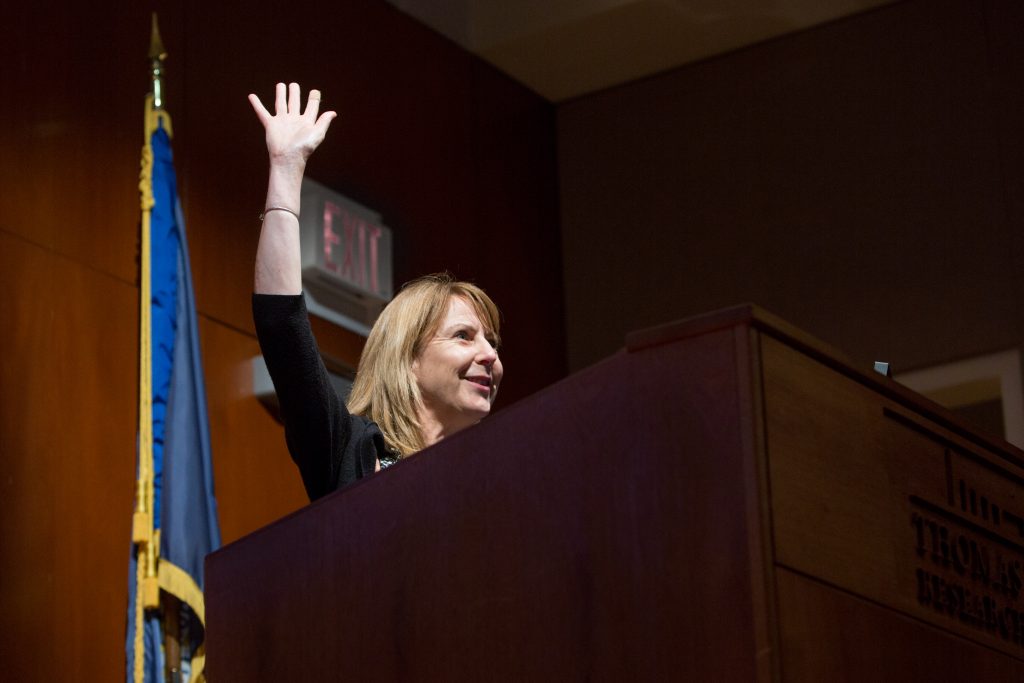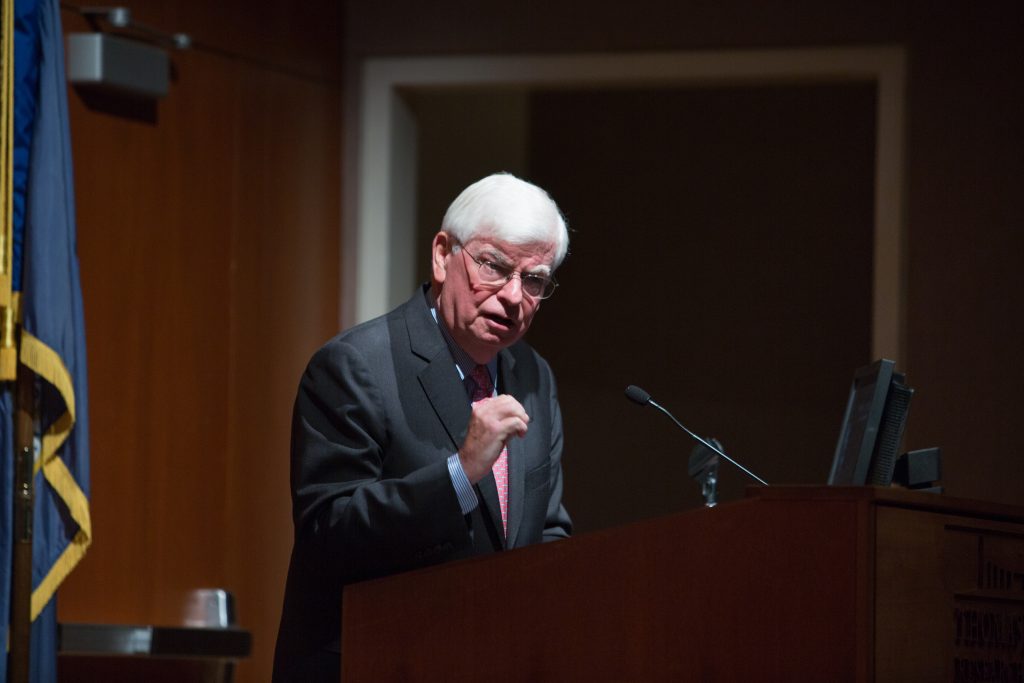 2015 Dodd Prize
President Bill Clinton and the international human rights education organization Tostan were awarded the seventh biennial Thomas J. Dodd Prize in International Justice and Human Rights on October 15, 2015.
President Bill Clinton
William Jefferson Clinton, the first Democratic president in six decades to be elected twice, led the U.S. to the longest economic expansion in American history. On October 15, 1995, he joined Senator Christopher J. Dodd, Governor John G. Rowland, and UConn President Harry J. Hartley in dedicating the Thomas J. Dodd Research Center. President Clinton's words that day, along with his leadership in office, inspired the Dodd Center in its efforts to preserve and extend the legacy of Sen. Thomas J. Dodd's fight against the infringement and suppression of human rights in the United States and abroad.
After leaving the White House, President Clinton established the Clinton Foundation, which today works around the world to improve global heath and wellness, increase opportunity for girls and women, reduce childhood obesity, create economic opportunity and growth, and help communities address the effects of climate change. Senator Chris Dodd and President Bill ClintonThrough its many initiatives, including the Clinton Health Access Initiative, the Clinton Climate Initiative, and the Clinton Global Initiative, the Foundation has pioneered innovative and collaborative solutions to the world's most pressing human rights and environmental issues.
Through his ongoing work to improve the lives of millions of people around the world, President Clinton continues to be an inspiring leader for international justice and human rights.
Tostan
Tostan, from the Wolof word for "breakthrough," is an international human rights organization based in Senegal. Since 1991, Tostan has worked "to empower African communities to bring about sustainable development and positive social transformation based on respect for human rights."
Working in Senegal, Guinea, Guinea-Bissau, Mali, Mauritania, and Gambia, Tostan employs over 1,000 people and promotes literacy and community engagement primarily in rural regions. Tostan's innovative approach, called the Community Empowerment Program (CEP), is rooted in the belief that every human being has a fundamental right to human dignity. Developed by Tostan founder Molly Melching, the CEP empowers communities and individuals to change their lives by sharing their understanding of human rights and responsibilities, learned through non-formal education sessions, with other interconnected groups and social networks. Grounded in human rights values and employing methods that foster mutual respect, inclusivity, and sustainability, Tostan has impacted about 2 million lives in the areas of health, education, environment, governance, and economic growth.
Through their work empowering communities, fostering democratic practices, and promoting understanding of human rights, Tostan is building a culture of human rights from the ground up.
2013 Dodd Prize
Business and Human Rights Resource Centre
The Business & Human Rights Resource Centre (BHRRC) is a nonprofit, nongovernmental organization dedicated to encouraging companies to respect and promote human rights around the world.Since its founding in 2002, the Centre has pursued its mission by advancing transparency, public accountability, and informed decision-making. The Centre's website is an essential forum for collecting and disseminating information about the human rights impacts (both positive and negative) of over 5,100 companies, operating in over 180 countries. By actively seeking responses from companies to allegations of misconduct, the Centre helps ensure those companies address concerns raised by civil society and provides balanced coverage of issues.Taking international human rights standards as their starting point, the Centre also operates as an essential online library of guiding principles and standards, as well as best practices and model business policies.With offices in London and New York and a global research network with bases in Brazil, Colombia, Hong Kong, India, Jordan, Lebanon, Kenya, Senegal, South Africa, Thailand, UK, Ukraine and the USA, the Centre can draw global attention to the local human rights impacts of companies around the world. Through close contacts with grassroots NGOs and local business people, an International Advisory Network of over 70 experts, and Academic Partners at 23 institutions with expertise in business and human rights, the Centre has created a hub of information exchange unlike any other.Businesspeople, advocates, governments, investors and the UN all rely on the Centre's coverage of allegation and reference materials on business and human rights standards. By exposing the reality in a field too often dominated by rhetoric, the Business & Human Rights Resource Centre helps protect vulnerable people and communities against abuses.
The award was presented on November 14, 2013 in Konover Auditorium at the Thomas J. Dodd Research Center, University of Connecticut, Storrs, CT.
Download the 2013 Dodd Prize Press Release.pdf.
Download the 2013 Dodd Prize Ceremony Press Release.pdf.
Download the text of Chris Avery's Keynote Speech.pdf.
2011 Dodd Prize
The Center for Justice & International Law (CEJIL)
The Center for Justice and International Law (CEJIL) is a non-governmental, non-profit organization that protects and promotes human rights in the Americas through the strategic use of the tools offered by international human rights law.
CEJIL's vision is that of a fully democratic hemisphere, in which the rights and dignity of all individuals are respected. To work toward this vision, CEJIL utilizes strategic litigation and engages in advocacy efforts before the Inter-American System of Human Rights (IAS) to address a wealth of the region's most pressing human rights issues, such as gender violence, forced disappearances, torture, and indigenous land rights, among others. In order to have the greatest possible impact, CEJIL litigates emblematic cases, many of which lead to systemic change at the State level and serve as precedents for the region. Two examples of this include the cases of Maria da Penha v. Brazil and Victor Hugo Maciel v. Paraguay , as IAS decisions led to the creation of legislation regarding gender violence in the former and the revision of legislation regarding the recruitment of child soldiers in the latter. In addition to litigation and advocacy before the IAS, CEJIL also conducts training seminars for human rights defenders and produces publications on issues relevant to human rights and the IAS. With offices in Washington, DC, San Jose, Costa Rica, Rio de Janeiro, Brazil, and Buenos Aires, Argentina and 300 partners throughout the region, the reach of CEJIL's work is vast. In the last five years, CEJIL has litigated over 250 cases before the IAS, representing more than 13,000 victims and securing U.S. $40 million in reparations. Over the years, CEJIL has emerged as one of the leading organizations working to defend and promote human rights in the hemisphere. As it celebrates its 20 th anniversary in 2011, CEJIL is proud of the significant impact its work has had in the lives of victims of human rights violations and the overall strengthening of democracies throughout the Americas.
The award was presented on Monday, October 3, 2011 in the Davis Courtroom at the University of Connecticut School of Law, Hartford, CT.
Download the 2011 Dodd Prize Press Release.pdf.
2009 Dodd Prize
The Committee to Protect Journalists
For nearly 30 years, the Committee to Protect Journalists has been defending the rights of journalists worldwide to report the news without fear of reprisal. Every year, CPJ receives more than 2,000 reports of press freedom violations ranging from censorship and harassment to arbitrary detention and homicide. Their five regional program coordinators – representing Africa, the Americas, Asia, Central Europe and the former Soviet republics, and the Middle East – track developments through independent research, fact-finding missions, and firsthand contacts in the field, including reports from other journalists.
By publicly revealing abuses against the press and by acting on behalf of imprisoned and threatened journalists, CPJ effectively warns journalists and news organizations where attacks on press freedom are occurring. CPJ organizes vigorous public protests and works through diplomatic channels to effect change. CPJ publishes articles and news releases; special reports; and Attacks on the Press, the most comprehensive annual survey of press freedom around the world.
In 2001, CPJ created the Journalist Assistance Program to provide direct assistance to journalists whose needs could not be addressed by advocacy alone–journalists who must go into hiding or exile to escape threats; journalists in need of medicine and other material support in prison; and journalists injured after violent attacks, to give some examples. Since then they have helped more than 400 journalists from 52 countries.
Mariane Pearl was five months pregnant when her husband, The Wall Street Journal reporter Daniel Pearl was kidnapped and brutally murdered by a militant Islamic fundamentalist group in Pakistan in 2002. Determined not to be broken, Mariane wrote a memoir celebrating the values of humanism and dignity while offering a detailed account of the investigation led in Pakistan to rescue her husband. The book won international praise and was translated into 15 languages. In 2007, it was released as a major feature movie starring Angelina Jolie in the role of Mariane Pearl. Her story, in her own words are that of "integrity, beauty and resilience."
Read Senator Dodd's remarks.pdf.
Read CPJ's acceptance speech.pdf.
2007 Dodd Prize
The Center for Justice & Accountability
In less than ten years, the Center for Justice and Accountability (CJA) has made a major impact on the human rights movement by bringing perpetrators of human rights abuses to justice and providing redress to victims of human rights abuses from around the world. CJA was founded to help survivors of torture and other severe human rights abuses hold their perpetrators accountable in the courts. CJA's work is based on the doctrine of universal jurisdiction, first used in the Nuremberg trials, which holds that certain crimes are so egregious that they represent offenses against all humankind and that perpetrators of such crimes should be held accountable wherever they are found.
In its short history, CJA has brought cases against human rights abusers from Bosnia, Chile, China, El Salvador, Guatemala, Haiti, Honduras, Indonesia, Peru and Somalia. CJA pursues civil cases in the U.S. using two laws that provide protection for torture survivors; CJA also pursues criminal cases in the Spanish court system which has initiated prosecutions into abuses around the world. To date, CJA has received favorable verdicts in all of their cases that have gone to trial.
CJA won the first jury verdict in U.S. history for crimes against humanity in a contested case involving the Caravan of Death in Chile. The Center recently secured landmark victories for asset collection in human rights litigation, freezing nearly $1 million that a former Haitian military officer won in the Florida State Lottery and collecting over $300,000 from the former Salvadoran Minister of Defense.
CJA's cases seek to deter torture by showing human rights abusers that they will be held accountable if they travel to other jurisdictions. They also serve as catalysts for efforts to seek justice in the home country by showing that it is possible to be successful in court against those once thought to be above the law.
Mental Disability Rights International
Mental Disability Rights International (MDRI) is a unique and effective advocacy organization fighting worldwide for the human rights of people with mental disabilities. Eric Rosenthal, an attorney, founded MDRI in 1993 and is the Executive Director. MDRI's accomplished Associate Director, Laurie Ahern, is a former investigative journalist and a leader of the international psychiatric recovery movement.
MDRI has worked in 23 countries and published reports on the rights of people with disabilities in eight countries – Argentina, Hungary, Kosovo, Mexico, Peru, Russia, Turkey and Uruguay. These reports provide vivid firsthand accounts from mental health experts, institutional staff, and people with disabilities subject to abuse. MDRI's exhaustive reports are supported by powerful photographs and video documentation.
MDRI has brought unprecedented international attention to the inhumane treatment, torture, arbitrary detention, and segregation from society of children and adults with disabilities in orphanages, psychiatric institutions, nursing homes, jails and prisons. Bringing violations to public attention, MDRI has pressured governments to end abuses against their most marginalized and vulnerable citizens. Nurturing, training, and supporting advocacy by people with disabilities and their allies, MDRI has brought about a new worldwide advocacy movement. MDRI has gained support for the first major human rights treaty of the 21 st century – one of the most ambitious human rights instruments ever – the UN Convention on the Rights of Persons with Disabilities.
MDRI has produced startling results. In Turkey, MDRI pressure saved thousands of people from "unmodified ECT"– electro-shock treatment without anesthesia. In Hungary, Kosovo, and Peru, MDRI helped people with psychiatric and intellectual disabilities form organizations to fight for their own rights. MDRI's report on Mexico found children tied to beds and adults left to languish for years in inactivity and filth. Within months, Mexico closed its most abusive institution and created safe and dignified community alternatives. In Paraguay, MDRI brought an end to life – threatening treatment practices by petitioning the Inter-American Commission on Human Rights. The Commission ordered the release of boys with autism who had been held naked in isolation cells for more than four years. Paraguay then entered into an historic agreement to restructure its entire mental health system. As a consultant to the United States National Council on Disabilities, MDRI authored a report on discrimination in US foreign assistance and human rights policy. As a result, Congress adopted legislation to make foreign assistance programs accessible to people with disabilities.
2005 Dodd Prize
Louise Arbour, United Nations High Commissioner for Human Rights
Arbour is best known for serving an indictment on Yugoslav President Slobodan Milosevic in 1999. She was the chief prosecutor for the International Criminal Tribunals for the former Yugoslavia and for Rwanda, when the court upheld the first-ever conviction of a head of state, Jean Kambanda of Rwanda, for orchestrating genocide. As a result of her work at the tribunals, rape was recognized for the first time as a crime against humanity in international law. In 1995, she served as the single commissioner under the Inquiry Act, investigating and reporting on events at the Prison for Women in Kingston, Ontario, making recommendations to the solicitor general of Canada about the operation of Canada's Correctional Service.
Having served as a professor and associate dean at Osgoode Hall Law School at York University in Canada, Arbour left academia to serve on the Supreme Court of Ontario (High Court of Justice), the Court of Appeals for Ontario and, beginning in 1999, a Justice of the Canadian Supreme Court. She left the Supreme Court in 2004 to become the United Nations High Commissioner for Human Rights.
The Honorable Richard J. Goldstone, former Supreme Court Judge of South Africa
Justice Richard J. Goldstone has participated in a number of key human rights events of the 20th century, including the transition from apartheid in South Africa. He serves on the boards of Human Rights Watch and Physicians for Human Rights, is a director of the American Arbitration Association, and is the Henry Shattuck Visiting Professor of Law at the Joan B. Kroc Institute for Peace and Justice at the University of San Diego.
From 1991 to 1994, Goldstone was chair of the Commission of Inquiry Regarding Public Violence and Intimidation, which came to be known as the Goldstone Commission. He has also served as chief prosecutor of the United Nations International Criminal Tribunals for Rwanda, and served as chairperson of a group of international experts who met in Valencia, Spain, and drafted a Declaration of Human Duties and Responsibilities (known as the Valencia Declaration), for the director general of UNESCO.
Goldstone was chair of the International Independent Inquiry on Kosovo, and co-chair of the International Task Force on Terrorism established by the International Bar Association. He is the author of a number of articles on human rights, and two books: For Humanity: Reflections of a War Crimes Investigator, and Facing Ethnic Conflicts: Toward a New Realism. He also was involved in drafting the post-apartheid South African Bill of Rights.
Read Richard Goldstone's Speech.pdf.
2003 Dodd Prize
Taoiseach Bertie Ahern, T.D., Prime Minister of Ireland
Bertie Ahern was born into a working-class family in Dublin in 1951. He attended St. Aidan's CBS secondary school, the Rathmines College of Commerce and University College-Dublin.
Ahern was elected to the Dáil (Parliament) in 1977 for the constituency of Dublin-Finglas and has represented Dublin Central since 1981. He served as a member of Dublin City Council 1978-88 and was Lord Mayor from 1986-1987. Returning to national government, he served as Minister for Labour, 1987-91, Minister for Finance, November 1991-94. Minister for Arts, Culture and the Gaeltacht, November-December 1994 and Minister for Industry and Commerce, January 1993. He also served as Tánaiste (Deputy Prime Minister) from November-December 1994.
Ahern became head of Fianna Fáil (political party) in 1994 and was leader of the opposition until 1997, when he succeeded John Bruton as prime minister. Heading a Fianna Fáil-Progressive Democrat coalition. Ahern helped to negotiate a cease-fire by the Irish Republican Army, and in 1998 he helped broker the Good Friday Peace Agreement in Northern Ireland. He was re-elected Taoiseach on 6 June 2002, following a general election which saw his party Fianna Fáil returned to power in coalition with the Progressive Democrats.
The Right Honourable Tony Blair, M.P., Prime Minister, First Lord of the Treasury, and Minister for the Civil Service
Tony Blair was born in Edinburgh in 1953, but spent most of his childhood in Durham. He attended Fettes College and studied law at Oxford University.
After standing unsuccessfully for the Labour Party in a by-election, Blair went on to win the seat of Sedgefield in the 1983 General Election, aged 30. He made a speedy rise through the ranks, being promoted first to the shadow Treasury front bench in 1984. He subsequently served as a trade and industry spokesman, before being elected to the Shadow Cabinet in 1988 where he was made Shadow Secretary of State for Energy. In 1989 he moved to the employment brief. After the 1992 election Labour's new leader, John Smith, promoted Blair to Shadow Home Secretary. It was in this post that Blair made famous his pledge that Labour would be tough on crime, tough on the causes of crime.
John Smith died suddenly and unexpectedly in 1994, and in the subsequent leadership contest Tony Blair won a large majority of his party's support. The Labour Party won the 1997 General Election by a landslide, after 18 years in Opposition. At the age of 43, Tony Blair became the youngest Prime Minister since Lord Liverpool in 1812. The government began to implement a far-reaching programme of constitutional change, putting the question of devolution to referendums in Scotland and Wales.One of Prime Minister Blair's first acts of office was to make an extended trip to Northern Ireland to meet leaders representing a variety of political parties and express his support for bringing about a lasting peace. He also brought the Sinn Fein movement into the peace process significantly broadening participation and support. Prime Minister Blair played an active role in supporting the peace negotiations carried out by Senator George Mitchell and leaders of Northern Ireland that resulted in the Good Friday Peace Accord signed on April 10, 1998.
Tony Blair was re-elected with another landslide majority in the 2001 General Election.
He is married to the barrister Cherie Booth QC, and they have four children. Their youngest, Leo, was the first child born to a serving Prime Minister in over 150 years.
Tony Blair's Speech.pdf (Speech Delivered by Deputy Prime Minister John Prescott on Behalf of the Prime Minister Tony Blair)