This internship is given to an outstanding human rights undergraduate student to complete a summer internship at The Center for Justice and International Law (CEJIL).
The CEJIL Internship is an eight-week learning immersion experience with an international non-profit human rights organization dedicated ensuring the full enjoyment of human rights by all individuals in the Americas through the effective use of the tools of the Inter-American Court of Human Rights and international human rights law. The CEJIL employs a unique intervention strategy that is broad and creative, focused on the protection and promotion of human rights in the Americas. They work to respond to human rights violations, aim to reduce inequalities, strengthen democracy and rule of law, and increase the effectiveness of the decisions adopted by the Inter-American System through equal access to the system's mechanisms.
Students with an interest in Latin America, international law and human rights should consider this internship. Proficiency in Spanish and/or Portuguese is also highly preferred.
A $5,000 scholarship is provided to assist with expenses related to the internship. Open to all undergraduates at UConn, with preference given to Human Rights Majors and Minors.
This internship is sponsored by the Dodd Center.
Visit The Center for Justice and International Law (CEJIL) for more information.
If applying, please indicate which of the following projects/areas you would be most interested in working with:
Americas Network on Nationality and Statelessness
GQUAL: A Campaign for Gender Parity in International Representation
CEJIL Communications Internship
For more information about the application process, click here.
2018 CEJIL Intern: Matheus Souza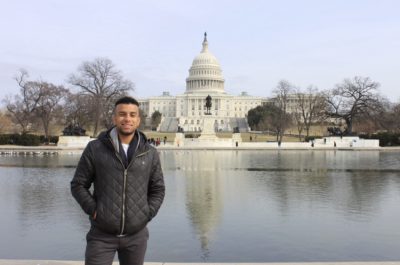 As a first-generation student-athlete with the soccer team at the University of Connecticut, I operated at the junction of these two shared social roles, while majoring in International Relations (with a focus in Latin America and Economic Development) with minors in Human Rights and Latino Studies. In the Fall of 2018, I will be pursing a master's degree at either UConn or Penn State, as I plan to specialize in international public policy and international studies.
I have interned at Lawyers Without Borders (LWOB), helping develop LWOB's programming on trafficking in persons and wildlife protection, preparing tasks, memos and reports based on legal research. Additionally, I've had the opportunity to attend a UN Conference on the Status of Women (CSW62), at the UN headquarters in NYC, acquiring a more in-depth perspective on CSW role in promoting women's right through the private and nonprofit sector, in conjunction with world leaders.
I have also devoted my time to participate in campus initiatives including volunteer work in Costa Rica through Community Outreach's Alternative Break Program, Husky Reach athletic service, and as an active member of UConn's Puerto Rican/Latin American Cultural Center (PRLACC) organization.
My interest in economic development and human rights is tied to who I am as a person, and it progressively continues to expand. Prior to graduation, I will have conducted research related to these areas in my Capstone course. My career aspirations include working with international development agencies that work to meet the needs of a society, such as USAID, its partners like Chemonics, and the Economic Commission for Latin America and the Caribbean (ECLAC). I will utilize my fluency in Portuguese, Spanish, English, and Italian, as I specialize in a field and pursue a career with an international scope.
To read more about Matheus' experience interning at CEJIL, please see here.