This internship is given to an outstanding human rights undergraduate student to complete a summer internship at Social Accountability International (SAI) in New York, NY.
The Social Accountability International Summer Internship is an eight-week learning immersion experience with an international non-profit human rights organization dedicated to the ethical treatment of workers around the world. Students interested in legal research, management procedures, and the elimination of sweatshops worldwide will work with SAI programming on crucial issues related to labor rights. Visit SAI for more information.
A $5,000 scholarship is provided to assist with expenses related to the internship. Students interested in how businesses develop standards for respecting labor rights and addressing overall workplace issues should consider this internship. Open to all undergraduates at UConn, with preference given to Human Rights Majors and Minors.
This internship is sponsored by the Northeast Utilities Chair in Business Ethics.
More information about the Summer 2105 internship at Social Accountability International can be found here.
For more information about the application process, click here.
2018 Social Accountability International Intern: Emily Dodson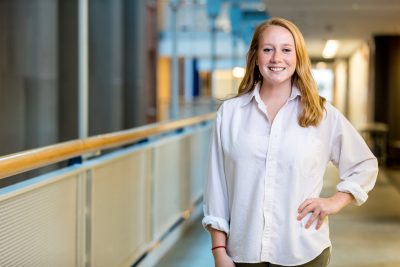 Emily is a junior double majoring in Human Rights and Political Science, with a minor in Spanish. In her freshman year, Emily was introduced to service on UConn's campus through being in the Human Rights and Action Learning Community, talking about important and significant topics in the conversation of Human Rights. In the second semester of her sophomore year, she chose to go abroad to Barcelona, Spain to learn about the diverse and bright culture here and improve and expand on her Spanish studies. Her desire to learn more about Spanish speaking communities expanded into the opportunity to go on the Costa Rica Winter Alternative Break through Community Outreach. Her work with Community Outreach expanded into her spring break alternative break trip to Detroit, Michigan on a trip that had a focus on urban education, civic engagement, and urban development.  This past year, she lead the Outreach Committee for the Student Union Board of Governors. This role included managing the student group's social media and encouraging students to get engaged with events on UConn's Campus. In her second semester, she took up a semester long internship at the Connecticut General Assembly, working closely with Senator Cathy Osten to interpret legislation for local communities of Connecticut. In this role, she came to better understand the important of advocacy and engagement with state politics from civil society actors and local citizens.
In her senior year, Emily will hold a position as a Student Involvement Ambassador in the Student Activities office, is on the CLAS Leadership Board, and hopes to continue working with Community Outreach. She hopes to expand on understanding the intersection of Business and Human Rights through UConn's courses and personal research. After graduation, she hopes to take time off before pursuing a Master's Degree in a concentrated area of Public Policy or Public Administration in order to work for organizations like SAI and work closely to protect populations often forgotten and affected by Business Expansion like Indigenous Populations and Women.
2017 Social Accountability International Intern: Ariana Scurti
Ariana Scurti is graduating with Phi Beta Kappa from the University of Connecticut Honors Program in May 2017 with a Bachelor of Arts in International Relations (with a focus in Human Rights and Development), a Bachelor of Arts in Spanish, and a minor in Economics. In the fall of 2017, she will pursue a Master of Public Policy (MPP) with a specialization in International Development Policy at the University of Maryland School of Public Policy. In 2015, Ariana interned in Guatemala as a consultant with Social Entrepreneur Corps and Soluciones Comunitarias, a non-governmental organization that champions the MicroConsignment Model. The following summer, Ariana gained more experience in social responsibility as the Corporate Social Responsibility intern at Dunkin' Brands, parent company of Dunkin' Donuts and Baskin-Robbins. There, she analyzed competitor data and expert literature regarding yearly corporate social responsibility reporting and goal setting to make effective recommendations for the Dunkin' Brands sustainability strategy. At UConn, Ariana served as a Trip Director for service trips to the Dominican Republic and Birmingham, Alabama, where students focused on community development and urban poverty, respectively. She has also traveled to India, Boston, and Oklahoma for other service trips and lived in Granada, Spain to study Spanish for a semester. She recently served as an International Orientation Ambassador for first year international students at UConn and in 2016, Ariana was selected to UConn's Leadership Legacy Experience tenth cohort, the university's prestigious leadership program.
Ariana hopes to work for the federal government to pursue work that inspires economic development through sustainable public and private partnerships, such as with USAID's Global Development Alliances (GDAs) or the United Nations International Labour Organization. She is particularly interested in government's role in international economic development and policy analysis in Latin America.
To read more about Arianna's experience interning at SAI, please see here.
2016 Intern at Social Accountability International | Christopher Raymond
Christopher Raymond is a rising senior at the University of Connecticut and is pursuing a double major in Human Rights and Management. His academic interests focus on improving labor standards and working conditions in the global economy, with a particular emphasis on the empowerment of workers through the realization of their right to association. Christopher has worked this past year as a Resident Assistant for Social Justice Education in Alumni quad for the Sophomore Honors community. This past winter, he was part of a project headed by Dr. David Richards, where Christopher and a group of three other students used CIRI coding guidelines to provide Social Progress Imperative with human rights data for their annual index. Next year, Christopher will be completing his senior Honors thesis on current trends of labor collectivism within the Latin American garment industry. After graduation, he hopes to pursue a PhD in industrial and labor relations.
Tasneem Ahmed is a rising junior at the University of Connecticut majoring in Economics and Human Rights. She is interested in the intersection of human rights, economic development and international affairs with a particular focus on labor rights of workers worldwide.
She is a UNESCO Student Ambassador for Human Rights and is the treasurer of both UConn's International Relations Association and TedxUConn. In 2014 and 2015, she helped coordinate a TedxUConn event focused on Health and Humanity. She is also currently, conducting research on the Effects of the Business Cycle on Human Trafficking with the help of Professor Nishith Prakash.
In summer 2014, Tasneem interned with the Permanent Mission of Bangladesh for the United Nations. Her experience consisted of attending numerous UN Security Council and Economic and Social Council meetings and writing reports to send back to Dhaka, Bangladesh. Here, she had the opportunity to work extensively with the Millennium Development Goals and Sustainable Development Goals from the perspective of a third world country. Realizing the power that multinational corporations now have in the international arena, Tasneem thinks one of the most effective ways to tackle human rights issues is for businesses to become aware of their corporate social responsibility. For this reason, Tasneem hopes to focus her future career around corporate social responsibility and sustainability issues.
Joseph Paquette is a senior at the University of Connecticut and interned at Social Accountability International in the Summer of 2014. Previously, Joseph has interned at Thomas J. Dodd Research Center in the Human Rights Archives & Special Collections researching the collections holdings on contemporary Middle Eastern history and promoting the archives holdings. Joseph majored in Political Science, with minors in Human Rights and History. He was also involved in Pi Sigma Alpha Honor Society as the Secretary helping to organize outreach programs with Political Science staff and students. Upon graduation, Joseph hopes to pursue a career working for a Human Rights NGO and eventually continue one to study law.