This eight-week learning immersion experience is awarded to an outstanding human rights undergraduate student completing a summer internship at Net Impact in San Francisco, CA. A $5,000 scholarship is provided to assist with expenses related to the internship. Open to all undergraduates at UConn, with preference given to Human Rights Majors and Minors.
Net Impact empowers a new generation to drive social and environmental change on campus and throughout their careers. They provide the network and resources to inspire emerging leaders to build successful "impact careers" — either by working in jobs dedicated to change or by bringing a social and environmental lens to traditional business roles.
As a Net Impact fellow, interns will get hands-on experience and access to a dedicated network of professionals, which will help you, develop critical business and communication skills you won't learn in school, launch a career in socially responsible/sustainable business, nonprofit management, or social entrepreneurship, build a network of contacts and colleagues in a range of sectors and industries.
This internship is sponsored by the Eversource Energy Chair in Business Ethics.
Students interesting in creating positive social and environmental change in the workplace and the world should consider this internship.
For more information about the application process, click here.
More information about the Summer Fellowship Program at NetImpact can be found here.
2018 NetImpact Intern: Kendall Comstock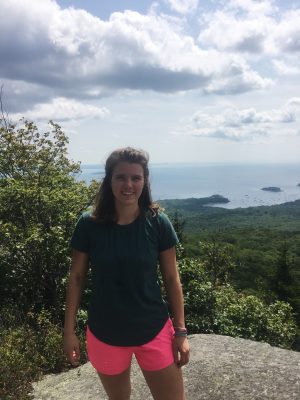 Kendall Comstock is a senior pursuing a double major in Urban and Community Studies and Human Rights. Throughout her educational career she has developed a passion and interest in the fields of racial justice, gun violence and education inequity. Prior to interning for Net Impact, she spent the past two summers as the Outreach Coordinator for Experience Mission in Appalachia, where she led short term mission teams who came to serve through construction and outreach in the area. She also enjoys volunteering with the Charter Oak Cultural Center, in Hartford, which provides second chance educational scholarships for people in the homeless community or those with financial setbacks. After graduating Kendall plans to get a Masters degree in Social Work, which will allow her to fight for human rights from a community organizing framework.
2017 NetImpact Intern: Rebecca Kaufman
Rebecca Kaufman is a junior double majoring in political science and Human rights with a minor in Spanish. She is a Truman Nominee, Augusta Gerberich Scholar, New England Scholar, and a member of Phi Beta Kappa. Rebecca is particularly interested in the connections between human rights and the environment and has been able to pursue these interests through internships with the Social Entrepreneurship Corps in Guatemala and the Economic Justice Network in Cape Town, South Africa. On campus, Rebecca is the director of policy dissemination, secretary and co-founder of the UConn Student Coalition for Social Justice, a writer for the UConn Political Review, and the recipient of UConn IDEA grant to study the impact of women in local government in the Asia Pacific. After graduation, Rebecca hopes to pursue a career in environmental human rights law and consulting.
2016 Net Impact Intern | Anna Middendorf
Anna Middendorf is from Bremen, Germany and moved to the United States in August 2013 to pursue her undergraduate degree at UCONN. She is a rising senior, majoring in Political Science with a double minor in Economic and Human Rights. Prior to her internship with Net Impact, she studied abroad in Chile for a semester in the spring of 2015 and speaks German, English and Spanish. In December of 2015, she traveled to the Conference of Parties (COP21) in Paris with a group of UCONN students. Anna works closely with the Student-Athlete Advisory Committee on improving community outreach programs and environmental policies at the University. Anna's primary advocacy interests revolve around climate change, refugees and food security. Upon graduation, she hopes to return to her home in Europe to obtain a MBA in Business and Human Rights.
Andrew Lerch is a rising senior at the University of Connecticut, majoring in Human Rights and Political Science. Prior to his internship with Net Impact, Andrew studied abroad and interned in London as part of the UConn Human Rights in London program during the Fall 2014 semester. In his London internship with the Business & Human Rights Resource Centre, Andrew primarily worked on the Government Action Project, which created the first global, publicly available database analyzing government actions on business & human rights issues. For his honors thesis, Andrew will focus on a comparison of the proposed U.S. National Action Plan on Responsible Business Conduct with previously released European National Action Plans on business & human rights. Upon graduation, Andrew hopes to pursue a law degree studying Human Rights law.