The Human Rights Institute is committed to supporting students as they find exciting ways to integrate their human rights education into new experiential learning opportunities. To demonstrate our commitment to our students ingenuity, we extend one annual fellowship offer to a student pursuing an individualized internship placement.
The individualized internship placement option would allow students who are interested in interning with a specific organization that is not a current HRI placement partner to be considered for a fellowship. This opportunity is open only to Human Rights Majors; interested students should have been accepted to their chosen placement at the time of applying.Students who would like to pursue this option should make an appointment with Rachel Jackson for further information.
Required Application Materials
Personal Statement: Your personal statement should include information on your interest in and experience with human rights, as well as a statement regarding how the fellowship award will assist you in developing your personal and career goals. Your statement should not exceed 1,000 words.
Cover Letter: Your cover letter should concisely articulate how working for a specific organization will assist you in advancing  professionally.  Why are your professional interests, skills, and ambitions compatible with the work done by this organization? Your cover letter should not exceed 500 words.
Anticipated Budget:  The purpose of the budget is to demonstrate you have considered the costs associated with your internship.  The budget description should provide a complete financial and qualitative description that supports the requested funds. Please download and use the Anticipated Budget template, available HERE.
Letter of Recommendation: Please have one letter of recommendation written on your behalf from an instructor or mentor who has known you for at least one year. Please forward this link to your recommender for them to submit your letter electronically: https://uconntact.uconn.edu/submitter/form/start/225831
Unofficial Transcript: Please enclose an unofficial copy of your University of Connecticut academic transcript.
Resume: Please enclose a resume that includes current and previous employment, including military experience, part‐time work, and summer or other temporary positions. Your resume should also list your involvement in extracurricular activities, such as organizations, clubs, sports, and campaigns, while attending the University of Connecticut.
Please use the following link to apply for the Individualized Internship Placement: https://uconntact.uconn.edu/submitter/form/start/231644.
For more information about the application process, click here.
Individualized Internship Application Deadline: March 1, 2019
2018 Individualized Placement Intern: Usra Qureshi,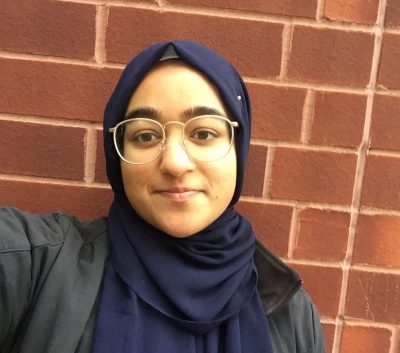 JAFRA Women's Center, Greece
Usra Qureshi is a rising senior double majoring in Molecular Cellular Biology and Human Rights. She has been involved in refugee work locally and abroad for the past three years, and plans to explore refugee right to health more in depth through her senior thesis and University Scholar project. Usra hopes to combine her passions for health and human rights through a career in medicine in the future.
2017 Individualized Placement Intern: Carolina Lemos
Municipal Health Department: Brazil
Carolina Lemos is a rising junior and a member of the Special Program in Medicine at the University of Connecticut. She is pursuing a double major in Human Rights and Molecular Cell Biology and will be traveling back this summer to her home country of Brazil to intern with the Municipal Health Department and to assist at a local hospital in the rural town of Santa Maria da Vitoria.  While in Brazil, Carolina hopes to improve the quality of healthcare at one of the public hospitals, which are often overcrowded and inefficient.
Carolina was a Class Facilitator for the Foundations of Medicine and Dental Medicine course this past fall semester, where she was nominated for the John T. Szarlan Student Mentor award. In December, she organized a DACA and Know Your Rights Info Session at UConn and educated students and others about the rights of undocumented persons. Carolina is an active member of Honors in STEM, as the Advocacy and Activism Chair, and is a member of the Pre-Medicine Society.
During this past summer, Carolina shadowed a cardiologist, where she assisted with patient exams, collected medical history, and observed diagnosis and stress tests. She also has worked as an EMT for the First Aid Squad in her hometown of Marlboro, New Jersey.
In her spare time, Carolina volunteers her time teaching adults in an ESL program, as she came to the United Sates at the age of 7 and knows the difficulty in learning a new language in a new country. She also tutors elementary school students in an after-school program, and has taught classes preparing high school sophomores and juniors for the biology and chemistry SAT Subject Tests. After graduating from UConn, Carolina plans on attending medical school and hopes to provide quality healthcare services to people in areas of need.
To read more about Carolina's experience interning at the Municipal Health Department in Brazil, please see here.