Two internships will be awarded to full-time students at the University of Connecticut. Undergraduates and Law students are encouraged to apply. Students will live in the capital city of Zagreb for the 4 week summer internship in May/June 2016. Roundtrip air travel, local lodging and living expenses will be covered during the internship period for students selected.
2019 Croatian Mediation Association Interns
Christopher Gelino

UConn School of Law
Isabel Oppenheimer

Human Rights and Anthropology
For more information about Chris, Isabel, and their fellowship cohort, please click here.
---
Croatia is a small and beautiful country with a vibrant community, including fully dedicated and experienced mediators (judges, lawyers, non-lawyers from many professions) working together and building new democratic institutions to better communicate and peacefully solve differences and manage conflicts and disputes. The internship host, the Croatian Mediation Association and its Mediation Center was founded as part of an alternative dispute resolution (ADR) initiative of the Croatian Mediation Association and domestic commercial courts and business organizations to enhance access to justice through ADR. Students involved in this internship will observe first-hand the practice of alternative dispute resolution in an emerging democracy through daily involvement with the activities of the Center.
Students with an interest human rights, Southeastern Europe and/or alternative dispute resolution in the legal system should consider this internship.
This is a fully funded summer internship, coordinated by the University of Connecticut's Human Rights Institute and supported by the Victor Schachter '64 Rule of Law Award.
For more information about this program, please contact Rachel Jackson at rachel.jackson@uconn.edu.
To learn more about the Croatian Mediation Association and Mediation Center, please visit http://www.mirenje.hr/
For more information about the application process, click here.
To read more about our internship fellow cohorts throughout the years, click here.
---
Victor Schachter, Founder of the HRI Rule of Law Award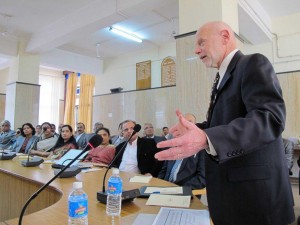 Mr. Schachter is a partner of Fenwick & West LLP in California, where he practices labor and employment law and related litigation before federal and state courts. He is also an accomplished advocate and mediator in alternative dispute resolution matters. Mr. Schachter graduated UCONN in 1964 (Phi Beta Kappa), and New York University School of Law (1967). He has written and spoken extensively on a broad array of employment topics, and has appeared on many national radio and television programs. He has been selected for "The Best Lawyers in America" for over 20 years, repeatedly recognized as a "Northern California Super Lawyer," and listed in California and International Who's Who USA. Mr. Schachter has promoted alternate dispute resolution and judicial case management in Brazil, Turkey, Malaysia and India, and he was honored as a California Lawyer Attorney of the Year for his global pro bono work. Mr. Schachter is the Founder and President of the Foundation for Sustainable Rule of Law Initiatives, through which he continues international legal reform initiatives.